Having a lawnmower built by Murray can significantly ease your garden maintenance routine. However, what should you do if your lawnmower doesn't cut smoothly or doesn't cut all? In some cases, a poorly maintained Murray lawnmower may even fail to move forward. Let's examine these problems and find their solutions.
Murray Lawnmower Drive & Cutting Problems:
Inspect your blades carefully if your Murray lawnmower doesn't cut smoothly or gives off irregular grass patterns. There may be blunt blades, obstructed or spindles, or the deck may not be properly leveled. If the lawnmower fails to move forward, check with the drive belt and the pulleys to see if they aren't worn out or missing parts.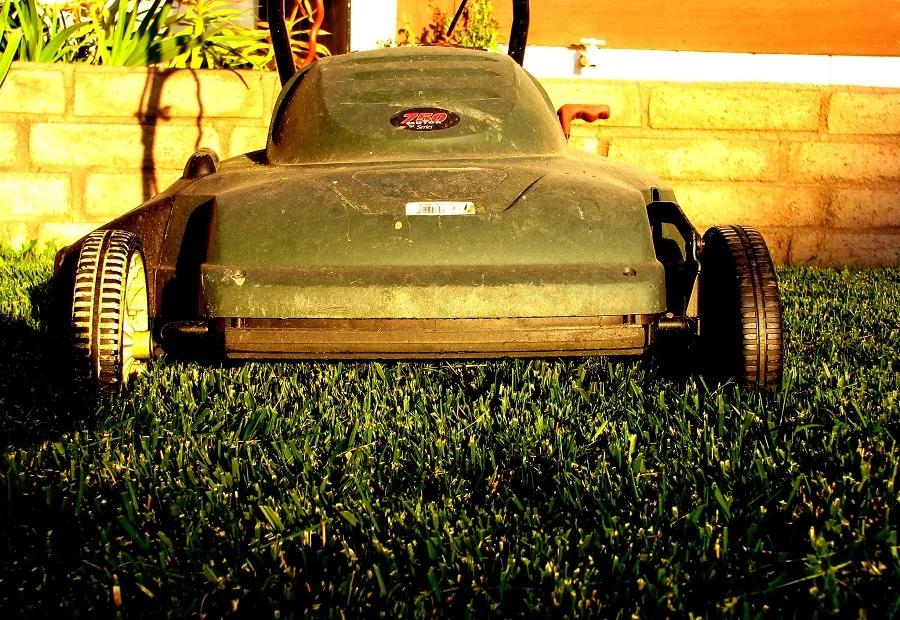 This article elaborates on troubleshooting your malfunctioning lawnmower if it doesn't cut smoothly or drives forward. This article is a complete guide on how to fix your lawnmower by yourself.
Murray Lawnmowers: Troubleshooting Cutting Problems
The common problems when using any lawnmower (be it riding or self-propelled) are that they start cutting in uneven patterns, leaving uncut patches behind, or stopping cutting.
We have gathered major cutting problems that your Murray lawnmower might experience with their best possible solutions:
1. Lawnmower doesn't cut straight.
It can be very irritating when your lawnmower is not cutting straight. This problem tends to give your gardens and lawns an unpleasurable look. The reason for this can be broken or worn-out blades, improper blade installment, deflated tires, or an unleveled mowing deck.
On the other hand, if you are moving too fast with the lawnmower, you can also end up with an irregular cutting pattern. To correct this problem, you need to fix the faulted part. Here is how you can do this.
Troubleshooting steps:
Blades: Check the cutting blade for signs of wear and fatigue. If the damage is minor, sharpening can fix it. If the damage is more widespread, replacing it is the only alternative.
Tire Pressure: Unequal tire pressure can upset the alignment of the cutting deck resulting in irregular cutting patterns.
Handling: Properly handle the mower with a strong grip. Ensure that the path is not bumpy and that you move slowly and steadily. The higher the grass, the slower you have to move.
2. Lawnmower cuts uneven grass patterns?
Uneven grass patterns are a common problem for lawnmowers. A blunt or damaged blade or a poorly leveled deck usually causes an uneven grass pattern. This can result from uneven tire pressure on either side, which can cause the deck to tilt.
Another reason can be a dirty deck. If you do not clean your lawnmower, hidden and accumulated grass and dirt debris can also give you such problems.
Troubleshooting steps:
Blades: Check the blade to see if it is not blunt, damaged, or vibrating due to incorrect installation. You may need to sharpen, change, or reinstall the blade.
Balance your deck: Examine the deck height and see if it is aligned correctly at all ends. A reason I often see this is different tire pressure. Ensure that the pressure is equal for all tires to balance the deck perfectly.
Clean your lawnmower: Remove the debris accumulated in the spindles regularly. You can also use a scraper or a brush to clean the underside. This step will make the blade move freely and cut the grass evenly the next time you use your lawnmower.
3. Lawnmower doesn't cut at all?
When your lawnmower is not cutting, it could be due to a damaged drive belt that doesn't engage the blades, a problematic engine, or damaged cutting blades. The following steps will help you narrow down the exact cause of the problem:
Electrical Problems: If you have an electric mower, ensure it is properly plugged in. Check if the switch is working in the case of a battery-powered lawnmower.
Battery: Ensure that your mower's battery is fully charged for battery-powered lawnmowers.
Engine: Check the engine and make sure it starts correctly and doesn't stall. Give it a rest if it's overheated. You can find several articles on this website that can further help you, or use the Lawnmower Troubleshooting tool.
Blades: Ensure the blades are properly installed, are sharp, and turn the correct way. If needed, reinstall your blades and check that they are not loose. Replace them if they are too damaged.
Drive belt: Check the drive belt. It should be tight enough. After a lot of usage, it can wear out and slip. First, try to tighten it, but if that doesn't work, replace it.
Murray Riding Lawnmowers: Troubleshooting Drive Problems
Riding lawnmowers by Murray are rugged machines ideal for operation on uneven surfaces. Despite the durability, lawnmowers that are not well-maintained can result in driving problems like excessive vibrations, oil leaking, flat tires, or trouble moving forward.
Below are some of the most frequent problems and their solutions to fix them:
1. Riding Lawnmower doesn't move forward?
It can be frustrating when your lawnmower seems stuck and fails to move forward. The most frequent reasons for this are a problem with the drive belts, or a problem with the wheels.
But first, check that the drive lever is in the correct position. If your Murray lawn mower uses hydraulic fluid, ensure that there is enough and doesn't need replenishment. If the engine runs fine, but the wheels do not move, it could be that the axle key is broken.
– How to Fix?
Wheels: Remove debris stuck in and near the wheels and the axle.
Lever: Check if the lever pulley is in the right position and not set on the brake.
Axle: If the wheels do not turn, check the axle keys. Replace them if needed.
Hydraulic Pump: Ensure the hydraulic pump is regularly oiled, as it powers the hydrostatic drive mechanism in most riding lawnmowers. If a riding lawnmower doesn't move, this is most commonly due to a malfunctioning hydraulic pump.
Drive Belt: A misplaced drive belt may cause your lawnmower to get stuck and prevent it from moving. Reattach it if it's off from the pulley, and ensure it is tight enough. Replace when worn out.
2. Riding Lawnmower vibrates excessively?
When your mower starts vibrating vigorously, it indicates that something is stuck somewhere. It can be grass cuttings wounding around the wheels, another moving part, or a rock that has found its way into the lawnmower. Stop the mower, and check the various parts thoroughly before continuing.
But there can be more reasons why your Murray lawnmowers vibrate, like loosened bolts or bearings, loose or damaged belts, or bent blades with dents.
– How to Fix?
To fix this, some handy troubleshooting steps need to be followed:
Remove the stuck objects: Check and remove any object that could cause the vibration, like stones, debris, or grass.
Blades: Check the blade's condition. If it is damaged, the balance could be off. In that case, sharpen it and check the balance. You can check the balance by hanging the blade on the thin rope or, if there is a hole in the middle, by hanging it on a nail.
Belts and Pulleys: Check the various belt(s) and pulley(s). Ensure the belts are tight enough. Misaligned or loose belts and pulleys may result in vibrations.
Bolts and Bearings: Tightening any loose bolts or bearings will fix the vibration. If they are really worn out, replacing them will be necessary.
3. Riding Lawnmower has loose steering?
There is a steering linkage that connects the main steering wheel to both of the front wheels. Any part, particularly loose bearings, and bolts, can make steering difficult. If you think something does not move freely, I recommend using some WD40 first and see if this fixes the problem.
– How to Fix?
Bearings: Search for any loose bolts, misplaced tie rods, or loose bearings. Tighten them or replace them if needed.
Steering wheel alignment: Clean the steering link and ensure it's aligned properly with the wheels. If any dirt has accumulated over the steering links, it may loosen the wheel. Grease the various parts.
Steering wheel adjustment: Tightly screw the steering if you think it is somewhat loose.
4. Riding Lawnmower has a flat tire?
Like with a car, a flat tire does not happen that often, but it is always possible if you use your lawnmower for an extended period. Flat tires are due to any sharp object that can cause your tire to puncture, particularly if the tire pressure is incorrect. A flat tire may also be caused due to excessive pressure in one of the tires.
In such situations, you need to fix or replace the flat tire. Here is how to fix them.
– How to Repair a Flat Tire?
Start by removing the tire from the mower and locating the puncture.
Fix the puncture using a puncture repair kit and inflate the tire.
Check the lawnmower's owner's manual for the correct tire pressure.
Attach the tire again on the axle. Tighten the nuts with the correct torque using a torque wrench.
5. Riding Lawnmower is leaking oil?
The older your lawnmower is, the more frequently this problem arises. Aging engine block gaskets wear out, and oil leaks occur more often. But there are also other reasons you can find oil on the ground.
– How to Fix Oil Leaks?
You can fix the leaks in your lawnmowers if you follow the steps given below:
Oil level: Make sure to fill the oil to the level advised by the manufacturers. The overfilling may cause your oil to leak out.
Drain plug: Sometimes, the oil drain plug could get damaged or develop an oil leakage. You should inspect this site and consider replacing the drain plug.
Gaskets ring: Broken or worn-out gaskets allow the oil to leak through them. Replacing these rings can fix your problem. This means you have to open up the engine. If you do not know how to do this, I recommend asking a professional for help.
Murray Self-Propelled Lawnmowers: Troubleshooting Drive Problems
Self-propelled lawnmowers are becoming increasingly popular as they don't need to be pushed and ensure evenly cut grass. However, like any other machine, these may also face occasional breakdowns.
1. Self-Propelled Lawnmower doesn't go forward?
One of the more common problems that self-propelled lawnmowers face is that they might suddenly stop and refuse to go forward. This may be due to the drive belt that has been misplaced, a poor traction mechanism, or a drive wheel issue.
– How to Fix?
To fix the issue, follow these steps:
Drive Wheel: Ensure that the wheels are properly inflated and in a reasonable condition. Deflated or worn-out tires can be a reason that prevents the mower from moving. Check the tire pressure, and inflate them when needed. If they are in really bad shape, replace them.
Drive Belt: Check the drive belt, it should not be loose. Place it correctly over the pulley, and check if it is tight enough. Tighten it if needed. If it is really worn out, replace it.
Traction Control Mechanism: The traction system includes gears, clutches, or belts. Improper oiling or broken/missing parts can result in a paused lawnmower. Oil them properly and replace the missing/broken parts if needed.
2. Self-Propelled Lawnmower throttle not working?
The throttle cable on a self-propelled Murray lawn mower controls the forward speed. If the lawnmower throttle is not working, your cables, levers, or engine might be the culprit. Here is how to fix these problems:
Troubleshooting steps
Cables: Check for a stuck or worn-out throttle cable. You can start with some WD40 and see if it fixes the issue. If the cable is broken, damaged, or frayed, I recommend replacing it.
Lever: Oiling the lever can free it and allow the throttle to move easily. Check and clean it regularly.
Engine: If the lever and throttle cable is working fine, the engine could have a problem. Use the Lawnmower Troubleshooting tool to investigate the problem further.