When you visit a store or one of the many online retailers, you see many pressure washers brands. Some brands you will know from other products, others will be new. Ryobi is an over 75 years old Japanese brand that started 50 years ago producing power tools. They manufacture and sell many different garden power tools, including both gas and electric pressure washers.
Are Ryobi Pressure Washers Any Good?
Ryobi pressure washers are among the best pressure washers for home use. I analyzed more than 10 thousand reviews and found that most models do not have many issues. Ryobi gas pressure washers use a reliable and robust Honda engine and are have good specifications. Some have an easy-to-use electric start. Ryobi electric pressure washers are together with Sun Joe the best price-performance models available. Ryobi also sells a battery-powered model that is reviewed slightly lower. But for that model, it is important to understand the limitations and unique features before purchasing it.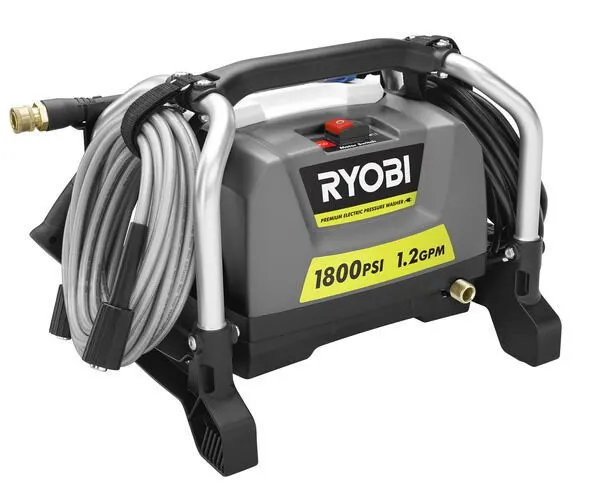 Depending upon your requirements and budget Ryobi has a wide range of pressure washers. I think that choosing a Ryobi is a good choice. As with any brand, they will have problems. But my research shows that, in general, they perform among the best. And they are competitively priced.
This blog post will look at the three main types of Ryobi pressure washers, gas, electric, and battery-powered models. I will also look at the Ryobi pricing and some helpful information about choosing a new or used pressure washer and maintaining it.
Ryobi Gas Pressure Washers, are they any good?
My analysis shows that users are really happy with Ryobi gas pressure washers. More than 93% of owners are really happy with their Ryobi pressure washers. And a little bit less than 7% is more or less dissatisfied.
Ryobi sells both gas models more, targeting home usage and higher-spec models more targeting professional usage.
The vast majority of owners are really happy with their machines. It doesn't mean nothing can go wrong, but Ryobi has a fine 3-year limited warranty. And they have a special website where you can order parts, in case you want to fix something yourself.
Some of the more critical owners complain about the hose being too stiff. So it is more difficult to maneuver. Personally, I do not really see this problem. A strong hose is just stiffer.
There were a few owners not happy with the easy start system. The easy-start is called ONE+ Electric start by Ryobi and is only available on a limited amount of models. It means you can start your pressure washer with a button press. Most owners like the electric start and are positive about it. I do not own one, but I have tried it a couple of times. And for me, it looks like a convenient feature.
● Ryobi Professional models
Ryobi also sells a model targeting professionals. It can deliver pressure up to 3600 PSI and 2.5 GPM, higher than residential gas models. It uses a reliable and strong commercial duty Honda engine and a more reliable triplex pump, and not an axial one.
The difference with other Ryobi gas models is the large wheels to make transport easier. The handle can be reversed, so storage and transporting it in your truck is more convenient. The output pressure is easy to set.
Models targeting more professional use also come with a wide variety of spray nozzles. Different types of jobs require different types of nozzles:
Ryobi Electric Pressure Washers, are they any good?
Most owners are very happy with their Ryobi electric pressure washer. I analyzed almost 2000 reviews, and over 88% of owners are very satisfied with their electric Ryobi washer. Just over 11% is more or less dissatisfied.
Owners are really happy with the build quality, the reliability. It uses a good hose and is easy to turn on and off. It is not super heavy but still stable. It is quieter but less powerful than Ryobi gas models.
Some models keep the pump running even when you do not press the trigger. It means that in that case, the water is recirculating in the pump, similar to a gas model. It means that the water will get hot, and at a certain time, the thermal release valve will be activated. To make your machine last longer, it is better to turn it off if you stop using it for more than a few minutes.
Ryobi Portable Battery-powered Pressure Washers, are they any good?
Ryobi is one of the few brands that make battery-powered pressure washers. They have both 40V lithium cordless models that can deliver up to 1500 PSI with 1.2 GPM. And much smaller 18V models that can provide up to 320 PSI.
The smaller model is more targeting casual cleaning of your car or other objects that do not need a lot of pressure. It will not be sufficient to clean more difficult surfaces or tough stains. It includes a siphon hose, making it possible to use water from a lake, pool, or bucket. You can also connect a hose to get water from your house.
The more potent portable battery-powered pressure washer can deliver a much higher pressure. But still, compared with a gas or electric model, it is a lot lower. It will be sufficient for a lot of cleaning jobs, but don't expect it to clean and a much higher pressure machine. Removing more tougher stains on surfaces will be hard.
Also, understand that using a higher pressure with batteries makes them run out quickly. Some owners get to almost 50 minutes of use time. Others claim around 30 minutes run time. The battery takes about 3 hours to charge fully. If you expect to clean larger areas, I recommend purchasing an additional battery.
Most users are positively surprised and mention that the unit works great and has more power than expected. But the included water bag is not very strong and breaks easily. It needs to be handled carefully.
Ryobi Pricing
Ryobi has many budget-friendly pressure washer models, both gas and electric. You will find Ryobi electric models from as low as $120. The output pressure ranges from 1600 to 2300 PSI. Gas models will start from $300 and can deliver a pressure ranging from 2700 to 3100 PSI.
Ryobi also sells what they call commercial grade pressure washers. Among them are gas pressure washers that can deliver pressures ranging up to over 4000 PSI. Prices start from around $600 US.
Ryobi Maintenance and Durability
Pressure washers require maintenance to keep them working reliably. This applies to all parts, from cleaning the nozzle, checking and replacing the pump oil to normal engine maintenance.
In general, an electric pressure washer requires a lot less maintenance. This is mainly due to the electric motor. The engine from a gas pressure washer has many parts that need regular work. Like the air filter and carburetor.
The pump is a part that is often missed during the maintenance of both electric and gas pressure washers. Low-end models have a sealed pump that does not need any maintenance. But most models need a regular pump oil check. A pressure washer pump does not have an oil filter. This means that particles in the oil can damage the pump. Enough clean oil is essential to keep the pump working efficiently.
Like other companies, Ryobi tries to make maintenance easy for customers. They design their pressure washers so that accessing and cleaning various parts is as easy as possible.
Ryobi gas pressure washers are using Honda engines with carburetors that have a dedicated drain valve. This makes cleaning the carburetor bowl easier. It makes it possible to clean the carburetor without removing it.
When it comes to durability, pressure washers should be manufactured so that they can withstand rough use. Particular for the more heavy-duty models. Our analysis shows that this is the case for Ryobi pressure washers.
Other pressure washer parts that are important for a reliable machine are:
● Use Industry-standard fittings and connections:
For any high-pressure machine, good and reliable connections are important. In the case of a pressure washer, it means that if a connection is loose, the output pressure will be lower. Ryobi uses good-quality fittings, nozzles, gaskets, rubber seals, or O-rings. But for all these parts, it is important to check them regularly and replace them when needed.
● Protecting the engine, motor, and electronics:
Keeping the engine, motor, and pump safe from dirt and dust is necessary to increase the life of any pressure washer. Pressure washer manufacturers should make sure that the engine of the gas-powered pressure washer is correctly covered. And the motor or an electric model and any electronics is protected from any water and moisture.
It isn't easy to get enough information. But my experience and limited research show that Ryobi does a good job in this area.
● Good quality hose and pressure guns:
Pressure guns are an essential part of a pressure washer. This is the part that you hold in your hand. The trigger should also work after many years of usage. The hose should be flexible and robust enough to cope with pressures up to 4200 PSI.
My research shows that also Ryobi triggers can fail. And a hose can cause some problems. But the number of issues is not greater than other top pressure washer manufacturers. The quality seems fine and is not a reason to choose any other brand.
● Different types of nozzles:
Pressure nozzles are an essential part of pressure washing. A nozzle defines the water spray angle and the final output pressure. Both are incredibly important to keep the object or surface from damage. You do not want to clean your car with pressure that damages the paint. Or damage the wood on your deck.
The more budget-friendly models supply one up to three nozzle types. The models targeting more professional users will contain five types:
Zero-degree (0º) red nozzle: This nozzle ejects a concentrated laser-like stream of water that can be used to clean tough spots on concrete, brick, and masonry.
Fifteen-degree (15 º) yellow nozzle: This high-performance nozzle is often a good choice for different surfaces like concrete and bricks.
Twenty-five-degree (25º) green nozzle: This nozzle ejects out a water stream that can be used to clean the siding and gutters of your house.
Forty-degree (40º) white nozzle: this pressure nozzle can be used to clean all areas around your house and is used for professional cleaning as well.
Sixty-five-degree (65 º) black nozzle: This is the lowest pressure nozzle meant for detergent applications. Or objects and surfaces that are prone to damage.
● Easy transport and storage: Large wheels and convenient handle
Gas-powered pressure washers use powerful engines and can vibrate quite aggressively during operation. Wheels on such models must be strong and steady and have a good grip. You do not want the pressure washer to move around.
Ryobi uses wheels that are larger compared to a lot of other brands. Professional models will be moved around more often, so these bigger wheels help with that.
Several Ryobi models have reversible handles. This helps to make them smaller for storage. And to fit them in the back of your truck, together with much other equipment.
● Pressure washer triplex pump or axial pump
Axial Cam pumps are directly connected with the engine. This means they will spin at the same speed as the engine and will see more wear and tear. Triplex pumps are not. They will last longer and give a better performance.
In general, both axial and triplex pumps can be replaced in higher-spec pressure washers. Pump in budget-friendly models can often not or are difficult to replace.
What type of Ryobi pressure washer model should I choose?
● Electric and Gas-Powered Pressure Washers
There are two main types of pressure washers available in the market, electric and gas-powered models. Electric pressure washers are mainly targeting light to medium jobs. Gas-powered pressure washers are more targeting medium to heavy jobs. The advantage of gas-powered models is the higher output pressure. The advantage of electric pressure washers is the much easier maintenance.
Depending on the type of work you are looking to take from your pressure washer, you can choose from four types of Ryobi pressure washers:
Battery powered: Targeting light tasks. No need for a wall socket, and can be used with its own water supply. Or with water from a pond, lake or a bucket.
Residential electric: Designed for light and medium workload.
Residential gas: Designed for light and heavy-duty workload.
Professional gas: Designed for heavy-duty workload and more continuous operation.
● What type of pressure do I really need?
The output pressure from a pressure washer is shown as Pounds per square inch (PSI). What pressure you need depends on the type of jobs you plan:
1600-2300 PSI: Well-suited pressure range for common household cleaning tasks like cleaning your porch, concrete areas that are not really dirty, and your deck. You will find several budget-friendly electric Ryobi pressure washers that will deliver the needed PSI.
2700-3100 PSI: If you are planning more heavy-duty jobs. Like cleaning concrete surfaces with tougher stains. You need a higher pressure with a range between 2700 to 3100 PSI.
3000-4200 PSI: Ryobi also provides specific pressure washers for industrial and professional use. These washers are designed for heavy-duty and daily use. The output pressure is in the range of 3000 to 4200 PSI.
Ryobi competitors like Karcher, Honda, and Simpson also have multiple options with models that can deliver similar output pressures.