Leg injuries are the most frequently reported accidents associated with chainsaw use. In events of kickbacks, pushbacks, and pull-ins, legs are most likely to get hit by the sharp cutting chain. Chainsaw chaps are protective legwear that safeguards your lower body from chainsaw hits and shall be discussed in detail in this blog post.
Chainsaw chaps:
Chainsaw chaps are a piece of personal protection that is crucial in saving your legs from chainsaw-related injuries. These chaps are layered with high-strength fibers capable of jamming a running chain if made contact with the chain. If you use an electric chainsaw, you need chainsaw chaps suited for them due to the greater torque. While buying chainsaw chaps, ensure that they use a strong filler material, have the right size for you, and follow international safety standards.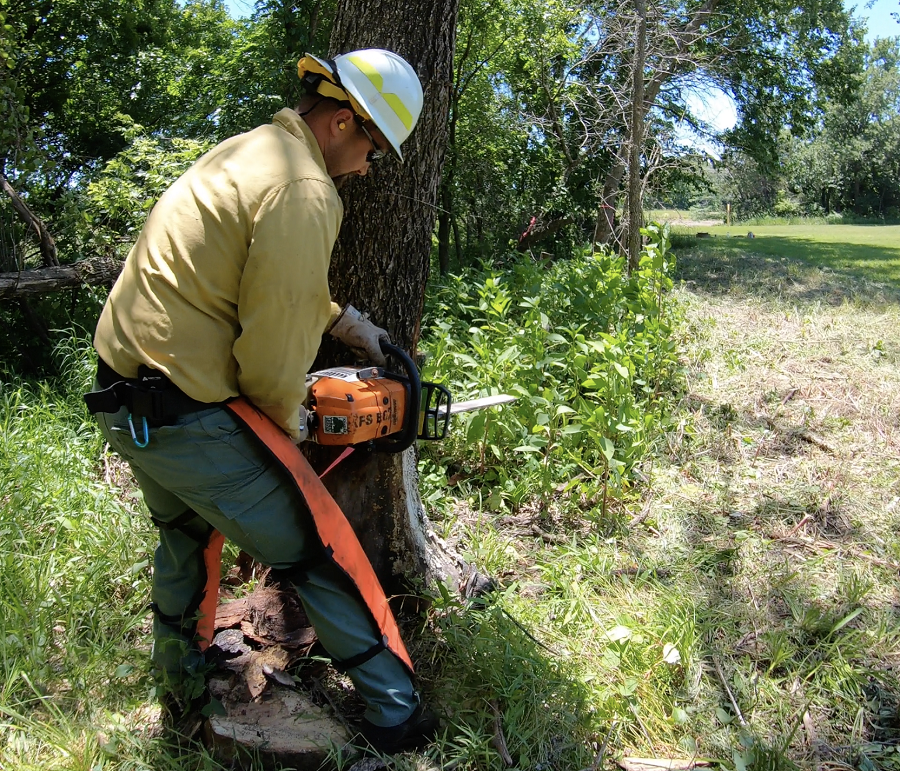 For a detailed understanding of chainsaw chaps, I will explain how and if chainsaw chaps work. This blog post will help you find a good product and discuss some of the best products in the market.
Do Chainsaw Chaps Really Work?
Chainsaw chaps are highly effective in protecting you from leg injuries if the chainsaw contacts your lower body. The filler material in these chaps consists of specialized fibers that wrap around the chain and sprocket, stopping the chainsaw almost immediately and preventing an accident.
Chaps are outer coverings that consist of a pair of leggings and a belt. They can be worn externally over pants or trousers as personal protective equipment (PPE). Due to a sharp chain that cuts at high speed, the chances of injury are immense if it makes slight contact with your legs. One could end up losing a lot of blood or may lie at risk of a leg amputation if the injury is serious.
Knowing the risks involved, leg protection is indispensable. Chainsaw chaps have an external covering layer that is usually made of polyester coated with PVC. It is tough and cut-resistant. Beneath this layer is a filler material consisting of loose fibers such as Kevlar, ballistic Nylon, or Avertic. The purpose of the inner layer is to stop the chainsaw once it cuts the outer layer by wrapping itself around the chain assembly. In this way, the impact of a mishap can be nullified significantly.
● Types of Chainsaw Leg Protection:
There are two main ways to protect your legs from chain hazards. The first is to buy a pair of dedicated trousers (chainsaw trousers) that cover both of your legs. They are also called Type C trousers. Chainsaw trousers need to be worn in place of regular pants. They are quite comfortable and best suited for off-the-ground applications or in cases when a great deal of movement is needed.
On the other hand, chaps (or type A trousers) are external coverings that can be worn over normal pants. Unlike trousers, they only cover the front of your legs. Chaps are quite cheap and can be worn easily over any legging type. Due to this, they are usually favored by amateur users, farm owners, or homesteaders. Despite that, they are equally effective as normal trousers in terms of their protection offered. They may not be as comfortable as trousers due to a greater amount of layering and hence may not be ideal for climbing and other off-the-ground applications.
How Long should your Chainsaw Chaps be?
Chainsaw chaps should be long enough to cover the entirety of your legs from the front. The overall length is measured by the distance between the ground and your waist. It can range from 30-inches for small sizes to even up to 50-inches (XXXL size).
Your chainsaw chaps should be of the appropriate length for maximum protection. To measure the length correctly, use a measuring tape for accuracy. The overall length of a chainsaw chap is the distance measured between your waists and ground level. This is a couple of inches more than your legs' length. The extra inches hang below your ankles. Avoid buying chaps that are too long, as in that case, the legging might slide on the ground. This could result in tripping and is not good from a safety perspective. While buying chaps, make sure you correctly determine your waist size and buy the suitable one accordingly.
Chainsaw Chaps Buyer's Guide:
Before shopping, you should familiarize yourself with certain guidelines that will help you in making the best choice for chainsaw chaps. The following buying guide will give you a suitable insight before buying a pair of chainsaw chaps. These are listed below:
1. Chainsaw Chaps Standard Compliance:
Always ensure that your chainsaw chaps follow the international safety standards and certifications by ASTM, ANSI, OSHA, etc. It's much safer to use a product that guarantees standard compliance than those which do not.
2. Chainsaw Chaps Material:
Chainsaw chap material is primarily divided into two categories. There's an outer protective layer usually made from polyester. Make sure it is coated with PVC and is cut-resistant. The inner part contains multiple filler layers made from loose fibers (Kevlar, ballistic Nylon). The inner layer has to be the toughest and most resilient to safeguard your legs underneath. Some of the chap materials, along with their uses, are mentioned below.
Kevlar: Developed in 1965, it is a stronger, lighter, thinner, and more heat-resistant fiber. It is more typically used in clothing, such as chainsaw chaps, than traditional chap material.
PVC: This is a synthetic plastic coating that makes the chap robust to water and oil. PVC is usually coated on the outer layer, which can be of polyester.
Nylon: Nylon is an elastic and flexible synthetic polymer that makes it easy to wrap around the driving sprocket. As a result, the chainsaw will stop immediately, and you will be safe.
Polyester: It is a chemically developed material composed of air, petroleum, and water. It shortens or lengthens the fiber used for chainsaw pants or chaps. It can be wrapped around the drive sprocket to keep the chainsaw from running, just like Nylon.
Tek Warp: It is a protective material that is cut-resistant, which means a blade will not slice it. It is also designed to jam and clog the chainsaw's sprocket system.
3. Chainsaw Chaps Design & Comfort:
There are two main design types for chainsaw chaps. i.e., apron style and wrap style. Apron style design covers only the front part of the legs. It is lighter and feels cooler on the legs. In comparison, the wrap style covers both the front and back. Despite increased protection, it is perceived to be a bit uncomfortable as it makes the legs sweaty and heavier.
4. Chainsaw Chaps Device Compatibility:
Most chainsaw chaps are designed for gas-powered chainsaws and are less effective against battery-powered saws that use a slightly different mechanism. The reason is that the chap fibers are less effective jamming the sprocket of an electric chainsaw as an electric motor provides a greater torque than a two-stroke engine.
As of now, there aren't any chainsaws in the market rated specifically for electric chainsaws (battery or corded). Although some Stihl models claim to stop an electric chainsaw, we cannot say with certainty if a certain chap would be effective against battery-powered devices. I would advise you always to prefer those chaps filled with Kevlar or Avertic Pro with Engtex. Being the toughest of all modern fibers, Kevlar would be your best bet to survive a leg injury in any situation.
Moreover, electric chainsaws are not being developed with a chain brake safety mechanism that can immediately lock the motor if any hazardous situation occurs. Also, electric chainsaws are much lighter than gas-powered devices, making them easier to handle and reducing the likelihood of mishaps.
What are the Best Chainsaw Chaps in the Market?
I have made a shortlist with some of the more highly-rated chainsaw chaps in the market. Some are recommended by colleges, as I did not test or wear all of them myself.
1. Forester Chainsaw Chaps:
The forester chainsaw chaps can be described as providing high value at a low price. Overall, the chaps are highly adjustable and made from nylon filler. Hence, as far as protection and comfort is concerned, they've got you covered. However, they seem to have some issues with their belt straps. First, the straps are a bit flimsy.
Secondly, the leggings are a bit loose in a way that they hang forward a bit. This makes it more likely for the chaps to touch the chainsaw chain. Nevertheless, these chaps are a fairly good investment for homeowners and part-time loggers as they offer significant protection at a pretty economical price. They are also quite light in weight and comfortable to walk with.
Some of the key features of the Forester chainsaw chaps are:
– Features:
Apron style with adjustable belt
6-layer protection
Follows OSHA and ASTM guidelines; UL tested
Available in 35″ to 40″ lengths
Filler layers made from ripstop Nylon
2. Husqvarna Chainsaw Chaps:
Talking about their main purpose, these chainsaw chaps are excellent at providing leg protection. The outer layer is quite sturdy and the inner layers are quite strong to protect your legs from the chainsaw. However, one major user concern regarding this model has been the sizing as Husqvarna hasn't explained their sizing convention on the website.
Moreover, some owners have also complained about it being quite heavy (3 lbs.) and difficult to carry around. All in all, these are high-end chainsaw chaps from a renowned manufacturer and if the sizing confusion is sorted, they are strongly recommended for professionals.
The main features are:
– Features:
Outer layer made from 600 deniers polyester coated with PVC
Inner layers made from Tek wraps
Follows OSHA and ASTM guidelines; UL tested
Waist size adjustable to 42-inches; lengths range from 36″ to 42″
3. Stihl Chainsaw Chaps:
These chainsaw chaps from Stihl are a rugged piece of PPE reinforced with Avertic Pro. In terms of its strength, it can be deemed equivalent to if not greater than Kevlar. Also, these chaps are highly adjustable with sturdy buckles and straps. Above all, they are manufactured by Stihl; a giant in the forestry equipment industry. The only downside is that they are costly (200$), making them not the best budget option for regular users.
– Features:
Outer layer made of 100% nylon; water and cut resistant
Filler made of Avertic pro by Engtex; cut-resistant material
Adjustable waist size (from 30″ to 42″)
4. LABONVILLE Premium Chainsaw Chaps:
These chainsaw chaps from LABONVILLE provide top-notch protection. They are layered with Kevlar and among the lightest among the discussed chaps (hardly above 2 pounds in weight). The comfort is appreciated by most owners. They are an excellent choice for professionals as they offer increased durability, high strength, and international standard compliance.
– Features:
Filler made from a 5-ply blend of Polyester and Kevlar
Stitching made of Nylon
Follows OSHA and ASTM guidelines; UL tested
Adjustable waist (up to 48″)
Made in the USA
How Safe are Chainsaw Chaps?
Chainsaw chaps are highly effective in protecting your legs from chainsaws (gas chainsaws in particular). The filler material jams the sprocket mechanism and stops the chain.
Investing in chainsaw chaps is highly recommended for your safety. These chaps are made of cut-resistant outer material, which saves you from oil and water spills. The filler material underneath is what does the main job of saving your legs from the chain. The loose fibers of the filler wrap themselves around the sprocket, thus clogging it and stopping the chain almost instantaneously.
When should you Replace Chainsaw Chaps?
Chainsaw chaps should be replaced if they've worn out with holes and cuts over time. Also, if they've been cut once with a chainsaw, I always recommend replacing them rather them. There is a fair chance that they will not work as well when cut at the same location.
The exact lifespan of chainsaw chaps can vary greatly. They can last for quite some years as long as they haven't been cut with a chainsaw. The biggest enemy of these fibers is oil. Too many oil spills can damage the filler material and make it even useless. Cuts on the outer surface can cause oil to seep into the filler.
Also, if your chaps have been sliced once by the chainsaw, they aren't fit to be used again. This is because the fibers have already been exposed and would offer less protection to your legs when cut at the same location. And from my own experience, I know that hitting the same location again is not uncommon.
How do I Fix my Chainsaw Chaps?
There isn't much fixing that you can do to your chaps apart from stitching the straps and the tears in the outer protective layer. Once exposed to the chain, the inner fibers cannot be fixed in any way.
The cuts on the outer layer of chainsaw chaps can be fixed quite easily. You need a nylon thread with a needle, and you are good to go. Ensure that the inner fibers are clean and undamaged. Outer cuts are fairly common in chainsaw chaps.
Once the chaps have been cut with chainsaw chain and the Kevlar has been exposed, then there's little fixing that can be done. The inner layers have a particular setting that cannot be restored manually. The only option left is to replace your chainsaw chaps with new ones.