DeWalt is an iconic and well-known brand that manufactures world-class tools and various hand tools for multiple purposes. Their air compressors are for numerous tasks ranging from inflating your car tire to powering all kinds of air tools. But they are also used for businesses that need a reliable machine.
Are DeWalt Air Compressors Good?
Yes. DeWalt air compressors are ok machines. We analyzed almost 4 thousand reviews, and their score is just below the average of the more than 25 thousand reviews we have looked at. Depending on the model and seller, people complain above average about quality control, noise, and air leaks.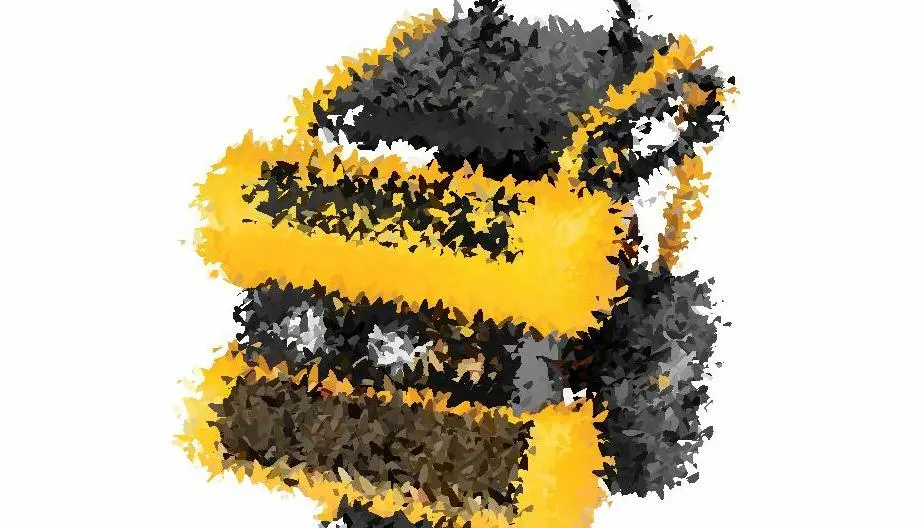 DeWalt produces both small portable air compressors and large stationary ones with a large tank capacity. They can be used in many different locations like your garage, workshop, or industrial setting. With correct maintenance, they will provide years of hassle-free operation.
DeWalt Analysis
To get a good idea of DeWalt air compressors' quality, we have analyzed almost 4 thousand reviews for their different models. We have compared those reviews with our analysis of more than 25 thousand reviews from several competing brands. Please keep in mind that the issues we mention are for DeWalt overall, and curated over multiple models. Some can also differ from supplier to supplier.
● Positive
Low weight
Small
Fast recharge and large tank
Good price-performance
Less noise than expected
● Negative
Quality Control not always good
Dewalt Support lacks in some instances
Some users mention Air leaks after some time
Vibration problems
Some users have pressure problems after a while.
Brief History of DeWalt
DeWalt was founded in 1924 by Raymond DeWalt and is a worldwide American producer of power tools and hand tools for the building, manufacturing, and woodworking industries. The business expanded rapidly and was reorganized and re-incorporated as DeWalt Inc. in 1947. In 1960, American Machine & Foundry Co., Inc. sold it to Black and Decker after acquiring the business in 1949. Black &Decker in 1989 stripped itself from the production branch of the radial arm saw. Over the years, DeWalt has earned its place as one of the best and most popular brands in the market. Today, for commercial contractors, DeWalt is now a popular brand of tools.
Best Four DeWalt Air Compressors
Now that we know that the DeWalt is a pretty good brand and we have learned a brief history of the brand let us now look at some of the best DeWalt air compressors. Below is a list of the top four air compressors as reviewed in the market.
● Max Trim DeWalt D55140 Air Compressor
By nature, the tidy and lightweight air compressor DeWalt D55140 is very portable. A 1-gallon air tank comes with the DeWalt air compressor, and it produces a constant air pressure of 135 PSI. An impressive design that will keep everyone satisfied is the DeWalt Max trim air compressor. This DeWalt air compressor is fantastic for all sorts of jobs around the building, no matter whether you are a DIY renovator or a skilled builder. As compressed air requirements increase during various changes, this device picks up the extra workload, allowing the main compressors to remain loaded at the foundation. The DeWalt D55140 is one of the best air compressors for working indoors with a low noise output level.
You can check the Max Trim DeWalt D55140 price here.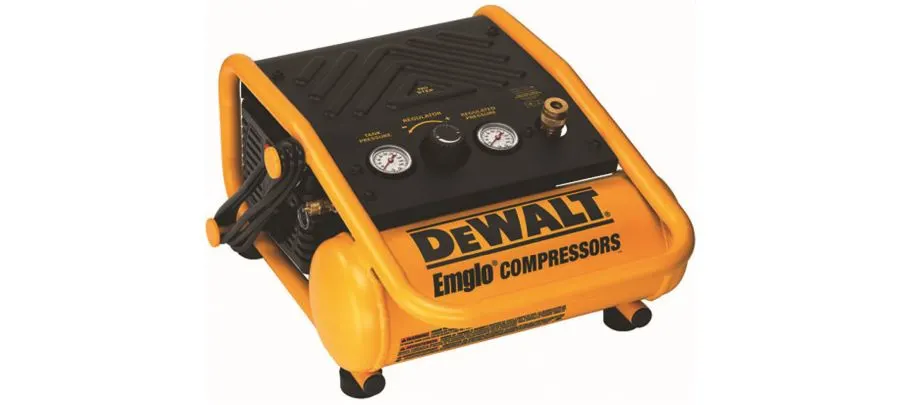 ● DeWalt D55154 Wheeled Air Compressor
The compressor is built and constructed to be durable. A heavy-duty 1.9 horsepower electric motor with dual voltage power supply is operated by the DeWalt 4 Gallon Air Compressor. Built to last, a cast iron twin cylinder air pump is produced with the DeWalt air compressor. The cast iron twin cylinder air pump that will operate forever is the key to the DeWalt air compressor's durability. Precision bearings, robust stainless steel reed valves, which are the essential internal parts, are equipped with the DeWalt air compressor pump. The advantage of the DeWalt D55154 4 Gallon Wheelbarrow Air Compressor is the built-in wheel roll bar that holds the machine on a stable foundation. It provides high efficiency, with a compressed air delivery at 125 psi, customary with a DeWalt air compressor. This high-pressure air is controlled on the manifold assembly and includes fail-safe fast connectors for easy tool changeover.
You can check the DeWalt D55154 price here.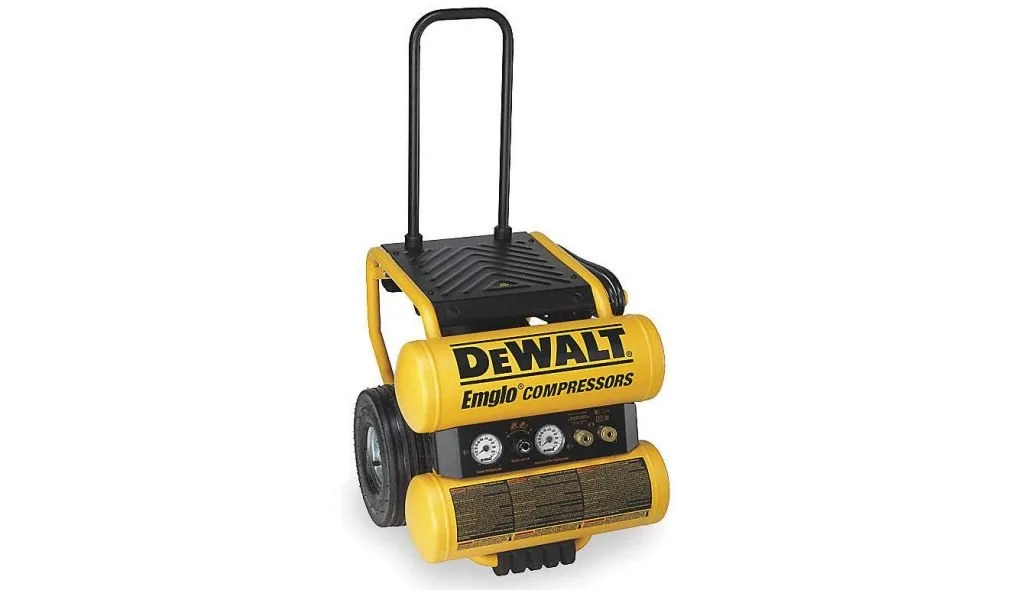 ● DeWalt DXCMLA1983054 30 Gallon Air Compressor
This product is yet another DeWalt air compressor for heavy-duty, high performance, made to impress. The DeWalt 30 gallon air compressor, with a cast iron crankcase, is built around a twin cylinder air pump. The advantage of the DeWalt air compressor is the sturdy and durable components of the air compressor pump designed to last forever. The 30 gallon DeWalt is constructed with high-quality internal components with a similar design to the DeWalt wheelbarrow air compressor. This air compressor from DeWalt is intended for sale and is robust, but it is also a portable air compressor. This DeWalt air compressor is designed to last for use in any workshop, garage, or even in the backyard shed.
You can check the DeWalt DXCMLA1983054 price here.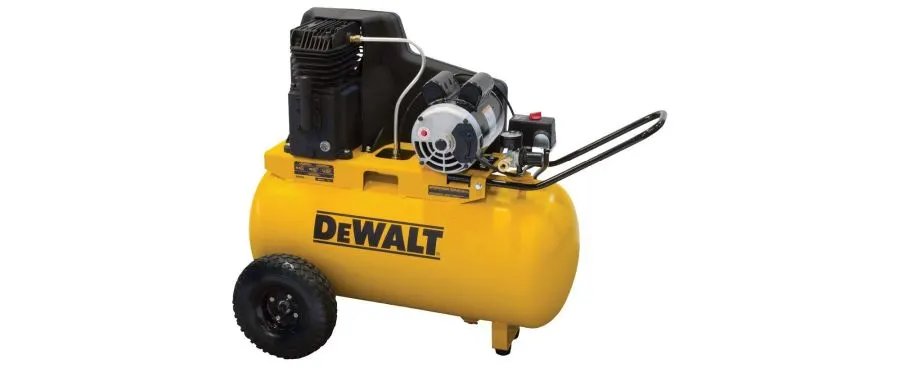 ● Dewalt's DWFP55126 Best Air Compressor for Spray Painting
The pancake air compressor DWFP55126 has a 6-gallon tank and a max PSI of 165. This device has a powerful motor that has absolutely no problems starting up on a freezing winter morning. This device allows a quick run time of the spraying tool with a fast recovery of 2.6 SCFM delivered at 90 PSI pump. The high flow regulator and couplers are expected to optimize the performance of spraying. Since this compressor's pump is oil-less, it requires minimal maintenance and has a very long time of operation. Spray painting is a job that needs serious attention to detail, and so the quiet operation of this air compressor enables you to focus on what you are painting.
You can check the price for the DeWalt DWFP55126 here.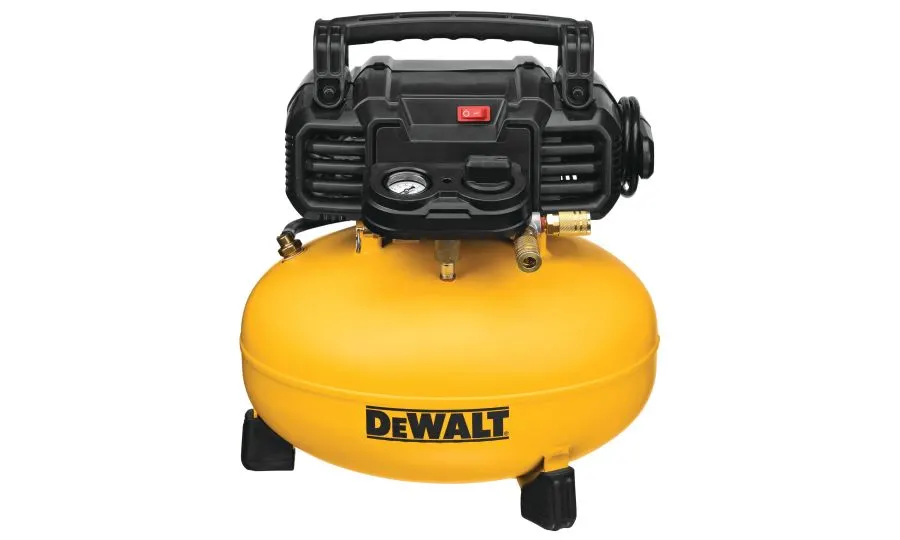 Specific Maintenance of the DeWalt Air Compressor
The DeWalt air compressor is designed and installed with high quality and standard components. For these machines, the maintenance needed should be minimal. Maintenance of DeWalt Air compressors may be performed by in-house technicians or businesses that regularly service various air compressors. To maintain your DeWalt air compressor and keep it running smoothly and effectively, please see below a few points:
Air filters: These should be washed and checked weekly for the best results. The air filter on a DeWalt air compressor may typically be pushed to take out the filtered dust and debris; for better reliability, these should also be adjusted each month completely.
Oil change: Oil changes should be carried out as much as possible. The compressors of DeWalt Air are also fitted with an oil filter that needs to be adjusted at regular intervals.
Inlet Filters: There is a need for a weekly inspection of inlet filters. The DeWalt air compressor inlet filters require weekly checkups and should be replaced whenever necessary.
Piping and Joints Checkup: Daily piping and joint checkups are necessary. Air leaks are easy to repair, but water and air leaks should be tested frequently for piping and joints.
Maintaining an Air Compressor
Like any other mechanical device, it is essential to perform routine maintenance:
● Pump oil level
If your compressor is oil-free, this part of the maintenance is not needed. But you must check the air compressor pump oil level for all other air compressors. When the level is low, it can destroy the pump.
Step 1: Turn the machine off. Remove the mains cable if applicable.
Step 2: Put the machine on a flat surface, and leave it there for 5 minutes.
Step 3: Remove the oil fill cap
Step 4: Check the oil level, and see how the oil looks. If it seems dirty, you should change the pump oil.
Step 5: If needed, fill with oil. Make sure you do not overfill.
You can find Air Compressor Pump Oil here.
● Change the pump oil
If the oil in your pump is looking nasty or dirty, it needs to be replaced.
Step 1: Turn the machine off. Remove the mains cable if applicable.
Step 2: Make sure the oil is cooled. If you just used your machine, you have to give the oil some time to cool down.
Step 3: Put the machine on a flat surface.
Step 4: Remove the oil fill cap.
Step 5: Put an oil container underneath the drain cap. You can also use an old bucket.
Step 6: Remove the drain plug and let the oil fully drain.
Step 7: Put the drain plug back. Make sure it is tightened sufficiently.
Step 8: Fill with new oil. Wait a few minutes and recheck the level. If needed, add a little bit again.
You can find Air Compressor Pump Oil here.
● Clean or change the air filter
The air filter cleans the air that the engine uses. Over time it can get dirty or even clog.
Step 1: Turn the machine off. Remove the mains cable if applicable.
Step 2: Make sure the air compressor is cooled down.
Step 3: Remove the filter cover. Normally there are a few screws that need to be unscrewed.
Step 4: Get the air filter out.
Step 5: Clean the air filter. You can use a vacuum if needed.
Step 6: If the air filter looks bad, you should replace it.
Step 7: Put the air filter back and reattach the cover.
You can find Air Compressor Air filter here.
● Other maintenance
To further prolong the air compressor's lifespan, you should also check:
Fuel tank: Ensure the compressor fuel tank is clean
Shutoff system: Check the correct working of the air compressor shutoff system
Nuts: Check the different nuts and bolts and make sure that they are all tight. The shaking of the air compressor may loosen some of them.
Vibration: Check for more than usual vibrations or strange noises.
Leaks: Check for oil and air leaks
Safety release value: Check that the safety release valve is working correctly.
Belts: Check the belts for wear and tear
Pressure: Check the differential pressure in the compressed air filter
Hose: Inspect the hose for damage and wear and tear.
Temperature: Check and ensure that the operating temperature does not exceed a safe level
Condensation: Drain the condensation from the air compressor tank
● How often should you check and maintain your Air Compressor
How often you should do maintenance on your air compressor differs significantly from your usage. If you use it daily, you have to check things more often than if you only use your machine sparsly.
– Before using your Air compressor:
Drain the water from the air compressor tank
Check for oil and air leaks
Check for more than usual vibrations or strange noises
Check the level of the Pump oil
– Monthly
Check for loose bolts and nuts
Check the safety release valve
Check the air filter
Belt check
Check for air and oil leaks
– Yearly
Change the oil in the pump
If you have a gas air compressor, give the engine its yearly maintenance
Final Remarks
DeWalt air compressors are easily one of the best and popular brands out there in the market. The DeWalt air compressors have been tested, trusted, and serve various purposes, so to answer your question on if they are any good- the answer is yes. The company has a vast number of DeWalt air compressors that are recommended for professionals and homeowners. As with every other machine, the DeWalt air compressors require maintenance from time to time. Always protect yourself when operating and using some form of machinery before starting the process of inspecting your DeWalt air compressor. Be sure to detach any electricity supply powering the instrument while in the maintenance phase and relieve it from any accumulated before any maintenance begins.
While we have come to the end of this article, we hope we have been able to enlighten you on how reliable the DeWalt air compressors are, and you are confident enough to purchase one for yourself.