When you search for Lowes Air Compressor's on the internet, you will not find any. This is because Lowe's Companies Incorporated is using the popular Kobalt Air Compressor as its brand name.
Lowes also has two budget brands: Project Source and Blue Hawk. Blue Hawk is a more recent addition, but you will find both names on multiple machines from the Lowes Companies Inc. factories. This article will further look into the Lowes (Kobalt) Air Compressors.
Are lowes (kobalt) air compressors any good?
Yes. Lowes or Kobalt Air Compressor is a good air compressor brand. We have analyzed around 5 thousand customer reviews and find that a larger than average finds it a good fit for their work. The curated results show that it is cheaper compared to other similar types from other brands. The quality is good, and they are reasonably quiet machines.
Lowes single-stage air compressors are mostly used in small workshops, and for home use, the two-stage air compressors are more used in heavy-duty construction. The difference between one stage and two-stage air compressors is that in a two-stage compressor the air is compressed two times, for a one-stage compressor this is done only once.
Lowes (Kobalt) Pros and Cons
We have done an extensive analysis from around 5 thousand reviews, and with the results, we can put together the brand's positive and negative attributes. These curated results can help you make your decision if you should opt for the Kobalt Air Compressor or look elsewhere.
| Pros | Cons |
| --- | --- |
| Low noise level | It is not always storage space efficient due to its shape |
| Cost-effective | When the air compressor is damaged, the replacements parts can be challenging to get, and sometimes carry a hefty price tag. |
| They are reliable | Less suited for continuous operation compared to some other brands. Continuous operation for more than 7 hours, 5 days a week can lead to damaged compressors. |
| Nice selection of portable models | They are less suitable for large industries because of their air load. |
Brand Establishment & History
Lowe's and manufacturer alliance J.H. Williams established Kobalt in 1998, in a quest to compete with major competitors in the US like the Home Depot and Sears stores and their respective brands Husky and Craftsman. The brand is currently the second largest in the United States and behind the Home Depot.
Lowe's Companies Inc. owns the Kobalt brand, but the brand does not have its own maintenance department. For maintenance, you can visit your local store or do the maintenance yourself. Kobalt air compressors are available in portable and non-portable sizes. However, most of them are portable.
Top Five Kobalt Air Compressors
You should know the type of Kobalt Air Compressors you can use for your construction or heavy work. The following are the top Five Kobalt Air Compressors below, including pros and cons.
● Kobalt Quiet Tech 4.3-Gallon Portable Electric Twin-Stack Quiet Air Compressors
The Kobalt 4.3-gallon is one of the best air compressors. The two gauges allow you to monitor tank pressure and outlet pressure. Rubber wheels and sliding handle offer easy mobility around your garage or workshop.
You can check the price for the Kobalt Quiet Tech 4.3-Gallon Portable Electric Twin-Stack Quiet Air Compressors here.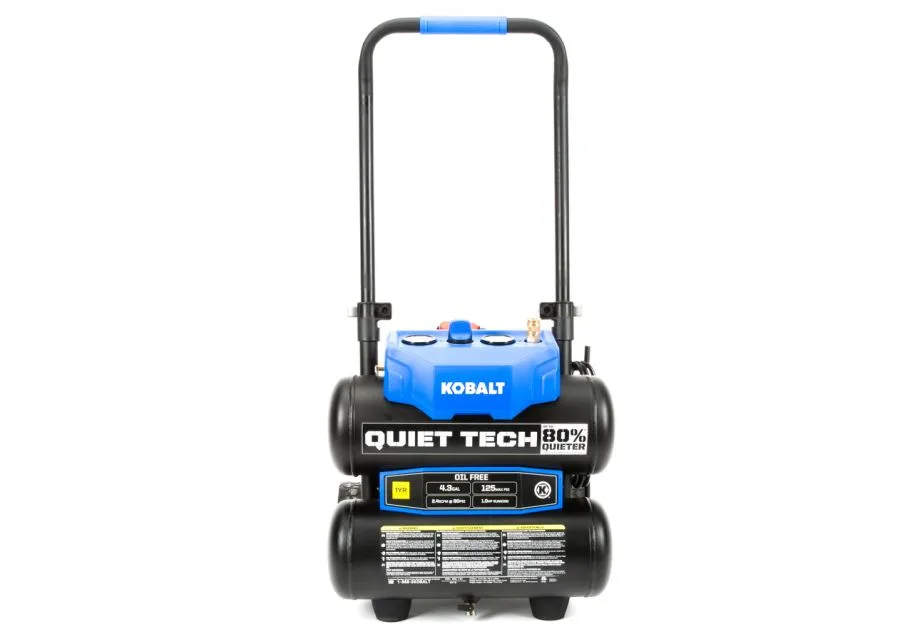 – Pros
Well-made and cost-effective
Cheaper and better than California's air compression
– Cons
The noise level is too high
● Kobalt Quiet Tech 2-Gallon Portable Electric Hot Dog Air Compressor
The 2-Gallon is an oil-free pump machine with a working pressure, and a larger regulator knob, and a quick coupler for easy operation. It is well suited for residential usage and cleaning purposes in small enterprises.
You can find the price for the Kobalt Quiet Tech 2-Gallon Portable Electric Hot Dog Air Compressor here.
– Pros
Heavy-duty motor for long hours
– Cons
● Kobalt 20-Gallon Single-Stage Portable Electric Vertical Air Compressor
The 20-Gallon is a vertical electric air compressor built for a wide variety of air tools. It comes with a copper winding induction motor that extends its lifespan. The oil pump is durable and requires less maintenance.
It takes time to fill up the air tank. It is not extremely loud, but yes, it is a bit noisy.
– Pros
The selling price is lower and affordable.
It is used for roof nailing, frame nailing, grinding, and cutting work.
– Cons
The air compressor needs only limited maintenance
● Kobalt 30-Gallon Two-Stage Portable Electric Vertical Air Compressor
This product is a vertical electric portable device with an oil-lubricated pump. It provides 5,000 hours of pump life.
It is used for framing, airbrushing, finish nailing, cutting, sanding, and stapling.
– Pros
– Cons
Not easy to store due to vertical shape
Does not hold up in noise level
● Kobalt 80-Gallon Two-Stage Portable Electric Vertical Air Compressor
Kobalt 80-gallon is a vertical electric portable device. This product features an oil-lubricated pump and a durable cast iron, which helps you with all your garage and workshop needs. The 80-gallon air compressor is for more extensive construction and has a lot of advantages. It has a 2 stage oil-lubricated pump for effective working.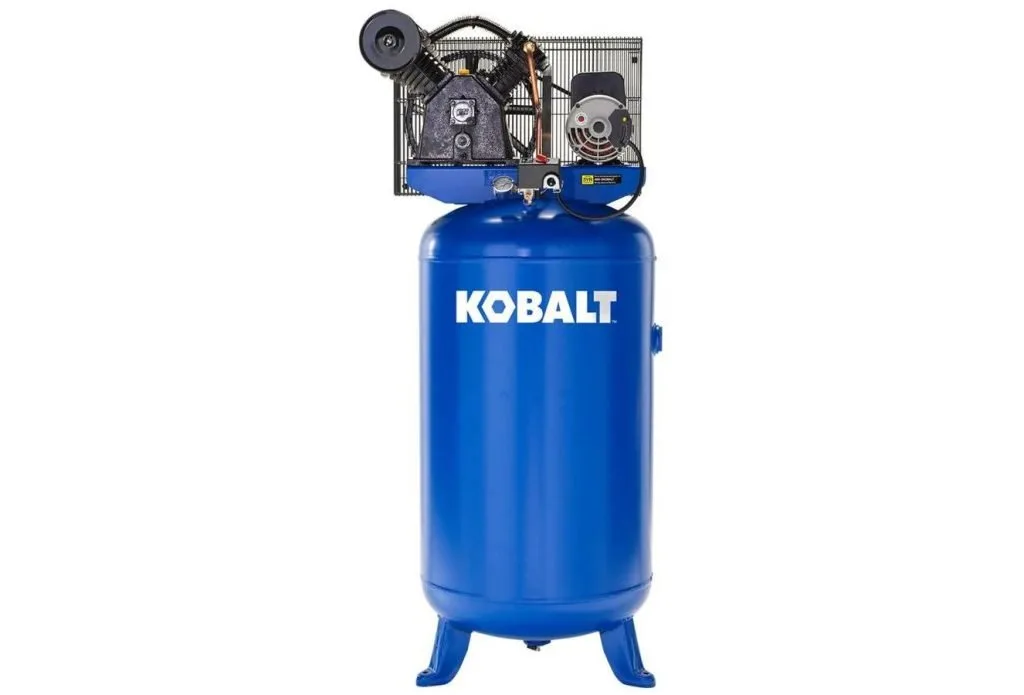 – Pros
Cost-effective
Large air tank
– Cons
Noise level is high
Not portable
Which is Better, Single-Stage, or Two-Stage Lowes Air Compressors?
Your options among these top Kobalt air compressors are either single-stage or two-stage, and knowing the difference between them can ensure that you choose the right air compressor for the job. The following difference can help in choosing between the single-stage or two-stage compressors.
The Pump
Air compressors pumps come in various sizes, shapes, and piston configurations to avoid muddying the water. Single-stage pumps compress air once while two-stage pumps compress twice.
Each has its Place
Generally, two-stages are more effective, run cooler, deliver more cubic feet per minute (CFM), while single-stage are cost-effective and weigh less. You have to choose the right air compressor for the job.
A single-stage air compressor is excellent for individuals, small crews in roofing, grinding, and framing work. For more extensive construction that requires a large amount of air, a two-stage air compressor is recommended.
How to use the Lowes (Kobalt) Air Compressor?
Though, all air compressors perform the same function in a wide variety of jobs. Know that children should not operate the air compressor. The Lowes (Kobalt) Air Compressor has a specific use of operation.
Firstly, you do not have to check the pump oil level if it is oil-free, but you have to check the oil pump level if it is oil-lubricated.
Secondly, you have to attach the hose to the regulator valve, located on the right-hand side. The regulator valve is a metal plug usually round with a hole in the center. To connect the hose, you have to move its narrow end into the valve.
Also, the hose must always be connected to the machine before using it. When pumping a tire, the coupler has to be pushed correctly into the valve of the tire.
After the power tool has been connected, you have to connect the compressor to the outlet (should not be wet, to avoid accidents). Do not use extension cords because this can cause the compressor to overheat.
While operating, you must wear your safety gear, which includes safety goggles and close-toed shoes. This step is essential because it helps to avoid several injuries if an accident occurs.
Please put on the safety valve to test it, then release the valve, and this should release some air, which means the compressor is functional.
Now, you have to turn on the compressor. The tank is pressured at this stage. Check for the kind of pressure your tool (whether for nailing, cutting, grinding, etc.) needs. Make sure your tool matches, set the pressure regulate knob properly, and finally, your device can run while the tank has air in it.
Specific Maintenance for Kobalt Air Compressors
You must care for tools when you purchase them to ensure longevity. It would be best if you also carried out servicing at least once a month. A Lowes air compressor can work for 3,000 – 5,000 service hours within 6 to 9 months, depending on the usage of the machine. Regular maintenance will cause a trouble-free operation; your electric air compressor requires periodic maintenance to ensure comfortable use of the machine. The steps listed below should be given much importance in terms of maintenance.
Read the User Manual – A User Manual is essential when purchasing a machine. The manual can help in quickly fixing everyday problems. The mode of operation may differ from your former air compressor, so it is better to read and understand the manual in this aspect.
Draining the tank – To prevent internal tank corrosion, the moisture must be removed at the end of each use. Wear protective eyewear while doing this.
Checking the Oil – Check the oil pump frequently, although there are Kobalt Air Compressor that has oil-free pumps. Do not overfill or underfill the oil pump. When the oil stays longer in the machine, it becomes darker and can reduce the machine's lifespan.
A 10W-30 synthetic oil is advised for general use; a 16-KS CO is also recommended.
Changing the Oil – The oil should be changed after every 720 working hours or once a month. Remove the oil plug and drain the oil until it becomes drip-like, then close. Remove the breather plug, and then add the oil until the level viewed with the sight glass is full. Remember, do not overfill or underfill the pump.
Maintaining an Air Compressor
Like any other mechanical device, it is essential to perform routine maintenance:
● Pump oil level
If your compressor is oil-free, this part of the maintenance is not needed. But you must check the air compressor pump oil level for all other air compressors. When the level is low, it can destroy the pump.
Step 1: Turn the machine off. Remove the mains cable if applicable.
Step 2: Put the machine on a flat surface, and leave it there for 5 minutes.
Step 3: Remove the oil fill cap
Step 4: Check the oil level, and see how the oil looks. If it seems dirty, you should change the pump oil.
Step 5: If needed, fill with oil. Make sure you do not overfill.
You can find Air Compressor Pump Oil here.
● Change the pump oil
If the oil in your pump is looking nasty or dirty, it needs to be replaced.
Step 1: Turn the machine off. Remove the mains cable if applicable.
Step 2: Make sure the oil is cooled. If you just used your machine, you have to give the oil some time to cool down.
Step 3: Put the machine on a flat surface.
Step 4: Remove the oil fill cap.
Step 5: Put an oil container underneath the drain cap. You can also use an old bucket.
Step 6: Remove the drain plug and let the oil fully drain.
Step 7: Put the drain plug back. Make sure it is tightened sufficiently.
Step 8: Fill with new oil. Wait a few minutes and recheck the level. If needed, add a little bit again.
You can find Air Compressor Pump Oil here.
● Clean or change the air filter
The air filter cleans the air that the engine uses. Over time it can get dirty or even clog.
Step 1: Turn the machine off. Remove the mains cable if applicable.
Step 2: Make sure the air compressor is cooled down.
Step 3: Remove the filter cover. Normally there are a few screws that need to be unscrewed.
Step 4: Get the air filter out.
Step 5: Clean the air filter. You can use a vacuum if needed.
Step 6: If the air filter looks bad, you should replace it.
Step 7: Put the air filter back and reattach the cover.
You can find Air Compressor Air filter here.
● Other maintenance
To further prolong the air compressor's lifespan, you should also check:
Fuel tank: Ensure the compressor fuel tank is clean
Shutoff system: Check the correct working of the air compressor shutoff system
Nuts: Check the different nuts and bolts and make sure that they are all tight. The shaking of the air compressor may loosen some of them.
Vibration: Check for more than usual vibrations or strange noises.
Leaks: Check for oil and air leaks
Safety release value: Check that the safety release valve is working correctly.
Belts: Check the belts for wear and tear
Pressure: Check the differential pressure in the compressed air filter
Hose: Inspect the hose for damage and wear and tear.
Temperature: Check and ensure that the operating temperature does not exceed a safe level
Condensation: Drain the condensation from the air compressor tank
● How often should you check and maintain your Air Compressor
How often you should do maintenance on your air compressor differs significantly from your usage. If you use it daily, you have to check things more often than if you only use your machine sparsly.
– Before using your Air compressor:
Drain the water from the air compressor tank
Check for oil and air leaks
Check for more than usual vibrations or strange noises
Check the level of the Pump oil
– Monthly
Check for loose bolts and nuts
Check the safety release valve
Check the air filter
Belt check
Check for air and oil leaks
– Yearly
Change the oil in the pump
If you have a gas air compressor, give the engine its yearly maintenance
Final Remarks
Lowe's Companies, Incorporated provides one of the best air compressors based on our analysis. The company has several air compressors that are recommended for professionals and homeowners. Lowes (Kobalt) Air Compressor requires maintenance from time to time, and the safety gears should be worn at all times while operating it. Air compressors should not be used by children or inexperienced adults. Be sure to remove any of the air tools and electricity supply during the maintenance phase. Remember not to use extension cords to prevent overheating of the machine.
We hope you have gathered all the information you need on the Lowes (Kobalt) Air Compressors from this article.