Looking for an efficient way to clean your driveway, deck, or even your car? Pressure washers can be your secret weapon, and Ryobi is a trusted and versatile brand in the world of power tools. We will explore Ryobi pressure washer reviews, comparing various models and their features to help you make an informed choice.
Ryobi pressure washer reviews:
Ryobi offers a variety of pressure washers for different needs and budgets, including the compact RY14122 for light-duty cleaning, the powerful RY802800 for medium-duty tasks, and the robust RY803001 for heavy-duty applications. Key features of Ryobi pressure washers include convenient onboard detergent tanks, quick-connect nozzles, and durable designs.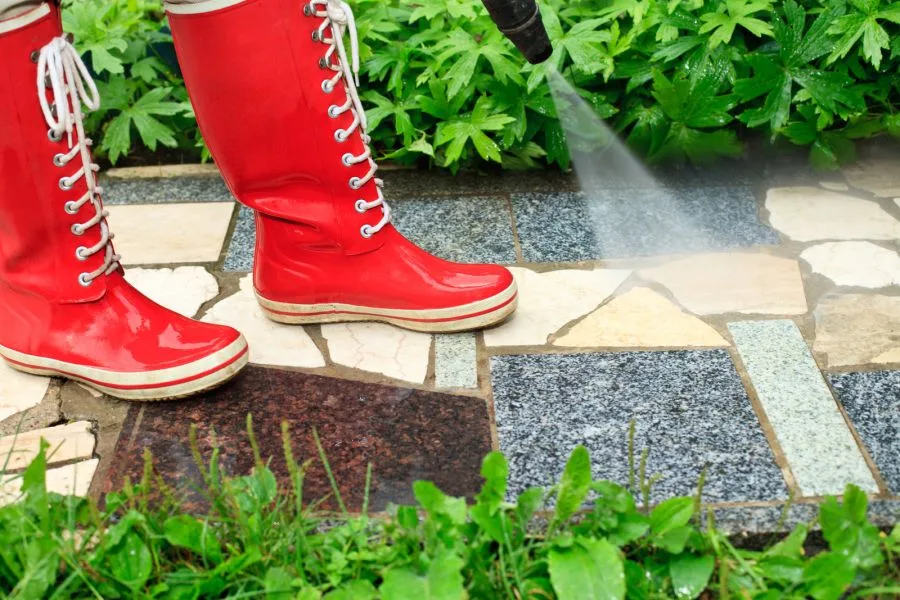 Choose the right model based on your specific cleaning requirements and personal preference to invest in high-quality equipment with exceptional performance and user-friendly features.
Ryobi Pressure Washer: Comprehensive Reviews and Analysis
Pressure washers are essential tools for a wide range of outdoor cleaning tasks, from washing cars and boats to removing dirt and grime from sidewalks and patios.
Ryobi, a leading power tools and outdoor equipment manufacturer, offers various pressure washers to suit different needs and budgets.
•

Ryobi RY14122 Electric Pressure Washer: Compact and Versatile Solution for Light-duty Cleaning
The Ryobi RY14122 is an electric pressure washer with a 13-amp motor that delivers a maximum pressure of 1700 PSI and a flow rate of 1.2 gallons per minute (GPM).
This model is best suited for light-duty cleaning tasks, such as washing vehicles and patio furniture and cleaning driveways and sidewalks.
– Key Features
Compact design with integrated storage for accessories
Onboard detergent tank for easy soap application
Three quick-connect nozzles (15-degree, soap, and turbo)
25-foot non-marring high pressure hose for extended reach
– Performance
The RY14122 performs exceptionally well for a compact electric pressure washer, providing enough power to remove dirt, grime, and mildew from various surfaces.
The three included nozzles allow users to adjust the pressure according to the task at hand, while the onboard detergent tank enhances cleaning capabilities when dealing with stubborn stains.
Recommendation
For those who require a lightweight and easy-to-use pressure washer for occasional light-duty cleaning tasks, the Ryobi RY14122 is a fantastic option. Its convenient design, reasonable price, and overall performance make it a solid choice for homeowners.
•

Ryobi RY802800 Gas Pressure Washer: Powerful and Reliable Option for Medium-duty Cleaning
The Ryobi RY802800 is a gas-powered pressure washer with a powerful 212cc OHV engine that delivers 2800 PSI of pressure and a flow rate of 2.3 GPM.
This model is ideal for medium-duty outdoor cleaning tasks, such as cleaning decks, fences, large patios, and washing cars, boats, and other vehicles.
– Key Features
Reliable OHV engine with Idle Down Technology for increased fuel efficiency
12-inch flat-free wheels for easy transport over various terrains
Onboard detergent tank for convenient soap application
Five quick-connect nozzles (0-degree, 25-degree, 40-degree, soap, and black high-pressure)
– Performance
The RY802800 boasts a substantial amount of power, allowing it to easily tackle more extensive cleaning tasks. The five quick-connect nozzles offer users the ability to customize the pressure output, while the onboard detergent tank provides additional cleaning power when necessary.
Recommendation
For those who need a more powerful pressure washer for various medium-duty cleaning tasks, the Ryobi RY802800 is a reliable and efficient choice. Its powerful engine and convenient features make it an excellent option for homeowners who require a dependable and versatile cleaning tool.
•

Ryobi RY803001 Gas Pressure Washer: Heavy-duty Performance for Demanding Projects
The Ryobi RY803001 is a gas-powered pressure washer with a professional-grade Honda GCV190 engine that delivers a maximum pressure of 3000 PSI and a flow rate of 2.3 GPM.
This model is designed for heavy-duty cleaning activities, such as stripping paint, removing oil stains, and deep-cleaning concrete surfaces.
– Key Features
Powerful Honda GCV190 engine for reliable and consistent performance
12-inch flat-free wheels for easy maneuverability
Five quick-connect nozzles (0-degree, 25-degree, 40-degree, soap, and black high-pressure)
Non-marring high-pressure hose with M22 connectors for secure attachment
– Performance
The RY803001 is a workhorse, providing impressive power and consistent performance in heavy-duty cleaning applications.
The quick-connect nozzles allow for easy pressure adjustments based on the specific surface and cleaning task, while the non-marring high-pressure hose ensures an extended reach without causing damage to delicate surfaces.
Recommendation
For homeowners who frequently engage in demanding outdoor cleaning projects, the Ryobi RY803001 is a top choice. Its robust construction, powerful engine, and user-friendly features make it an ideal option for tackling tough cleaning tasks easily and efficiently.
•

Conclusion
Ryobi offers a diverse range of pressure washers to accommodate various cleaning needs and preferences. From the compact and versatile RY14122 for light-duty tasks, to the powerful and reliable RY803001 for heavy-duty applications, Ryobi has a pressure washer to suit your needs.
Before making a purchase, it's essential to consider your specific cleaning requirements, budget, and personal preference to ensure you select a pressure washer that will serve you well for years to come.
By understanding the differences and capabilities of each Ryobi pressure washer model, you can make an informed decision and invest in high-quality equipment that meets your expectations.
For more information on pressure washer maintenance and usage, visit the Pressure Washer Manufacturers' Association website for additional resources and helpful tips.
Evaluating Ryobi: Is it a Reliable Brand for Pressure Washers?
Ryobi has been a leading name in the power tools and lawn care industry for several years. With their wide range of products and reliable reputation, it's no surprise that many consumers turn to this brand when choosing a pressure washer. But is Ryobi a good brand for pressure washers?
•

Quality and Durability
Ryobi pressure washers are known for their quality and durability. They offer a range of durable and reliable products that will stand up to tough cleaning jobs.
The pressure washers are constructed with metal and plastic, ensuring their longevity and resistance to wear and tear. Properly maintaining a Ryobi pressure washer will serve you well for several years.
•

Performance
Ryobi pressure washers offer high performance and cleaning efficiency. They are designed with robust motors and pumps that deliver powerful water pressure and flow rates.
The brand offers a variety of pressure washers with different power levels and features, suitable for various uses, such as cleaning cars, decks, driveways, and more.
The high-performance capabilities of Ryobi pressure washers make them ideal for both residential and commercial applications.
•

User-Friendliness
Ryobi pressure washers are designed with user-friendliness in mind. They often feature ergonomic handles, adjustable pressure settings, and easy-to-connect nozzles.
These features contribute to a hassle-free cleaning experience, making it easy for users of all skill levels to operate their pressure washers.
Moreover, Ryobi pressure washers typically come with straightforward and clear instructions, so even first-time users can get started right away.
•

Wide Range of Options
Ryobi offers a diverse lineup of pressure washers, catering to different needs and preferences. They offer electric, gas-powered, and battery-operated models, each with its own set of advantages.
Electric models are suitable for lighter cleaning tasks, while gas-powered models can tackle heavy-duty cleaning jobs. Battery-operated models offer the convenience of cordless operation, making them perfect for cleaning areas with no nearby power outlets.
In addition to different power sources, Ryobi pressure washers vary in their pressure output (PSI) and water flow (GPM).
This variety means there is a Ryobi pressure washer for almost every application, whether cleaning your car, blasting away dirt from your deck, or removing grime from your driveway.
•

Value for Money
Ryobi pressure washers are generally affordable and provide excellent value for money. While their prices may not be the lowest on the market, their reliability, performance, and user-friendliness make them a smart investment.
With a Ryobi pressure washer, you get a powerful cleaning tool that can save you time and effort in the long run.
•

Customer Support and Warranty
Another aspect that makes Ryobi a good brand for pressure washers is its customer support and warranty offerings. Ryobi provides a limited warranty on their pressure washers, covering any defects in materials or workmanship.
This warranty gives consumers peace of mind knowing that their investment is protected.
In addition, Ryobi offers excellent customer support, with knowledgeable representatives available to assist with troubleshooting or any other issues that may arise.
•

Environmentally Conscious
Ryobi is an environmentally conscious brand that offers eco-friendly solutions in its product lineup, such as battery-powered and electric pressure washers. These options allow users to perform their cleaning tasks with fewer emissions and lower noise levels.
By choosing a Ryobi pressure washer, you are supporting a brand that is committed to reducing its environmental impact.
•

Accessories and Spare Parts Availability
Lastly, a major advantage of choosing Ryobi as your pressure washer brand is the wide availability of accessories and spare parts.
Ryobi offers a comprehensive selection of pressure washer attachments, such as brushes, nozzles, and detergent injectors, allowing users to customize their cleaning experience.
Finding a spare is generally easy and affordable if a part needs to be replaced.
•

Conclusion
Based on the factors discussed above, Ryobi is undoubtedly a good brand for pressure washers. With their quality, durability, performance, user-friendliness, a wide range of options, and excellent customer support, Ryobi pressure washers are a smart choice for anyone looking to make a solid investment in a powerful cleaning tool.
Whether you are a homeowner in need of a reliable pressure washer for occasional cleaning tasks or a professional seeking a pressure washer for daily use, Ryobi has a suitable option for you.
What is the Appropriate PSI Range for an Effective Pressure Washer?
Pressure washers are powerful tools that can effectively clean surfaces by directing a high-pressure jet of water. They have become increasingly popular as cleaning appliances in residential and commercial settings.
One important consideration while purchasing a pressure washer is the unit's pressure rating, measured in pounds per square inch (PSI). Various cleaning tasks require different PSI levels, depending on the surface and the nature of the dirt or grime that needs to be removed.
•

Light-Duty Pressure Washers (1,000-2,000 PSI)
Light-duty pressure washers with a PSI range of 1,000 to 2,000 are great for accomplishing various tasks in and around the house. They are highly suitable for cleaning duties such as:
Washing cars and bicycles
Cleaning outdoor furniture
Washing down small decks and patios
Window cleaning
Their compact and portable design makes them a popular choice among homeowners. These electric-powered units are generally quieter, lighter, and require comparatively lower maintenance.
•

Medium-Duty Pressure Washers (2,000-3,000 PSI)
Medium-duty pressure washers fall within a PSI range of 2,000 to 3,000. They offer more cleaning power and are ideal for both residential and commercial use. Typical cleaning chores include:
Washing large vehicles and boats
Cleaning driveways, sidewalks, and larger decks
Stripping paint from surfaces
Cleaning fences and removing mold and mildew from siding
These pressure washers can be either electric or gas-powered. Gas-powered models are more powerful but may be louder and require more maintenance than electric models.
•

Heavy-Duty Pressure Washers (3,000+ PSI)
Heavy-duty pressure washers deliver 3,000 PSI or more, making them perfect for intense and frequent cleaning tasks. They are commonly used for:
Graffiti removal
Surface preparation for painting or sealing
Cleaning industrial equipment and machinery
Removing tough stains and grime from concrete, brick, or stone surfaces
These powerful pressure washers are almost always gas-powered and come with various professional features. They should be used with caution and may not be suitable for inexperienced users or delicate cleaning tasks.
•

Adjusting PSI on a Pressure Washer
Be aware that not every pressure washer allows for PSI adjustment. If you need precise control over the pressure, look for models with adjustable pressure regulators. This feature allows you to increase or decrease the pressure as required for different tasks.
Another way to control the PSI is through the usage of nozzles. Nozzles with a wider spray angle usually reduce the pressure, while a narrower spray angle increases the pressure.
Always refer to the owner's manual or nozzle color-coding system for specific pressure recommendations and nozzle functionality.
•

Safety Measures
Pressure washers can cause injuries and damage if not used properly or under the right conditions. Here are some important safety measures to follow:
Assess the surface you plan to clean and choose the correct PSI level for the task.
Familiarize yourself with the user manual that comes with your pressure washer to understand its features, operation, and safety instructions.
Never point the pressure washer at yourself, other people, or animals.
Wear appropriate safety gear, such as protective eyewear, gloves, and closed-toe shoes.
Before starting the washer, check the connections, hoses, and nozzles, and replace any damaged components immediately.
•

Conclusion
So, what is a good PSI for a pressure washer? The answer depends on your cleaning requirements. PSI levels ranging from 1,000 to 2,000 are ideal for light-duty tasks, while medium-duty tasks require 2,000 to 3,000 PSI.
For heavy-duty jobs, 3,000 PSI or more is suitable. Always make sure to adjust the PSI according to the task, follow safety measures, and look for pressure washers with adjustable pressure regulators or appropriate nozzles for added control.
For more information and guidance on selecting the right pressure washer, the ConsumerReports.org website offers detailed reviews and recommendations on various pressure washer models and buying considerations.
Which Brand Offers the Superior Pressure Washer: A Comparison
Pressure washers are essential tools for a variety of cleaning tasks, be it your home's exterior, your car, or your patio furniture. They are known for their speed and effectiveness, but the market is saturated with numerous brands that promise the best results.
To make the right decision, it's crucial to compare the top brands, taking into account their features, price points, and customer reviews.
•

Krcher: German Engineering Excellence
Krcher is a well-known German brand synonymous with providing top-quality cleaning equipment, including pressure washers. They are known for their cutting-edge technology, excellent cleaning performance, and durable build.
Karcher offers a wide range of pressure washers suitable for various applications, from simple home cleaning tasks to heavy-duty industrial uses.
– Key Advantages
High-quality, reliable performance
Wide range of models to choose from
Easy to use and maneuver
Strong after-sales support and readily available spare parts
– Downsides
Can be more expensive than other brands
I recommend the Karcher K4 or K5 for home use as they offer excellent power output, are reasonably priced, and will last for many years with proper maintenance.
•

Sun Joe: Affordable Choice for Homeowners
American brand Sun Joe has made a name for itself by providing affordable, reliable, and eco-friendly pressure washers.
While they may not possess Krcher's high-end features, Sun Joe's pressure washers are more budget-friendly and perfectly suited for lighter domestic cleaning tasks.
– Key Advantages
Budget-friendly price points
Suitable for lighter cleaning tasks
Compact and lightweight design
Eco-friendly, with some models being emission-free
– Downsides
May not be suitable for heavy-duty cleaning
Less variety of models available
If you're a homeowner seeking an affordable, environmentally-friendly light cleaning option, I recommend the Sun Joe SPX3000 or SPX3001 models.
•

Briggs & Stratton: A Trusted Name in Outdoor Power Equipment
Briggs & Stratton has been providing quality outdoor power equipment for over 100 years. Their pressure washers are known for their powerful engines and are more tailored toward heavy-duty cleaning tasks.
Briggs & Stratton products are reliable and durable, making them excellent choices for professional cleaners or those who intend to use their pressure washers frequently.
– Key Advantages
Trusted and established brand
Powerful engines for heavy-duty cleaning
Durable and reliable construction
Some models come with multiple attachment options
– Downsides
More suitable for professionals and frequent users
Can be more expensive than other options
If you need a machine for heavy-duty cleaning tasks or are a professional, I recommend the Briggs & Stratton Elite Series for their power and dependability.
•

Ryobi: High-Quality Option for DIY Enthusiasts
Ryobi is well-known for its quality power tools that cater mainly to the DIY market. Their line of pressure washers is no exception, offering reliable performance, easy-to-use features, and a balance of affordability and effectiveness.
Ryobi also offers convenient cordless pressure washers, making them an excellent option for those without access to an electrical source during cleanup tasks.
– Key Advantages
Quality construction and reliable performance
DIY-focused with ease of use
Cordless options available for added convenience
Great value for money
– Downsides
May not be suitable for industrial-level professional use
Limited range compared to other brands
For DIY enthusiasts and those looking for a solid, all-rounder pressure washer, I recommend the Ryobi RY14122 or the RY141612 models.
•

Conclusion: The Best Brand for Your Needs
Your ideal pressure washer brand depends on your cleaning needs, budget, and personal preferences. Karcher leads the pack with its high-quality machines and strong performance, while Sun Joe offers affordable options for homeowners.
Briggs & Stratton is a great choice for heavy-duty cleaning tasks, and Ryobi provides excellent quality and convenience for DIY enthusiasts.
Ultimately, it's essential to compare the features of various models within these brands and choose the one that best fits your requirements. Consider factors such as pressure output, flow rate, and ease of use to make the best decision for your cleaning needs.
What is the required PSI level for effectively cleaning concrete surfaces?
Cleaning concrete surfaces can be a challenging and time-consuming task if you don't have the right equipment and knowledge. One of the most critical factors to consider when cleaning concrete is the pressure you'll need to effectively remove dirt, grime, and stains.
•

Understanding PSI and Its Importance in Cleaning Concrete
Pressure per square inch (PSI) is a measurement used to express the intensity of pressure applied on a particular surface. In the context of cleaning concrete surfaces, the right PSI plays a significant role in determining the effectiveness of the cleaning process.
Concrete is a porous material; dirt, grime, and stains can penetrate its surface with time. Using the appropriate PSI ensures that the pressure washer effectively removes these contaminants without damaging the concrete surface.
•

Factors to Consider When Selecting the Ideal PSI for Cleaning Concrete
Several factors can influence the ideal PSI required for cleaning concrete surfaces. These factors include:
– The Type and Age of the Concrete Surface
Younger concrete is generally more susceptible to damage than older, more cured concrete. As a result, it is essential to use a lower PSI when cleaning newer concrete surfaces.
On the other hand, older and more robust concrete can usually withstand higher pressure without incurring damage.
– The Level of Dirt and Stains on the Surface
Heavily soiled and stained concrete surfaces may require a higher PSI to remove contaminants effectively. However, it is crucial to strike a balance between using adequate pressure to remove dirt without causing any damage to the concrete surface.
– The Type of Contaminants on the Concrete Surface
The kind of contaminants present on the concrete surface can significantly impact the required PSI for effective cleaning. For instance, removing oil stains, algae, or mildew can be more challenging than eliminating common dirt and may necessitate a higher pressure.
– The Pressure Washer's Flow Rate (GPM) and Attachments
The flow rate, measured in gallons per minute (GPM), is another critical factor influencing the cleaning power of a pressure washer. A higher GPM enables more efficient cleaning, requiring less pressure (PSI).
Additionally, the type of nozzle attachment and its spray angle can also impact the cleaning performance. Using a wider spray angle can allow for effective cleaning at lower pressures.
•

Recommended PSI Range for Cleaning Concrete
Considering the factors mentioned above, the recommended PSI range for cleaning concrete surfaces is between 2,500 and 3,000 PSI. This range is generally effective for removing typical dirt and stains without causing potential harm to the concrete surface.
However, starting at lower pressures and slowly increasing until the desired cleaning effect is achieved is always essential. Maintaining a safe distance of at least 12 inches between the nozzle and the concrete surface can also minimize potential damage.
•

Tips for Effective Concrete Surface Cleaning
Here are some useful tips for effective concrete surface cleaning:
Use a surface cleaner attachment for a more uniform and efficient cleaning process.
Apply a concrete detergent to loosen deep-seated stains and dirt before using the pressure washer.
Utilize a hot water pressure washer to remove stubborn contaminants such as oil and grease.
Always wear appropriate safety gear, including eye protection and gloves, when using a pressure washer.
Inspect the concrete surface for any potential cracks or damage before starting the cleaning process.
•

Conclusion
Understanding the importance of selecting the right PSI when cleaning concrete surfaces is crucial for maximizing effectiveness and minimizing potential damage.
While a PSI range of 2,500 to 3,000 is typically recommended for cleaning concrete, it is essential to consider the specific factors that can influence the ideal PSI for your cleaning requirements.
By considering these factors, you can ensure that your concrete cleaning process is efficient and safe.
For more information on PSI and pressure washing, you can refer to the Pressure Washing Guide by the University of Illinois Extension.
| Type of Cleaning | Recommended PSI |
| --- | --- |
| Light Cleaning | 1500-2000 PSI |
| Medium Cleaning | 2000-3000 PSI |
| Heavy Duty Cleaning | 3000-4000 PSI |
| Removing Graffiti | Over 4000 PSI |