Pressure washers- How do these machines work? How do you choose between an electric and gas pressure washer? Is a cordless washer any better? What are some of the best and quiet electric pressure washers? These are some of the most asked questions by most homeowners. In this blog post, we address your concerns. You can combine our commercial electric power washing experience with real-life experience to test the best electric pressure washers in the industry.
What is the quietest pressure washers?
Pressure washers are not the quietest cleaning tools on the market. Generally, electric models are quieter than gas models, as an electric motor makes a lot less noise than a gas engine. In the case of electric pressure washers, it is the pump that makes the most noise. Some models have quieter pumps and have better sound insulation.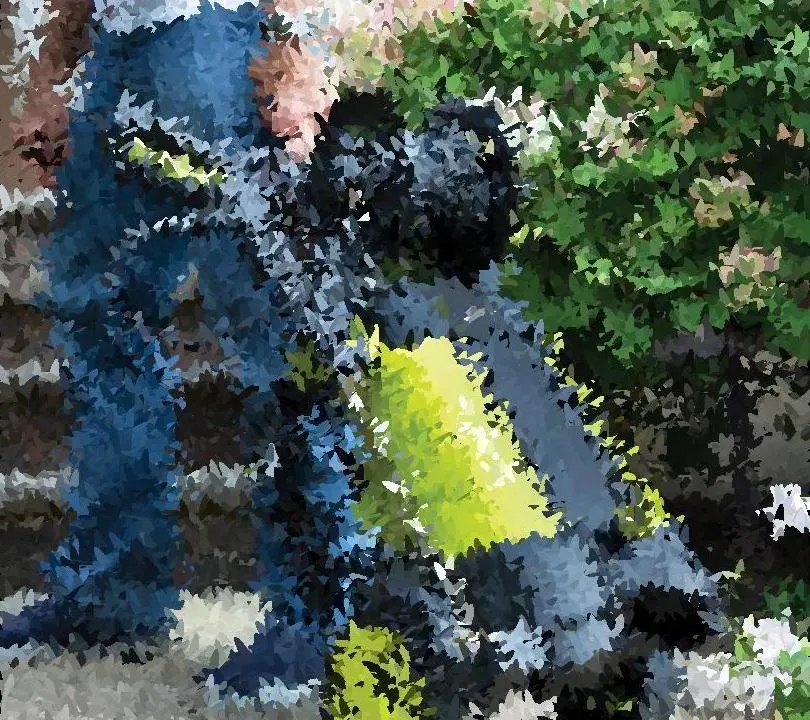 Background Information
You may be unable to notice all the dirt as well as the grimy buildup outside your home. Trust me; it is there. The dirt accumulation isn't a direct reflection of your cleaning tips or home maintenance methods. It is a significant part of your home being exposed to certain elements. However, that does not imply that you should be idle about it. You can use a pressure washer not only to remove the dirt but bring your home's look back to life. This sounds easy, right? You will be surprised to learn that pressure washers can also cause extensive damage to your home.
It is, therefore, essential to conduct thorough research before you get started. If you are one of those who have never used the device, you are in the right place. Just until a few years ago, many people had not invested in one either. This sounded a little intimidating for different people. If you are ready to get started, then keep reading more on the uses of electric pressure washers and some of the top quietest electric pressure washers.
Should You Go For Electric Or Gas Pressure Washers?
Electric pressure washers have an upper limit of approximately 2000 PSI. This implies that you can get multiple cleaning solutions out of a model that has a 15-amp motor. Regardless of the volume of power delivery, electric pressure washers come in several types. These models have different types of electric motors. For example, some models have water-cooled induction motors. These models circulate water around the engine before releasing it via the hose. Other additional features are such as the axial cam design of a pump.
On the other hand, gas-powered pressure washers happen to be the cheapest models. They produce approximately 2800 PSI. High-end models deliver up to 4000.
Looking At The Best Electric Pressure Washers
Without a doubt, electric pressure washers are perfect for use in and around your home. This is especially true when it comes to cleaning and maintenance tasks. In fact, these devices have an added advantage over gas pressure washers, particularly in indoor use. Because electric pressure washers utilize electricity as the primary source of power, they don't produce fumes. Therefore, they are not only affordable but lightweight. They are also compact and easy to use when it comes to moving around. For that reason, they can easily be stored after use. We have reviewed multiple models of electric pressure washers. If you aspire to own one, do not be afraid to take a look around! Here are some of the best yet quietest electric pressure washers in the market.
1. Sun Joe SPX3001 Pressure Washer
The Sun Joe pressure washer has an electric motor. If you have experience with electric motors, you will concur that they are very efficient. The pressure washer operates at 2030 PSI. The pressure washer also has a detergent tank that has a 1.21 liters capacity. Also, the Sun Joe pressure washer has a high-pressure hose that is 20-foot long. The power cord is also 35-feet long, and it also has GFCI protection. There is also a clean-out tool and a hose adaptor.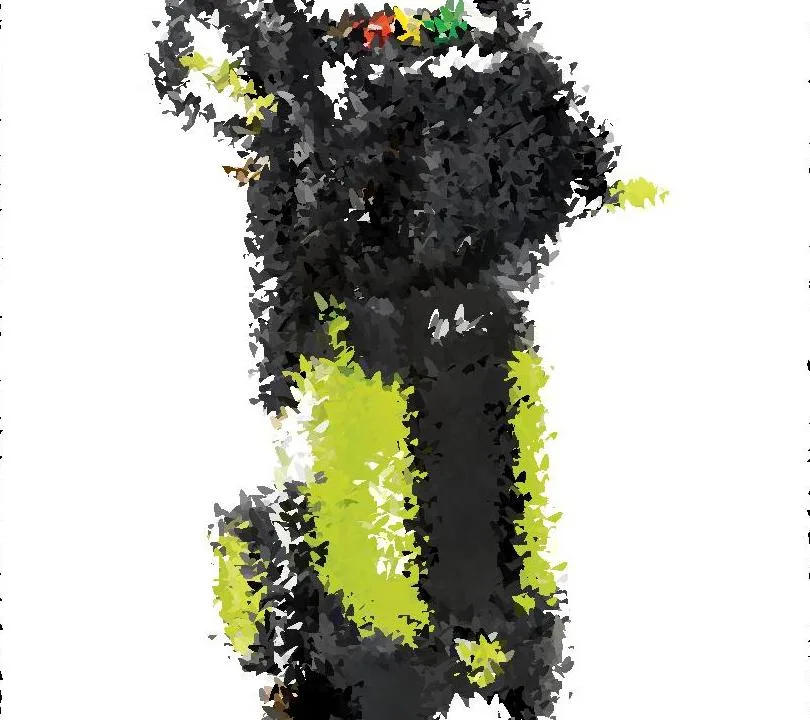 The pressure washer also has some rear wheels. The extension spray is also long. That means that you can quickly move it around so that you can easily reach some of the tight spots. The pressure washer also has five adjustable spray tips. Since the Sun Joe pressure washer is medium-duty, it can clean oil, tar, grease, and rust. Another exciting feature present on this pressure washer is the Total Stop System, and it usually turns off the pump if the trigger has not been pressed.
The pros of the Sun Joe pressure washer are as follows:
Comes with a biodegradable detergent– Biodegradable detergents are usually environmentally friendly. They are also suitable for cleaning grease and oil.
The Pressure Washer has a 20ft hose pipe and a 35ft power cord- the length of the cable and the hose pipe ensure that you can cover a large area.
The pressure washer does not consume huge amounts of water- The pressure washer consumes 1.57 gallons per minute. The water consumption rate showcases that it is very economical. You will enjoy the perks that come with investing in this electric pressure, especially when receiving lower utility bills.
The pressure washer has a high-powered motor- the motor is powerful, ensuring that the pressure washer can operate efficiently. The pressure washer cannot also damage wooden surfaces.
It is affordable- if you are looking for a pocket-friendly pressure washer, you should opt for the Sun Joe SPX30001 Pressure Washer.
The cons are as follows:
The body has been manufactured using thin plastic- the pressure washer resembles a lawnmower.
It is only compatible with accessories manufactured by Sun Joe- in case you need some accessories; you have to purchase them from Sun Joe.
2. Greenworks 2000 PSI
The Greenworks pressure is quite powerful. It has a 13-ampere induction motor, and it can easily clean various forms of dirt in different areas. The pressure washer usually operates at 2000 PSI. The pressure washer also ensures that you have gotten value for your money. Other interesting features include the presence of a power cord that is 35-feet long and a high-pressure hose that is 25-feet long. The pressure washer has three nozzles. You can adjust the nozzles depending on your needs.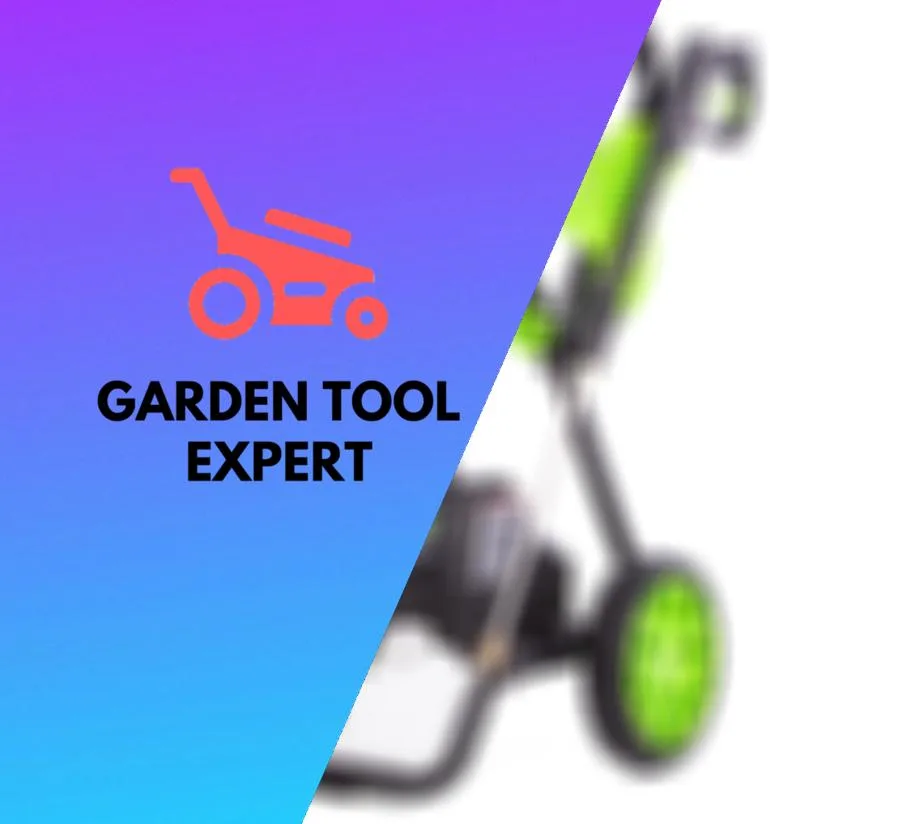 The pressure washer is ordinarily silent during the pumping process as compared to the gas pressure washers. It also has two rear wheels, and it is not heavy; as a result, it can be easily moved in any direction. The pressure washer also has an in-built holder, and the accessories can be placed there. The pressure washer is mainly suitable for residential use.
Pros of the Greenworks 2000 PSI include:
It has a compact design- the pressure washer can be moved around easily.
It has a telescopic handle- the handle ensures that can move the pressure washer easily.
The motor can only run when the trigger has been pulled- this feature ensures that the pressure washer is silent.
It consumes less energy- it is cost-effective.
The cons of the pressure washer are:
It is large- the pressure washer will consume a lot of space in the storage unit. If your storage unit is not large enough, you may have difficulty storing the pressure washer.
3. AR Blue Clean AR383 Pressure Washer
The pressure washer offers a PSI of 1,900. A 14-amp battery powers it. Depending on the pressure exerted by the pressure washer, it is ideal for cleaning oil and other forms of dirt. The pressure washer can be used to clean walls, the front yard, furniture, cars, and even bicycles. Some of the features present in the pressure washer include a washer gun, a hose that is 20-feet long, two wands, a detergent bottle, and different types of nozzles.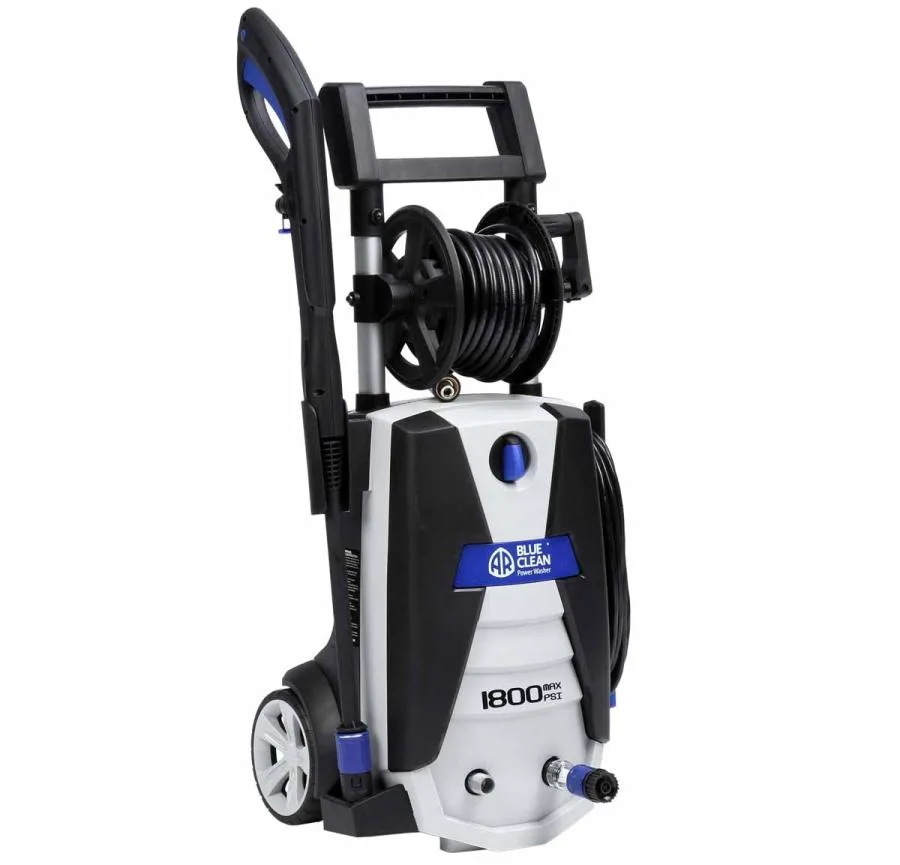 The spray wands come in handy when changing the water stream's pressure. The biodegradable detergent also comes in handy since it can be used when soaking the surface. After that, you can go ahead and get rid of the stains using the water pressure. The installation procedure is straightforward. When it comes to noise, the pressure washer is generally silent, and it operates at 82 dB, which is why it is preferable compared to the gas pressure washer. The pressure washer also has different safety features, including the shut-off valve. Not only does it operate automatically, but it also uses less water. This implies that the device is environmentally friendly.
The pros of the AR Blue Clean AR383 pressure washer are as follows:
It operates at 1900 PSI and has a 14- amp battery- the high-pressure levels are suitable when scrubbing off some stains from different surfaces.
Numerous attachments- the attachments usually suit the needs of each user.
It is light- the pressure washer's weight ensures there is maneuverability.
Environmentally friendly- consumes less power and also uses less water.
Suitable for cleaning bicycles and cars- the pressure washer ensures that cars and bikes are clean quickly.
The cons are as follows:
The hose is manufactured using inflexible plastic– the hose can easily tangle in some instances.
4. Powerhouse International- Electric High Power
As the name suggests, the pressure washer is powered by electricity. It is also efficient. It operates at 3000 PSI. As for the noise, the pressure washer is quite quiet. As long as the spray gun trigger has been released, the pressure washer will stop running. Such features help to prolong the life of the pressure washer's motor.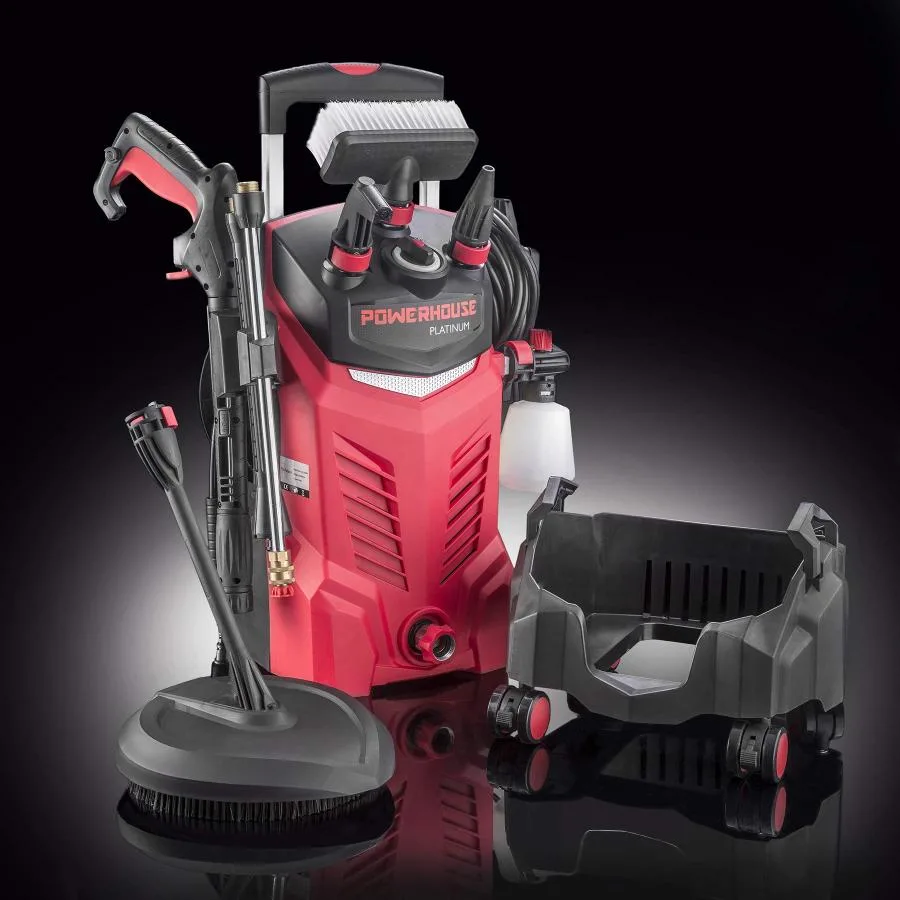 Since the pressure washer is heavy, it has been placed in a detachable cart, and it also has four casters. The cart can roll freely whenever you want to relocate the pressure washer. Powerhouse has made some improvements, and they are confident that the current model is very efficient. The pressure washer has been accompanied by accessories such as angle and turbo nozzles, soap foam sprayer, surface cleaner, and a brush. The foam sprayer also comes in handy when cleaning the gutters.
The pros of the pressure washer include:
It has five spray tips– the spray tips can be adjusted depending on the user's preferences.
There is an overheating sensor- the sensor ensures that the pressure washer can last for a prolonged period.
It has two nozzles- there is the pressure and the turbo nozzle, and they can create some circular motions. Also, you can easily clean some of the inaccessible areas.
It can clean molds and dust- the pressure washer can clean various surfaces efficiently.
5. RYOBI
Just like the Simpson electric pressure washer, RYOBI is an impressive machine powered by a shaft engine. For that reason, it has won the overall best award for electric pressure washers on different occasions. It is not just easy to unroll this machine but to operate it as well. You love the fact that it lies flat up so fast for storage. Other than that, this machine has a fold-down handle, which is a perfect feature that enhances its simplicity. Here, you can easily pull the pin then fold it. Besides, the wheels facilitate the movement of the machine. The only notable con to this machine is that its pumps are at ground level.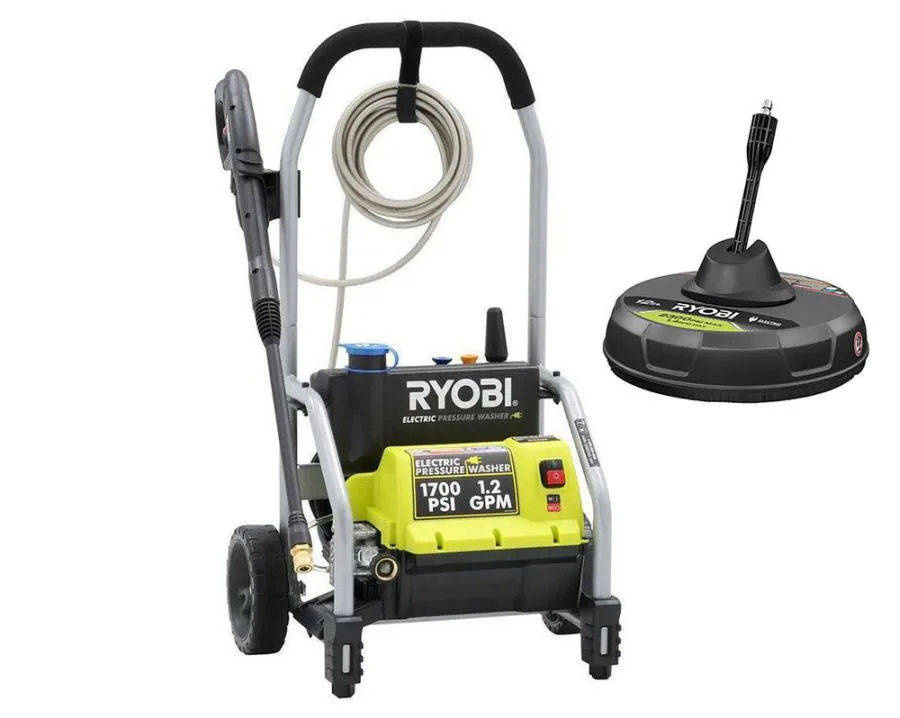 6. Karcher
Karcher is one of the best electric pressure washers in the industry. It is designed to maximize comfort and convenience, especially when it comes to handling usual cleaning tasks. One definitive feature you'll like about it is that it can follow you around with the wheels during the cleaning routine. This exceptional feature makes it a viable cleaning machine.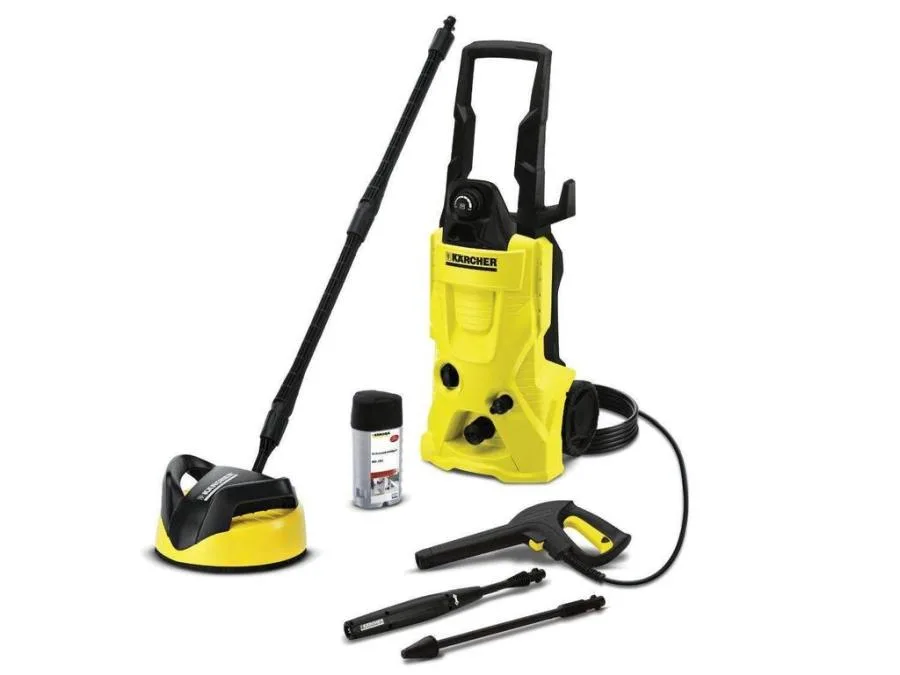 The flow rate of the device is approximately 1 gallon per minute. Its pressure output is about 1600 PSI. While it's not the most reliable pressure washer, it will instantly get the job done. A wand is attached to the package. It makes it convenient for you to change pressure. This highly depends on your cleaning demands. Besides, it also has dirt blaster equipment that primarily increases the pressure.
7. Schafter ST5
Schafter ST5 is an easy-to-operate electric pressure washer. It will not surprise you with several gimmicks. Besides, it is versatile with a PSI water spray that comes with a unique wand. Perhaps you'll also like the device that strips dirt off your home surfaces, particularly at close range. Coupled with its automatic stop system, you can easily plug this device into the external outlets, thereby providing you with a significant movement. You do not have to use a cable that runs outside your house.
Other than that, this electric device has four nozzles strategically placed at certain angles. You are free to select one type of spray to get rid of dirt. This depends on the extent of damage in your home. You can also wash huge chunks of stains on thick surfaces.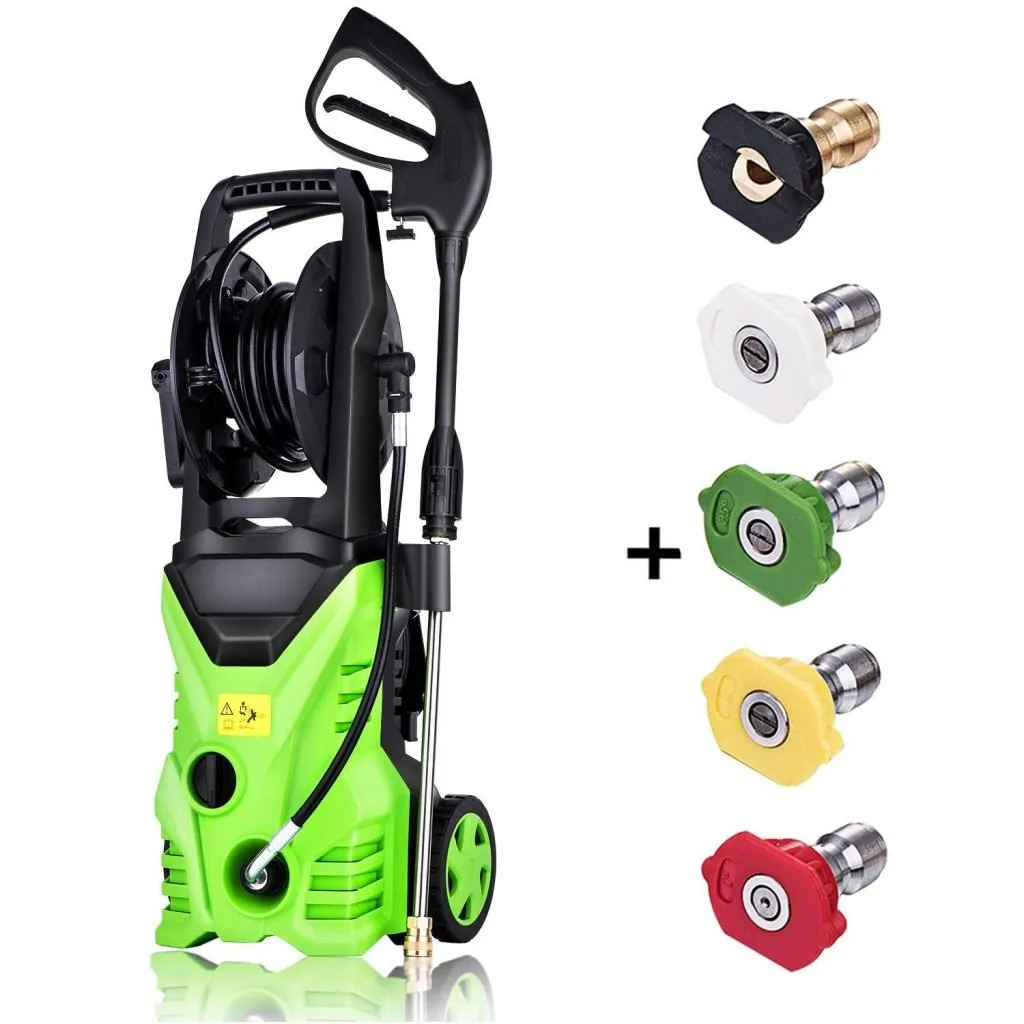 Additional Information
An electric pressure washer is often powered by electricity. Power usually plays a role in determining the type of tasks it can handle. Also measured in pounds per inch, this pressure washer is rated using a slightly higher PSI couple with a GPM that facilitates faster cleaning. You can use the ratings to determine the cleaning capability of an electric pressure washer. High ratings imply that the pressure washer can easily clean a large area within a couple of minutes. There are different models of electric pressure washers, as we have highlighted in this article.
While some are ideal for cleaning larger areas in and out of the house, others are suitable for cleaning smaller areas. Both pressure washers come in different weights. The compact, lightweight machines can be used to clean patios and small decks.
Medium duty electric pressure washers generate approximately 2800 PSI. They are perfect for cleaning shops and homes. On the other hand, heavy-duty machines are ideal for commercial use. These machines are professional-grade pressure cleaners that emit sufficient pressure to clean every piece of dirt.
A multi-duty pressure washer, will, on the other hand, allow you to easily adjust the pressure of the machine as well as water flow when handling different tasks. You can also remove graffiti as well as strip paint from the walls. You can also invest in a multi-duty electric pressure washer that allows you to adjust to the pressure of different water flows smoothly. When choosing an electric pressure washer, you need to consider your cleaning demands. That way, you can settle for a device that effectively cleans the surfaces of your home.
Final Remarks
Whether you refer to them as outdoor cleaners or pressure cleaners, pressure washers operate the same way. Water enters into the machine at the lowest pressure possible. The motor of the engine then pumps water into the device through a spray nozzle. Electric pressure washers deliver efficient cleaning instantly. They cost less and are easy to operate.
With only a flip of the switch, an electric pressure will run quieter than its gas counterpart. The cleaning device uses less power. It is also ideal for heavy-duty tasks such as cleaning grills as well as vehicles. It is essential to follow the instructions of a manufacturer when operating your electric pressure washer. This is because some models need to be plugged into the outlet using the cord. Others, on the other hand, need an extension cord to function correctly. It would help if you considered this when purchasing an electric pressure washer.