Sheds are important storage facilities that provide a variety of shelter options for your lawnmower as well as other accessories. Investing in a storage shed is a great way of keeping your lawnmower safe and out of the elements as well as your much-needed garage or basement space. Storage sheds are available in a variety of styles and sizes and can suit different kinds of needs and budgets. Once you have a well-built storage shed that suits your needs, you won't have to worry about the weather or security, as all your tools and equipment will be safely locked away inside.
A lawn mower shed, these are your options:
Keter Fusion Composite Storage Shed
Arrow Newburgh Steel Storage Shed
Suncast Tremont Storage Shed
Rowlinson Secure Storage Shed
Rubbermaid Outdoor Vertical Storage Shed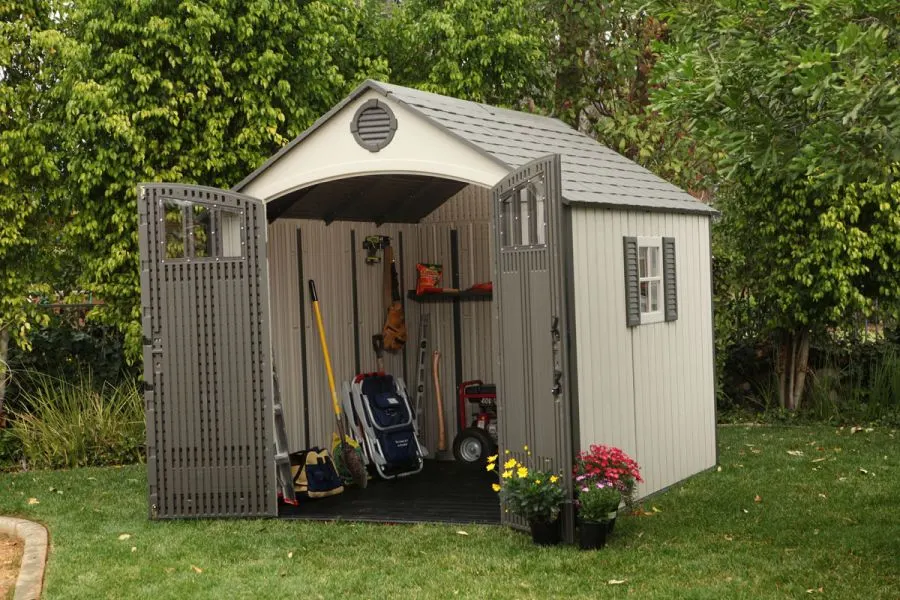 The size of your storage shed will depend mainly on the size of your equipment. Most riding lawn mowers will need at least a 5 by 5-foot space, while some may even require a 7 by 5-foot space, all depending on the size of your mower. Apart from the size, other factors such as the cost, and probably the style or color you prefer, also play an important role. It may seem like something simple, but a storage shed can be a pretty big investment, that you can be looking at for the next 15 to 20 years! This is why you need to make the right and best choice in the long run.
Did you just invest in a new mower for the upcoming mowing season? Do you already have a mower used in previous seasons, and you just need to get it out of the weather? Do you want to know the options of storage sheds available for you? You're in the right place. In this article, we will be looking at different types of storage sheds used for lawn mowers, which can include a push mower, a zero-turn, or a riding lawnmower. Regardless of the type of mower you own, you're going to find important information that would help you make the right decision for your situation.
Types of Lawn Mower Storage Sheds
Generally speaking, there are three different types of material to consider when looking at a shed. These include wood, resin, and metal. Below are a few major differences associated with each type.
● Wooden Sheds
These are perhaps the most commonly recognized garden building in many households. Wooden sheds have been helping many people out for a very long time, and they are generally the more traditional approach. If you're looking to create your shed plan, it is recommended that you build it from scratch, or better still, follow a pre-made plan. Hence this option might be great for you. Wooden sheds are available in many styles and designs to suit your taste. For people interested in a traditional shed, an apex shed is most likely the best choice to complement your traditional garden. Having different options like customization, and not having to worry about a predefined size, some people might consider this the best possible option.
If you are after working with a small budget for your lawnmower store, then the wooden shed is a great choice. Since it is available in a range of sizes, you can easily store all your garden items in one place or simply provide a shed for your mower when it's not in use.
● Resin Shed
People sometimes refer to these shed as plastic or vinyl shed. These are storage sheds that are created out of a dense resin that is more heavy-duty than the standard plastic. Not only are they lightweight, but they are also easy to assemble and are best suited for DIYers or people looking for an out-of-the-box option. However, the seams between resin panels may be prone to leakage, but to prevent this, add silicone caulking along the seams or at the joints to make sure that your shed is as watertight as possible. Also, since plastic is not well-insulated, it is susceptible to excess heat, especially during the peak of the summer months. On the bright side, resin sheds are not usually subject to construction requirements, which is why they can be set up in less than a day. Many homeowners can consider this a great option.
● Metal Shed
If you're looking for a low-maintenance building that is also strong, a great option can be a metal shed. For durable lawn mower storage, metal sheds are considered a great option, and they provide excellent protection from the elements. Most metal sheds are made with either steel or aluminum metal. The aluminum shed is usually galvanized to protect it from the weather, however, it does not always prevent rusting. Steel sheds, on the other hand, can last for many years without much maintenance. Of course, there are several steel shed models available on the market, however, they may require professional help during installation.
The major downside of using steel sheds are their potentially-sharp edges and their susceptibility to summer heat. This is why metal sheds often require additional ventilation to keep them cool during summer. Also, the edges and joints can be potentially hazardous, if they are not covered. Finally, most metal sheds do not always come with a floor, so you'll have to provide your floor. You can simply provide a level concrete slab and this can handle the metal's weight for its entire lifetime.
What Size Shed Do I need?
The size of your storage shed will depend mainly on the size of your equipment. Most riding lawn mowers will need at least a 5 by 5-foot space, while some may even require a 7 by 5-foot space. That means that most smaller sheds will do.
Additional to your lawnmower, you probably want to store accessories, and other lawn equipment. Also, think about gas and oil if you have a gas lawnmower, and many some tools you need for maintenance.
In the case of a battery-powered lawnmower, do not forget to add a main outlet in the shed. So you can charge the batteries there.
Sheds come in various sizes, from small (under 35 square feet) will be fine for a smaller lawnmower together with some other tools. A medium-sized shed (up to 100 square feet) gives a lot more room for riding lawnmowers and other equipment. Larger sheds, above 100 square feet have room for much more than your garden equipment.
To get a good idea about the shed size you need, add the size of the different items together. Do not forget to add room for some shelves on some of the walls. If you plan on hanging things on the wall, you need to add some room for that as well.
If you have added it all up, I recommend adding an additional 30% floor space so you move around and access the various items. I also recommend making a simple layout so you can get an idea of where you are going to store the bigger items.
Ensure that the size of the door is big enough to move the larger tools and machines in and out. Check the width of your largest machine, and add 20% to it. This should give you enough room to easily get machines in and out.
Shed Accessories
There are many accessories that you can use in your shed to use the space more efficiently:
Lighting: Ensure you have good lighting, so you can use the shed during all times of the day.
Outlet: One or more outlets are extremely useful to charge batteries, or use power tools when you have to do maintenance.
Windows or skylight: Get some natural light into the shed. But I recommend adding some shutters or curtains as well, so you can block the view into the shed, so unwelcome guests can not see what is inside. For some sheds, you can choose a transparent or semi-transparent roofing material that is a perfect solution to get the natural light indoors.
Shelves: Shelves are the perfect place to store all kinds of tools and materials. Some shed manufacturers sell shelves specifically designed for it.
Hooks: Hooks are a perfect solution to hang various garden equipment on the wall. There are also garage storage systems that you fit on the wall and make it possible to move, add and remove hooks easily.
Storage Boxes: Storage boxes are helpful to store smaller items efficiently. Most types are easy to stack, so they can be used on bigger shelves as well. If you have multiple, add a sticker on the outside with the contents.
The floor of the shed
Depending on your location, the shed floor can be really important. You do not want to get moisture into your shed when it is raining outside. There are several floor options:
Concrete floor: Probably the most suitable option is to use a concrete floor. It is strong and durable and does not need a lot of maintenance. Ensure that it is high enough, so it won't be flooded after heavy rain.
Outdoor Tiles: A good option for a shed can be outdoor tiles. They are easy to add to the soil and can be removed if you want to move the shed, or if it is not needed anymore. Ensure that the floor is level and strong enough to cope with the heavier equipment you plan to store. The top of the floor should be high enough, so it won't be flooded.
Pressure-treated lumber: A good option for wooden sheds is to use pressure-treated lumber. It can cope well with moisture, but always ensure that it is above the soil. You can use concrete pier pads or another suitable option for this. I do not recommend using non-pressure treated wood, as this will rot much faster.
High floor: If you live in an area that is prone to flooding, I recommend building a raised floor. The easiest way is to use high concrete footing, and build a floor on top. Alternatively, you can build some walls from bricks and build the floor on top.
A Lawn Mower Shed: Some of Your Options
As mentioned earlier, sheds are usually selected based on the size of your mower, as well as the style that will match the home. Hence, it will also depend on the type of mower you have or need to store.
If you need to store an electric lawnmower, you'll want to make sure your shed is watertight, and possibly have an elevated platform for the mower to sit on. Individually, there are different reasons to pick a particular shed over the other. To make your decision-making a lot easier, here are some options you can consider:
● Keter Fusion Composite Storage Shed:
Made with composite wood-resin material that is appealing to the eye, this Keter Fusion shed can blend in seamlessly with your nicely-landscaped yard. With an external dimension of 90.2″ wide x 47.6″ deep x 99.2″ tall and an internal dimension of 79.1″ wide x 40.16″ deep x 97.9″ tall, the shed is extremely durable, very secure, and easily lockable.
To assemble the shed, takes roughly 1 to 2 days, including the foundation construction time. If you are looking for a stylish storage option that is safe and durable, you should consider the Keter Fusion line.
● Arrow Newburgh Steel Storage Shed
With an internal dimension of 7'10" wide x 5'6″ deep x 5'6″ tall and an external dimension of 8′ wide x 5'11" deep x 5'7″ tall, this Steel storage shed is very durable with strong and secure walls. The exterior of this storage shed is made up of electro-galvanized, UV-resistant steel that can thrive well in the summer. Also, its low-gable reinforced roof serves as protection from rain and other weather conditions.
To assemble the shed takes about 6 hours including foundation construction time, and pre-cut and drilled parts make DIY assembly easier. They have sliding double doors that meet in the middle where they can be padlocked to prevent unwanted entry. However, the padlock connection point is low strength. There is no floor for this shed, so you will have to build one yourself.
● Suncast Tremont Storage Shed
Made with blow-molded resin construction, this sturdy resin plastic shed is extremely durable and strong enough to last a long time. Its design and security are quite simple but appealing to the eyes, and it is also easy to assemble: takes about 2 to 5 hours to assemble including foundation construction time.
If you're looking for a medium to large-sized shed to match your backyard space, this 8'x10′ size shed will provide ample storage space.
● Rowlinson Secure Storage Shed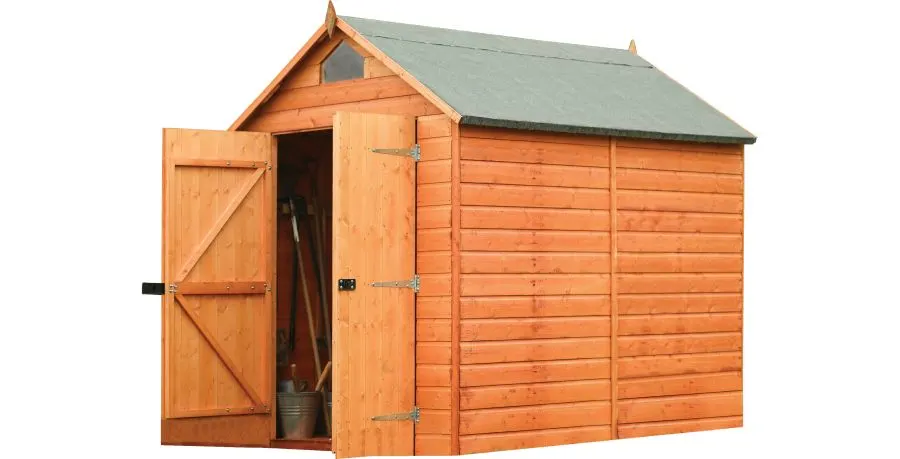 External dimension: 6'4″ wide x 8'1″ deep x 7'7″ tall
This wooden garden shed brings a touch of Britain to your location. The storage shed is large and tall enough to house all your garden tools with extra room to spare. To assemble, it may require more than one person, as well as a little professional help, and it takes roughly 1 to 2 days to assemble including foundation construction time. The tongue and groove flooring is solid and great, which will fit perfectly on your constructed foundation. However, you'll be required to supply your shingles for the roof as it does not come with these.
● Rubbermaid Outdoor Vertical Storage Shed
Dimensions: External: 72" wide x 25" deep x 30" tall
Internal: 69" wide x 19.6" deep x 27" tall
If you have limited space but still want a great shed, this Rubbermaid resin shed may be just the right option for you. The 18 cubic feet interior offers a surprising amount of storage capacity, and the shed comes with five different shelves to house and organize your garden tools. It is also very easy to assemble, taking about 2 to 3 hours. This shed comes with a metal locking tab that goes through one of the doors to keep it shut. This ensures good security, but you must first be willing to put in extra work while assembling it. Since it isn't bolted together, you can disassemble it to remove its contents.
Building a Shed With DIY Instructions From Home Depot
Building a shed using DIY instructions from Home Depot has been a transformative experience. The instructions were user-friendly and comprehensive, making it an optimal choice for both seasoned DIY enthusiasts and novices alike.
This project represents an affordable, handy solution for outdoor storage needs.
The shed's construction was straightforward. From visualizing the structure according to Home Depots guidelines to the actually building process, every step contributed to acquiring a perfect outdoor storage place.
• Incorporating Hooks for Outdoor Tools
To maximize the sheds utility, I incorporated hooks that offer an effective way to hang and organize outdoor tools. Hooks installation is simple and hassle-free, increasing the efficiency of the shed and thereby making tools readily accessible.
• Utilizing Shed Skids for Mobility
One of the most endearing aspects of the shed construction was building it on shed skids. This thoughtful aspect of the design ensures that the shed can be repositioned as per requirements.
However, for those planning to keep the shed in a fixed spot, I recommend attaching the skids to the base to enhance stability and durability.
• Prepping Home for Sale: Paint and Pruning
In anticipation of selling my house, I undertook further home improvements. The facade was given a fresh coat of paint, invariably adding a new charm to the exterior. To further elevate the curb appeal, overgrown trees were pruned, a tactic I've found can often seal the deal for potential buyers.
• Summer DIY Yard Projects
Throughout the summer, numerous backyard DIY projects have been undertaken to enhance the aesthetic and functional appeal of my property.
A backyard bar cart was built to make outdoor entertainment more convenient. I also created a tiered succulent garden that not only adds a unique design element to the yard but also serves as an ideal hobby for nature lovers.
An inviting tree swing was installed as a nostalgic nod to childhood and promised hours of entertainment for youngsters. Last but not least, a patio makeover was done. It metamorphosed into an inviting space, perfect for relaxation or socializing.
• Responding to Reader Requests for Home Depot DIY Instructions
Many readers in the comments section have expressed interest in the DIY instructions from Home Depot. Those interested can find a wealth of resources and instructions on their official website.
• Recommendations for Shed Skids
As mentioned before, the shed skids haven't been anchored to the base. This allows for easy relocation of the shed if necessary. However, it is advisable to attach them if you desire a permanent shed.
This will augment the shed's stability, especially in areas with harsh weather conditions. For more detailed information on attaching shed skids, check out this article from the University of Alaska Fairbanks Cooperative Extension Service.
• B&L Woodworking: Your Shed Solution Provider
B&L Woodworking superbly caters to your lawnmower storage needs. With a plethora of unique sheds and outdoor structures for every type of lawnmower, B&L Woodworking sets a benchmark in the industry.
The artistry, quality, durability, and style of the sheds speak volumes about the firm's commitment to excellence. Below are their exemplary recommendations for various types and sizes of lawnmower sheds.
• Ideal Sheds for Push Mowers
When dealing with smaller yards and push lawnmowers, the Quaker model shed from B&L Woodworking comes highly recommended.
This compact yet spaciously designed shed comfortably accommodates a push mower. The added boon is its ample room for tools and other storage requirements, ensuring you maximize the use of available space.
• Accommodating Riding Mowers
Riding mowers, owing to their size, require specific considerations when it comes to storage. The positioning and size of the shed door are critical factors determining ease of access.
For such mowers, a smaller shed with a double door is a definite advantage. B&L Woodworking's recommendation is the mini barn model shed, complete with a ramp for easy parking.
• Zero Turn Mowers Storage
Zero-turn mowers, with their wide decks, need sheds with broad doors and ramps. B&L Woodworking recommends their dormer model shed for these types of mowers. The dormer shed ensures both accessibility and storage efficiency for your zero-turn mowers.
• Quality and Style Matter
Selection of a lawnmower shed should be underpinned by a focus on quality and style. B&L Woodworking prides itself on the unparalleled durability and quality of its sheds, hand-built by skilled Amish craftsmen.
Their offerings flaunt superior quality compared to economic alternatives available at big box retail stores.
• Customize Your Shed
Understanding the significance of personal style and functional requirements, B&L Woodworking provides the flexibility to design a custom shed. It's worth noting that this option allows you to tailor a shed that suits your lawnmowers size and aligns with your personal aesthetic.
• Direct Contact for Information
For detailed information and quotes on these sheds, B&L Woodworking encourages direct contact. This ensures that you have a thorough understanding of your chosen product and can make an informed decision in line with your storage requirements.
Let's look further into sheds' material and types on the University of Tennessee Extension webpage. Although the choice of the best shed for your lawnmower primarily depends on the mower's type, one must not overlook the construction material's durability and the shed's design.
As you navigate the task of choosing ideal storage for your invaluable lawnmower, B&L Woodworking stands by your side, translating your needs into functional and aesthetic storage solutions.
Trust B&L Woodworking to deliver excellence, style, and durability encapsulated in their range of specialized lawnmower sheds.
Comprehensive Usage of Storage Sheds
Contrary to popular belief, storage sheds serve more purposes than just housing lawnmowers. They are multi-functional structures, capable of accommodating a variety of accessories and equipment. Gardening tools, bikes, and even motorbikes can find a safe shelter within these versatile constructions.
This makes storage sheds essential for maintaining an organized and clutter-free outdoor space. The University of Illinois Extension offers further insights into the comprehensive usage of storage sheds within its sustainable gardening program here.
• Navigating through Price Ranges
The market is saturated with an array of storage shed options, each varying by material, design, size, and importantly, price. Having a clear understanding of financial limitations when deciding on the type of shed is invaluable. Budget sheds utilize cheaper materials and simpler designs.
Conversely, premium sheds, offering superior durability and aesthetics, come with higher price tags. Browsing through local and online retail prices provides an encompassing perspective of market rates.
• Shed Placement Considerations
Before installation, shed placement requires careful thought. The level of the ground is an intervening variable, influencing the structural stability of the shed. Flat, firm grounds are ideal for preventing tilting or sinking. Furthermore, consider the shed's proximity to other structures or trees.
A reasonable distance ensures easy access and minimizes potential damage from tree roots or overhanging branches.
• The Extras – Shed Features and Options
Storage sheds offer more than simple space. Many come with additional features and options enhancing functionality and security. Windows and ventilation systems provide light and air circulation, reducing humidity and temperature levels.
Security is augmented with locking mechanisms, protecting your valuables from theft. Consider your specific needs when deciding on these additional features.
• Choosing a Shed Brand
Just like most products, sheds vary by brand. Each manufacturer invariably will differ in their design approach, material selection, price range, and customer service.
Conducting thorough research into specific brands helps identify the right fit for your landscape and budget. Consumer reviews and professional ratings prove helpful in gauging product quality and performance.
• Potential Drawbacks and Disadvantages
While storage sheds offer numerous advantages, they're not without potential drawbacks. Maintenance requirements differ depending on the material of the shed.
Wooden sheds may need frequent treatment to prevent rot or decay, whereas metal sheds can succumb to rust over time. Some shed types may also attract pests or mold problems might arise in high-humidity environments.
The National Institutes of Health provides further tips on preventing mold in structures such as storage sheds. By being aware of these potential issues, one can mitigate them effectively.
To sum up, storage shed selection is a process that requires thoughtful consideration of storage needs, placement, monetary constraints, and brand. Moreover, understanding the potential drawbacks and how to tackle them adds longevity and functionality to your shed.
• Selecting Shed Material Based on the Local Climate
An expert consideration while choosing the shed material is your local climate. For instance, a wooden shed may look attractive but can require additional maintenance if you live in an area with high rainfall or humidity.
Frequent rain and humid temperatures can cause wood to warp or rot, necessitating frequent treatments to keep the shed weather-resistant. I recommend opting for plastic or metal sheds for such climates due to their inherent resistance against such elements.
For further insights on the effect of climate on materials, visit the National Institute of Standards and Technology site here.
• The Importance of Choosing the Right Shed Size
When you're choosing your garden shed size, consider not just the size of your lawn mower, but also any auxiliary equipment you might store as well.
Perhaps you own a wide-cut mower, or a tractor style mower, which needs a larger storage area. Remember, having room to move around inside the shed makes for easier access and better organization too.
• Shed Accessibility
Accessibility should be as high on your checklist as size and material. Ensure the door is wide enough to accommodate your largest machine, and there's enough space for you to move with ease inside the shed. Bi-fold or sliding doors can work wonders here.
• Essential Accessories for Your Shed
Lighting, outlets, windows, or skylights greatly enhance the functionality of your shed. Natural light can make the shed look roomy and is essential for any fine maintenance work. Electrical outlets, meanwhile, are crucial in case you need to charge your electric mower or use power tools inside.
• Choosing Durable and Easy Maintenance Floor Material
Flooring choice in a shed is crucial. A flooring material that is resistant to moisture, durable, and easy to maintain is ideal. Concrete happens to be a good choice, even though it might be slightly more expensive to install.
• Selecting Shed Based on Mower Type
The type of mower you own can also dictate the type of shed that is best suited for your needs. Let's say you own a riding mower; in this case, a shed with double doors might be more convenient. So, make sure to consider mower type while shed-shopping.
• Maximizing Storage Space in Your Shed
Consider additional storage options such as pegboards, custom-built shelving, or ceiling hooks to maximize your shed space. This will help to keep your tools organized and ensure you make efficient use of your available storage area, no matter how small.
• Creating Space for Robotic Mowers
If you own a robotic mower, creating a dedicated space that includes both the mower and its charging station is the way to go for easy access and perfect organization.
• Considering a Tool Shed for Mower Storage
A tool shed with dedicated spaces for your mower, tools, and spare parts can make your job much easier when it comes to maintenance and repairs. Having everything in one place ready for use is convenient and time-saving.