When you use your chainsaw the chain will get dull. Hitting nails or rocks makes this process even worse. To keep your chainsaw in optimal condition it is important to sharpen your chain. To make sharpening easier several sharpeners are on the market.
Do Chainsaw Sharpeners Work?
Yes, chainsaw sharpeners work exceedingly fine. The sharpeners come in basically two forms, manual and electrically powered sharpeners. Irrespective of your choice, both are good and have their advantages and disadvantages. Consider the pros and cons very well before deciding on the one that works best for you.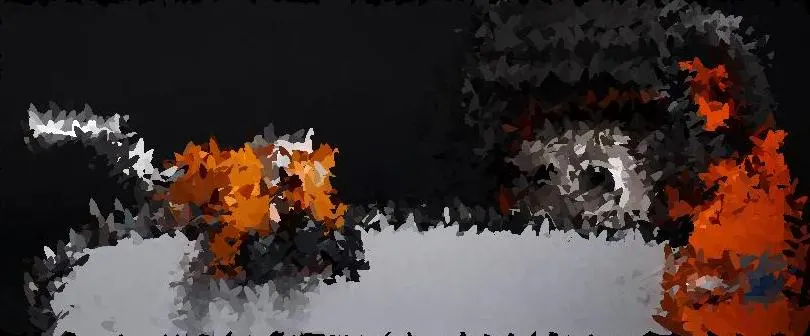 Before the invention of the chainsaw, lumbering and other woodworks were incredibly tedious. You had to swing the ax to cut down trees or use a handsaw to cut up woods into smaller pieces. The arrival of the chainsaw changed the game forever, and as each day passes by, it became evident that things will get better.
The chainsaw made cutting up woods faster and better. However, there are still one or more complaints. Like I mentioned in my previous article, one significant fault people find is that the blade gets dull quickly. A dull or blunt chainsaw blade is a dangerous one. First, it can injure you, unless you are extremely careful with it. Secondly, it leads to the chainsaw cutting crooked.
Sure, this can be frustrating, especially if you haven't experienced this before. Your woods end up not cutting straight or to the exact size you want it to be. If you ever experience this, there is one thing you should know—disposing of the blade outrightly is not the best solution. This is a mistake a lot of people do. They think replacing the blade outrightly with a new one is the solution.
Manual vs. Electric Chainsaw Sharpener
● Manual Chainsaw Sharpener
The manual sharpener is the most common type of chainsaw sharpener. It is also known as a file. The manual sharpener has a file inside a guide attached to a handle. This explains why it is called a "file"
One major advantage of a manual sharpener is that it is very affordable and can be easily gotten from most hardware stores. To effectively use the manual option, you need to know the diameter and size of your chain.
It has its drawbacks as well. Unlike the electric sharpener, the manual one cannot take as much power with a single stroke as the electric one would have.
Also, to effectively use the manual sharpener, you need to sharpen each tooth individually. The implication is that you have to be very skilled and experienced in sharpening your chainsaw with the manual file method effectively. If the manual sharpener is the one you finally choose, you still need to be careful while using it so as not to injure yourself.
● Electrical Chainsaw Sharpener
Using the electrical sharpener demands that you should be extra careful. Overfilling the cutters down too low can pose a problem for you. In this case, you've to be careful when doing this. Using this method requires you have some basic tools available. These include;
Electric power
Gloves
Safety google
Sharpening tool
Your chainsaw
The electric sharpener is more efficient than a manual sharpener. One other major advantage is that it can be set up as an attachment or as a full system. The complete system can be mounted on a bench and contains a holding area where you can put your chain for easy control. With this, you can control the sharpening process of your blade.
The attachment is cheaper than the full system. Though similar to the manual sharpener, the only difference is that the attachment uses electricity.
4 Things to Consider Before Buying a Chainsaw Sharpener
Chainsaw sharpeners are common tools you can't do without as a chainsaw owner. Whether as a professional or just for personal use, the tools come handy when you need it. It helps you to get maximum results from your cutters.
Irrespective of the purpose—commercial or personal, you will consider certain qualities before buying your chainsaw sharpener. In this guide, we prepared some of the key things to consider to pick the best chainsaw sharpener for your daily task.
Before paying for that chainsaw sharpener, considering the following points will help you to make a better decision.
● The Price
When it comes to making a purchase, the price of the product cannot be ignored. When it comes to buying your chainsaw sharpener, your budget and the cost of the sharpener will determine the one you will buy. Understandably, you are on a budget, but then, if possible, never choose quantity over quality. A quality product will serve you better and last longer as well.
● The Use of the Chainsaw
Ask yourself, "what purpose do I need this chainsaw sharpener for?" Is it for commercial or for private use? Your answer to these questions will determine the one you buy. This is because there are numerous chainsaw sharpeners available in the market for different purposes. Purchasing a commercial sharpener for a private use won't be considered a wise decision unless you plan to expand later in the future.
● Frequency of Use
How often would you be using your chainsaw sharpener? If you are an occasional user, buying a simple but efficient sharpener is ideal for you. Your need is different from a professional woodcutter who needs a better sharpener to save time.
On the other hand, a lumberjack or a professional woodcutter requires an industrial sharpener that will sharpen the chainsaw blade faster. The sharpeners are specially designed for heavy use and can stand the rigors of everyday use, unlike the simple ones made for private use. Whatever your purpose is, how frequently you use your chainsaw will determine the type of sharpener you will buy.
● Durability
Durable chainsaw sharpeners will serve you well, thus helping you to get the perfect value for your money. The best sharpeners are made from top-notch materials and heavy-duty metal. They can withstand any rough handling without wearing out on little impact. Do not be deceived by the beautifully-looking sharpeners out there. Those are mere aesthetics. If you want something durable, go for those less attractive with sturdy designs.

● Compatibility
Buying a chainsaw sharpener entails you buy the one that will be compatible with your blade. There are different sharpeners of different shapes and sizes. The rounded file, for example, is suitable for a particular type of cutter.
The electric sharpeners are suitable for virtually all types of blades. Though expensive, they are the best types of sharpeners if you can afford them. They are worth the price.
How to Sharpen Your Chainsaw
To sharpen your chainsaw demands that you have some levels of expertise. Sharpening a chainsaw is quite natural for a professional, but that is not the case with a complete newbie. As a newbie, attempting to sharpen a chain without prior experience can be a risky game. You may end up injuring yourself or even damaging the blade. To guide you, we have compiled the steps below for your ease of use.
● Common Tools Needed to Sharpen your Chainsaw
Below are some of the common sharpening tools available in the market.
Grinders
Sharpening pouches
Filing guides
Flat files
Grinding stones
Easy file
Round files
Filehandles and guide
Stump vices
Depth gauge tools
● How to Sharpen a Chainsaw with a Manual Sharpener
This guide is more of a DIY approach and best suited for you as an individual without any commercial need of a chainsaw.
Activate the chain brake and hold the bar in a vice.
Hold down the guide in-between the chain's rivets so that the guide's arrow points upward.
Begin filing from the top of the cutter.
Do not over grind the side plates to avoid uneven filing.
Maintain a steady filing stroke until you notice a shiny silver face.
Disengage the chain brake after filing the left side of the blade, then flip to the right and file that side as well.
Flip to the right side and file it as well. Make sure that both sides of the blade are even.
Adjust the chain's depth gauge height with a depth gauge tool. The depth gauge must not be too high to ensure the blade has maximum contact with the wood surface.
Top 5 Best Chainsaw Sharpeners
The importance of having a good chainsaw cannot be overemphasized. As a contractor or individual that deals in lumbering, having one (a right chainsaw) places you above your colleagues and gives you an edge to get things done efficiently and faster.
By investing in a good chainsaw sharpener, you worry less about a dull blade, crooked cutting, but would instead maximize your time to get more things done. In this guide, we carefully present to you a list of the best chainsaw sharpeners out there. They were carefully selected, with the features, price all put into consideration to help you make the best choice.
Irrespective of the purpose you need a chainsaw sharpener for, this guide discusses the top brands in the chainsaw business, the features of each, and the price.
1. Oregon 410-120 Bench or Wall Mounted Saw Chain Grinder
Adjudged to be one of the most cost-effective chainsaw sharpeners out there, the Oregon 410-120 Bench or Wall Mounted Saw Chain Grinder stands the test of time and perfect for a regular chainsaw user like you.
The sharpener can be mounted on either a bench or the wall, just as the name implies. In terms of use, its efficiency is second to none. The manufacturer put safety first, and for this, the Oregon 410-120 comes with a safety shield, a one-way motor, and an inner light.
– Other features of this spectacular sharpener include:
It comes with three grinding wheels, a quick template, and a dressing brick.
Advanced sprocket nose system that delivers longer nose life
A wear indicator for the grinding wheel
A chain vise to self-center the chain during grinding
Three grind settings: Depth gauge grinding, pitch chain, and low profile
Mountable on either a bench or wall
Infused with high safety measures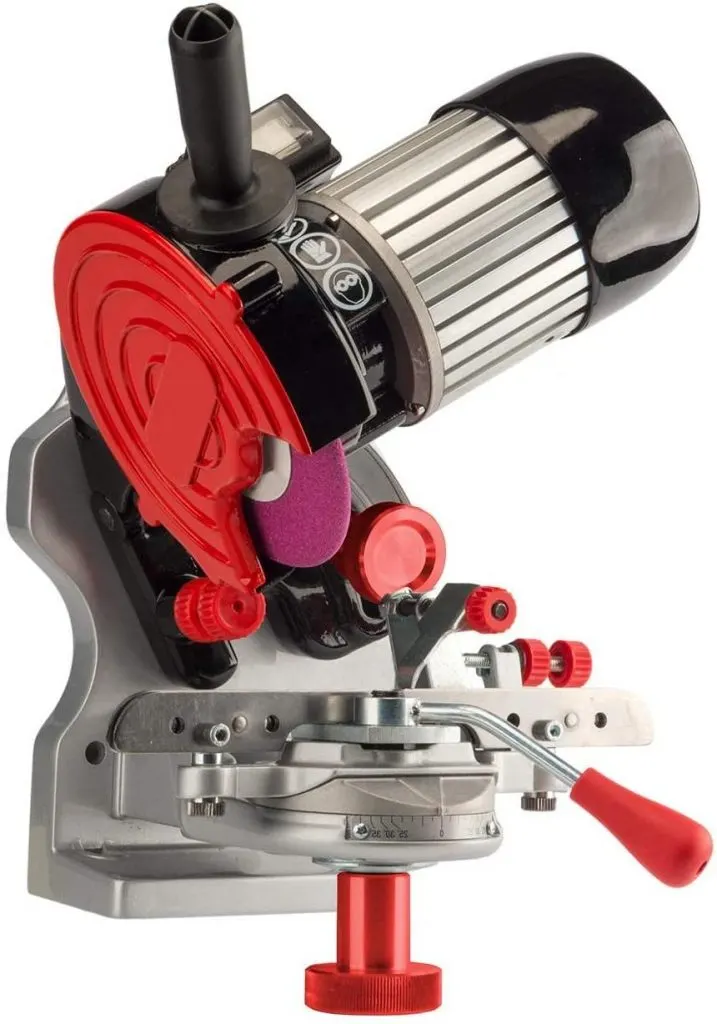 – Pros:
It is highly affordable
Ideal for frequent chainsaw users
It is easy to modify and use
Non-pros can use it with limited experience
The full package comes with a dressing brick
The grind setting is adjustable
Highly safe with safety features in place
Adjustable grind setting
It is an electric sharpener.
– Cons:
Not ideal for commercial purposes
2. Granberg Bar-Mount Chainsaw Sharpener
The Granberg Bar-Mount Chainsaw Sharpener is a budget-friendly tool for anyone who wishes to experience the qualities of a top-tier product while paying for less. When it comes to design, it might be the most beautiful, but none the less, it is a product you can trust.
Top on the reason lumbers love it is the fact that it is portable, efficient and you do not need to remove the chain from the machine before sharpening it. Lest I forget, this sharpener is a manual one. To effectively use this sharpener, you have to set the angle of your cutting by yourself and also determine the depth gauge.
– Other key features of the Granberg Bar-Mount Chainsaw Sharpener include:
Comes with customizable angles and cutting depths
The sharpening angles can be corrected thorough calibrated swivel guide markings
Aluminum and Zinc-plated steel for protection against rust
Versatile and adjusts to all kinds of chain depth gauges.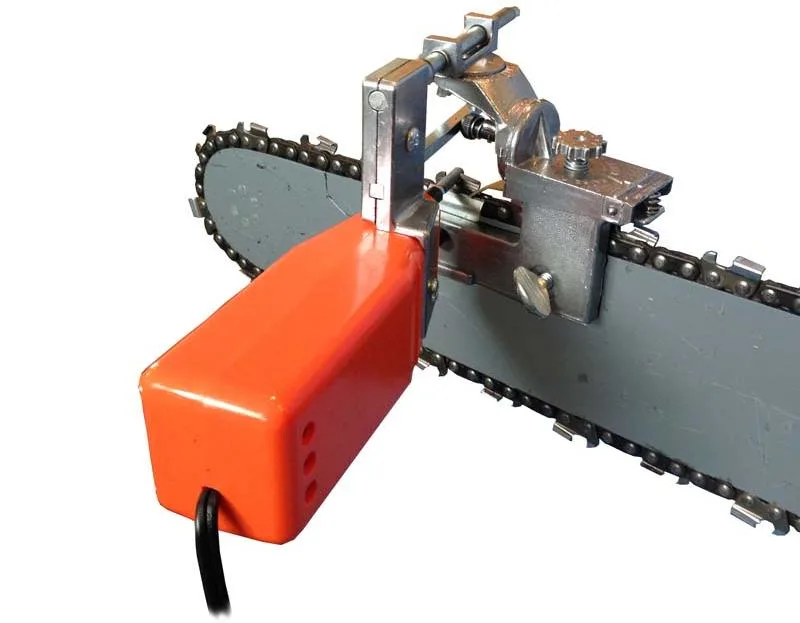 – Pros:
It is versatile, and the chain pitches are adjustable to any size
Highly durable and accurate
Requires limited maintenance
Easy to use
Lightweight and portable
– Cons:
Requires some level of experience and familiarity to operate
Requires frequent adjustment due to the sag on the bar
Requires an entire rotation of the tool before the whole chain can be sharpened
3. Oregon 30846 12-Volt Sharpener
The Oregon 30846 12-Volt Sharpener offers the perfect fit for both price and value. It is a very portable tool that can easily be carried about. The sharpener comes with an inbuilt battery. The implication of this is that you cannot use it as frequently as you want unless the battery is charged. Due to its adjustable guide, the Oregon 30846 can sharpen any chain pitch irrespective of the length.
– Other key features of the Oregon 30846 12-Volt Sharpener include:
Comes with three sharpening stones
Can work with a power converter
Has a built-in depth gauge
The enhanced quick-adjustable sharpening guide
Comes with a large power cord
Works off a 12-volt battery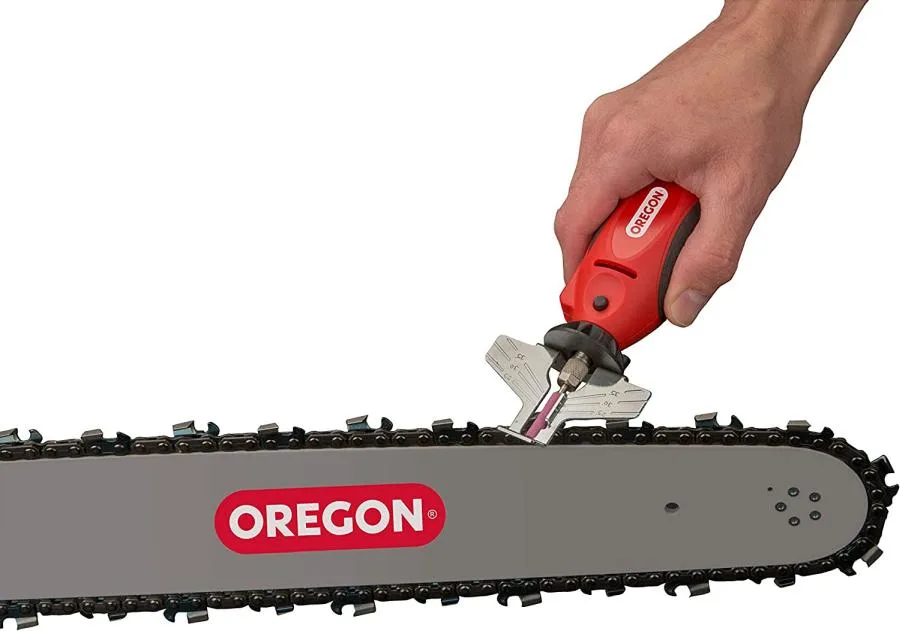 – Pros:
It is quite portable
Can be used at home or in remote locations
Can also work with a power converter
Very easy to use
It is safe to use
Has a decent rpm speed
Comes with a sharpening stone
– Cons:
There is no speed control
Comes in a plastic housing that most users find slippery
No control over the speed
Can't be used unless when charged
4. Timberline Chainsaw Sharpener
I will recommend this great tool to anyone who needs a sharpener that is both fast and efficient. The tool is lightweight, thus making it very portable and easy to transport. To sharpen the blade, there is no need to remove the chain from the saw. Simply mount the blade on the equipment and watch the machine take care of the rest. If you want your chainsaw to be in optimal condition, the Timberline Chainsaw Sharpener is a must-have at home.
– Other key features include:
Made from a sturdy and durable material
Very efficient and easy to use
Comes with a carbide guide that helps with sharpening to the precise length and angle you desire
A single sharpener is compatible with all five carbide sizes.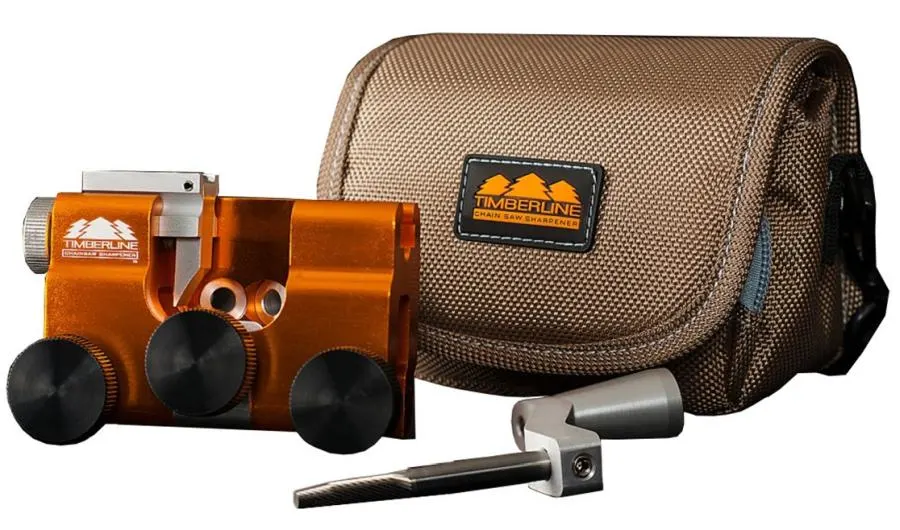 – Pros:
Very easy to set up and use
Sharpens each tooth to a precise angle and length
It is very portable
It is very durable
Works quickly and efficiently
– Cons:
Only suitable for non-professionals and newbies
The sharpening can be time-consuming
Not ideal for a quick turnaround
5. STIHL 2 In 1 Easy File Chainsaw Chain Sharpener
Reliable, portable, easy to use, those are the words that can be used to describe the Stihl 2 in 1 File Chainsaw Sharpener. Though quite an old school tool, it is a great and efficient tool and highly recommended for those who need a reliable and portable chainsaw sharpener. Its key selling point is portability and affordability.
– Other key features of the Stihl 2 in 1 File Chainsaw Sharpener include:
Efficient and very compatible with all chainsaws
Portable and easy to transport
It is very durable
Multipurpose use—indoor and professional use
It comes with a unique filing guide.
Lightweight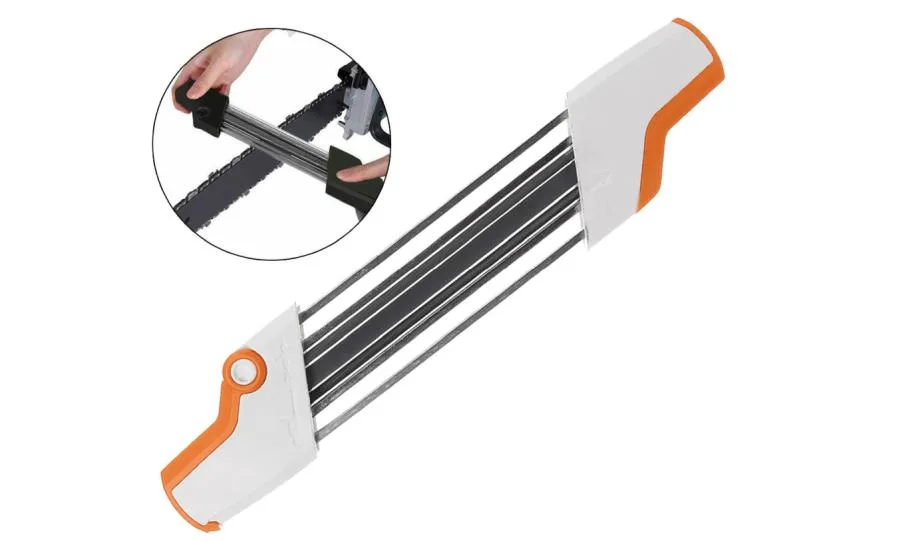 – Pros:
Produces accurate result
Very durable
Very accurate
Easy to use
Sharpens the saw teeth and lower depth gauges all at the same time
No electricity or cabling needed to operate
– Cons:
It is quite expensive when compared to other manual sharpeners in the same class.
Takes longer time to sharpen
Conclusion
With the fantastic reviews and guide on the best chainsaw sharpeners out there, it is time to say goodbye to the crooked cutting of woods as a result of a blunt chainsaw. With the right sharpening tools, the sharpening of your chainsaw will no longer be tedious. You can cheerfully get the value you deserve for your money.