A lawnmower is an important investment and just like any other equipment, it requires regular maintenance and care. One of these maintenance tasks involves storing your lawnmower when it's not in use. But how do you effectively store away your mower when not in use? The best way to store it is by using a quality mower cover to shield it from the weather and to ensure its efficiency when the mowing season begins. It is important that you choose the best mower cover as this is an inexpensive yet effective way to protect your mower while it's stored away. Choosing the right type of mower cover will also help prevent weather damage, and keep the parts of the equipment free of debris. By purchasing a good cover, you'll be able to enjoy it for a long time and even ensure that your lawn mower is always in perfect condition.
Lawn mower cover, these are your options:
ToughCover Premium Waterproof Lawn Mower Cover
Premium Heavy Duty Lawn Mower Cover From WeatherPRO Cover
Lawn Boy 215326
If you store your lawn mower offseason without any cover, you'll only be exposing it to dust, debris, small animals, and maybe rodents, and these factors can cause a great deal of damage to your equipment. Dust can get into the moving parts, the joints, or even the engine, causing a decline in the performance level of your machine and even affecting the overall appearance of your lawn. Even between the usual weekly mowing schedule, if you don't cover your lawn mower, dust can accumulate on it, and you might have to spend an extra part of your mowing time cleaning off the dust and debris on your mower. Do you want to know the types of lawn mower cover available for you? You've come to the right place. In this article, we will talk about the lawn mower covers and how to choose the best for your tool.
Why You Need a Lawn Mower Cover
A lot of lawn owners usually make the mistake of ignoring the need to purchase a lawn mower cover. However, if you want to protect and enjoy your mower, you should never ignore the importance of lawn mower covers. These covers help prevent the weather and debris from ruining the components of your lawn mower. Regardless of whether your mower is under a shed or shelter, it can still accumulate dust, debris, and even moisture. Having a cover will protect the equipment, including the paint and metal parts from the weather. Below are some reasons why lawn mower covers are essential in maintaining the life of your lawn mower.
● Debris and Dust Blowback
There are some lawn mower covers that just attach to the top of your lawn mower, and can be used even while you mow. These covers protect the engine compartment, and as you mow the lawn, all kinds of debris like rocks and twigs that are kicked up by the blade will not come in contact with your mower engine. If your lawn mower does not have this cover, you should totally get one. Without this type of cover, debris can easily find its way from under the lawn mower, through the engine area, and even towards you.
● Prevents Rust
Just like any equipment made from metal, one of the biggest issues with lawn mowers is that they are susceptible to rust and corrosion. The exterior metal components of this tool will most likely rust first as they are often exposed, then the internal parts will rust also, as well as the blade overtime. This is where lawn mower covers come into play as the first defense against rust. If you are going to be storing your lawn mower outside, the cover will protect it from rain as well as any contact with moisture.
● Engine Clogging
When mowing in the wet seasons, there are high chances of coming in contact with wet leaves and small twigs, which may find their way into the engine compartment of your mower. These foreign bodies may cause your mower engine to stall or even fail to start. By using lawn mower covers, you will prevent these things from getting trapped inside the engine, and save yourself the stress of costly repairs or replacement.
● Small Animals
The issue of pets and other small animals is something most people don't bother to consider as it may seem quite unlikely to them. However, it actually happens, and lawn mower covers can prevent it. Small animals like rodents and squirrels can crawl under your equipment. The moment they get inside, they will chew and gnaw at the wires they find. This can cause a great deal of damage to your lawn mower and even cost you a lot of money.
Lawn Mower Cover Buyer's Guide
Lawn mower covers are available in different sizes, shapes, and materials to fit your taste and your lawn mower. Here are some things to consider when buying your mower cover:
● Size
You may not know it, but getting the right size of the cover for your mower is important. For a push mower, you'll need an entirely different size of cover than when shopping for a riding mower. Of course, many of them come with adjustment options for you to easily secure the cover over your mower and to protect even the bottom part. However, still measuring the mower and knowing the right fit before buying is essential.
● Material
Another essential factor to consider when shopping for a mower cover is the type of material used. There are different materials available ranging from top quality tough fabrics to light average materials. Using a high denier fabric of at least 300 deniers will definitely protect your tool from dents and punctures, and the material won't crack under UV exposure. Obviously, no cover can last forever, but choosing tougher fabrics will go a long way in making you enjoy the cover and your tool season after season. If you happen to stay in windy areas, choosing a high denier fabric will prevent rips and tears, caused by the blows of the wind. In addition, you should choose a fabric that breathes a bit, and one that is melt-resistant, even in the hottest conditions. A pure plastic-like tarp isn't very suitable as they can scratch your machine, and ruin the paint.
● Venting and Adjustment
Some covers will definitely require adjustments. These tension straps or elastic hems can prevent the cover from blowing off and protect against splash-back during rainstorms if your tool is stored outside. Venting will also help regulate the temperature beneath the cover by allowing wind to escape, and keep the temperature from going too high.
Lawn Mower Cover: These Are Your Options
Below, you'll find a list with detailed information on the best options of mower covers.
● ToughCover Premium Waterproof Lawn Mower Cover
The Toughcover design offers a stylish option as well as a simple coverage for your tool. Resistant to UV and mold attack, this cover will keep moisture and other weather conditions off your lawn mower. It is also a universal fit and can be adjusted if needed. This cover is a good option if you're not sure about keeping your mower for long. It is also a 600 denier fabric designed to resist tear and puncture. If you aren't satisfied with the fit pr design, there's a 30-day money-back guarantee!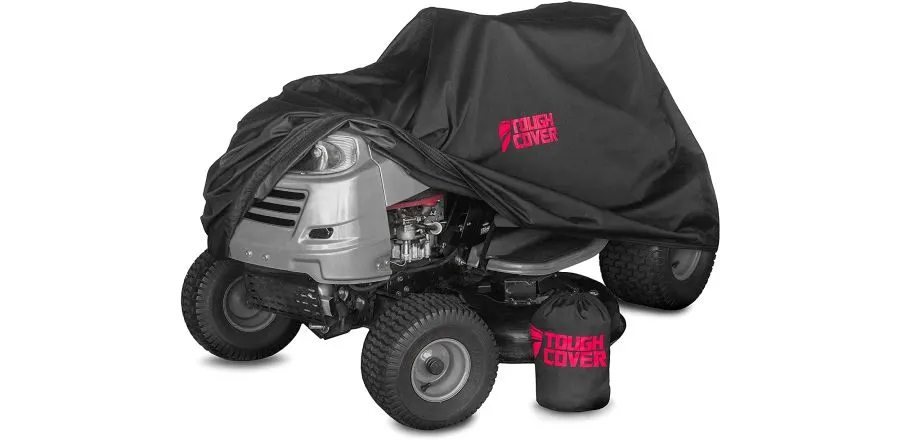 ● Premium Heavy Duty Lawn Mower Cover From WeatherPRO Cover
WeatherPRO offers a strong and durable material cover with a universal fit securing system. Due to this, it fits a wide variety of lawn mowers and can be adjusted as needed. It uses a marine-grade 300D deluxe material, made with Polyurethane lining that is 100% marine-graded. This makes it resistant to UV rays and moisture, allowing you to use it both indoor and outdoor. The fit is quite loose, so it may require some amount of practice to secure it as it should be. In addition, it offers a complete satisfaction guarantee and can protect against water, rust, dust, leaves, pollen, and more. The most amazing thing about this cover is that it will not crack in cold weather conditions.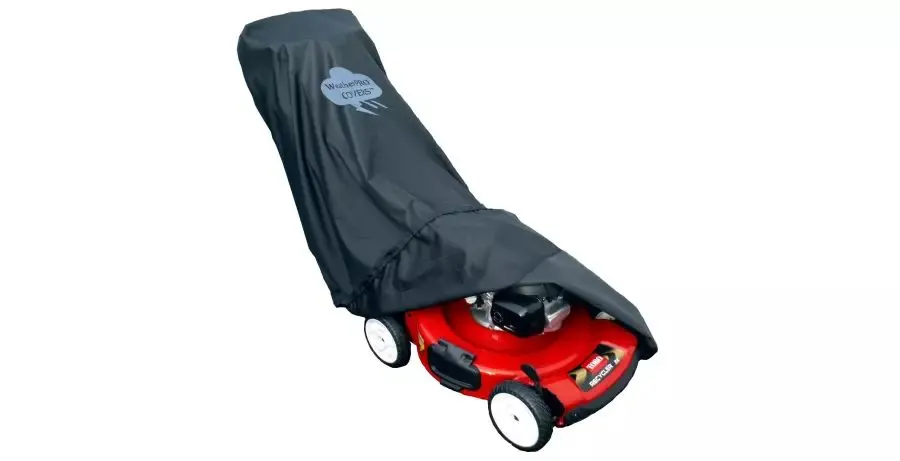 ● Lawn Boy 215326
If you're looking to invest some money on high-quality protective mower covers, the Lawn Boy 215326 is for you. It can be considered as one of the best lawn mower covers available on the market today. This cover offers a simple operation but with amazing, reinforced polyester material. Of course, this material is weatherproof, while providing puncture-resistant protection. It only comes in one color but can fit most lawn mowers up to 22 inches, and all mowers made from Lawn Boy company. Another great feature is that it is well vented, to allow the flow of wind and to regulate temperature, especially during hot weather conditions. The material is extremely durable, waterproof, and tear-resistant. So if you're looking to cover your expensive mowers or cars, this is a great option!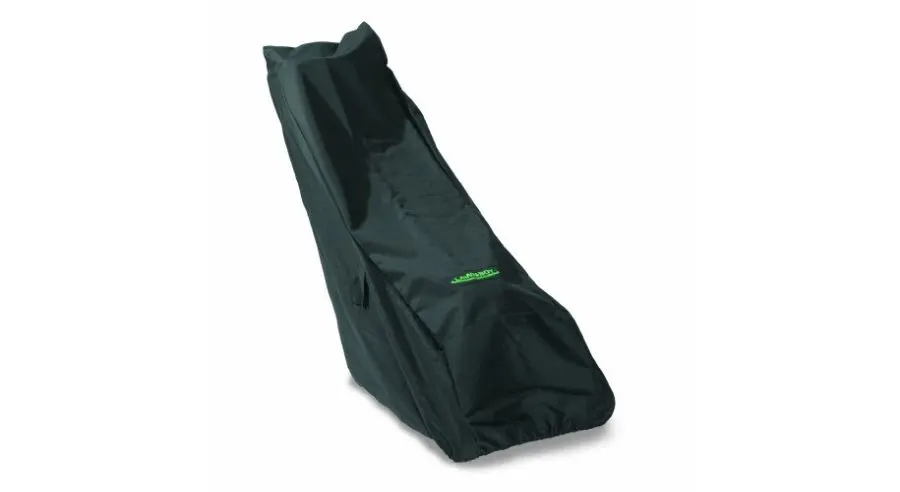 Final remarks
Protecting your lawn mower is essential. This power tool often goes through several weather conditions, and to ensure that it survives them, you should invest in a lawn mower cover. Lawn mowers that are not stored in a sheltered space are at great risk of weather damages and reduced life span. A lawn cover simply provides a solution for ensuring that your mower lasts for a long time. To get the best out of your lawn mower, a cover is well worth the investment.