One of the best methods to clean your pc without damaging it is to use an air compressor. Some people use a vacuum, but most of them are ill-equipped to clean your pc, and can even damage it. Where a vacuum sucks air, an air compressor blows the air out. But also most air compressors are not well suited to clean your pc, you must be very careful not to damage components. Also, it should not blow air with a lot of moisture, so drain your air compressor before. But there are also a lot of smaller air compressors that are well suited for PC Cleaning.
The Best Air Compressor For PC Cleaning:
Rovta Opolar Compressed Air Duster
SHZICMY 1000w switchable Air Blower/ Computer Vacuum Dust Cleaner
Hutou CompuCleaner 2.0
X3 Hurricane Variable
Gigi-Store Electric Duster
XPOWER A-2 Airrow
Metro Vacuum ED500P Data Vac
We have been able to carefully review some of the best air compressors available on the market. Keep scrolling to learn more.
Best Air Compressors for Cleaning PC
When many people think about cleaning their PC, they picture a rag and fluids. However, you cannot expect to clean your computer correctly with just a piece of cloth, and it is not safe to use liquids to clean electronics. This is where air compressors come in.
In no particular order, here are some of the best air compressors for pc cleaning, as well as the pros and cons of each option.
● Rovta Opolar Compressed Air Duster
At first glance, this duster looks like something out of a sci-fi flick. Its great practical design is one thing that will catch your attention, and it will feel better than handling a cold can of air. It has a long thin nozzle that allows you to focus all of its 33000 rpm air to clean tight corners and gaps. You could also detach the nozzle to manage space better. The switch alternates between an 'auto' mode for continuous thorough cleaning and a 'manual' mode for short blasts of air.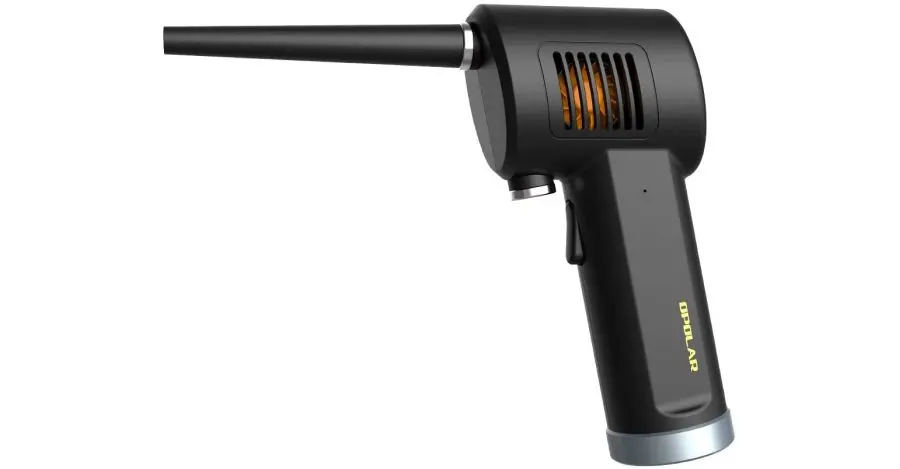 The Rotova Opolar comes with a powerful rechargeable battery with a fast recharge time. This comfortable, reasonably priced blower is perfect for keyboards, computer cases, and other places dust could hide.
You can check the price for the Rovta Opolar Compressed Air Duster here.
Pros:
Innovative battery technology
Scientific ergonomic design that looks cool too!
Dual cleaning modes
Cons:
Not as powerful as other options
● SHZICMY 1000w switchable Air Blower/ Computer Vacuum Dust Cleaner
The full name of this device might sound too complicated to remember, but it is just a simple dual blow/suck device with power up to 1000w. This is enough power for many possible uses like cleaning dust off desktops, laptops, keyboards, and dust in small unreachable gaps. It is effortless to handle, and also comes with a blowpipe & dust bag. It also has a lockable trigger, so you don't have to worry about children at home misusing the device.
You can check the price for the Shzicmy Air Blower here.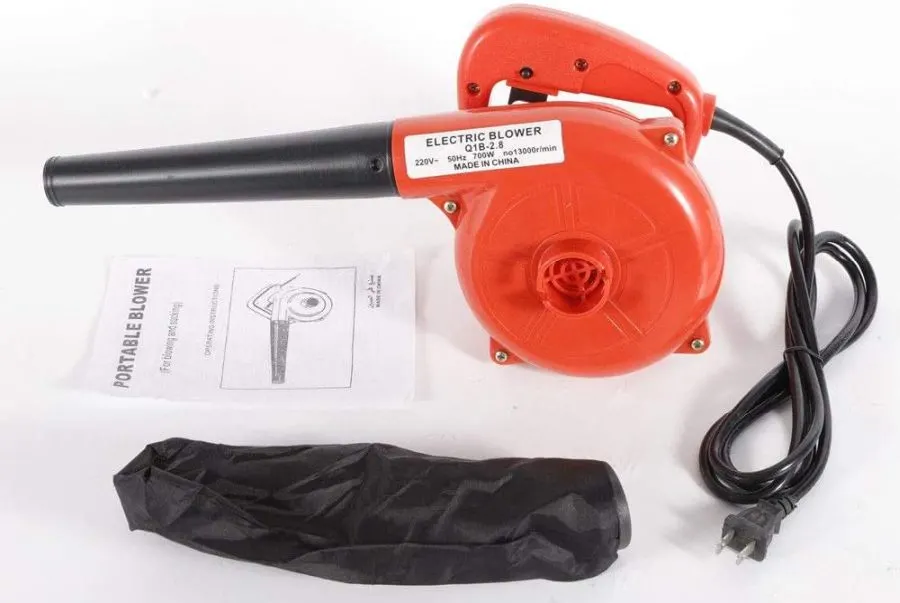 Pros:
Dual functionality (blow/vacuum)
More blow/suck power
Comes with a useful dirt collection bad
Cons:
The basic design that looks like a leaf blower.
● Hutou CompuCleaner 2.0
Powered by 110v, this cool blower generates enough power to take care of small and large particles on/in your pc. It delivers an airflow of up to 70 CFM. All you have to do is plug into an electrical outlet, and you can start cleaning. Its simple, durable design means it would last long in great shape.
You can check the price for the CompuCleaner 2.0 here.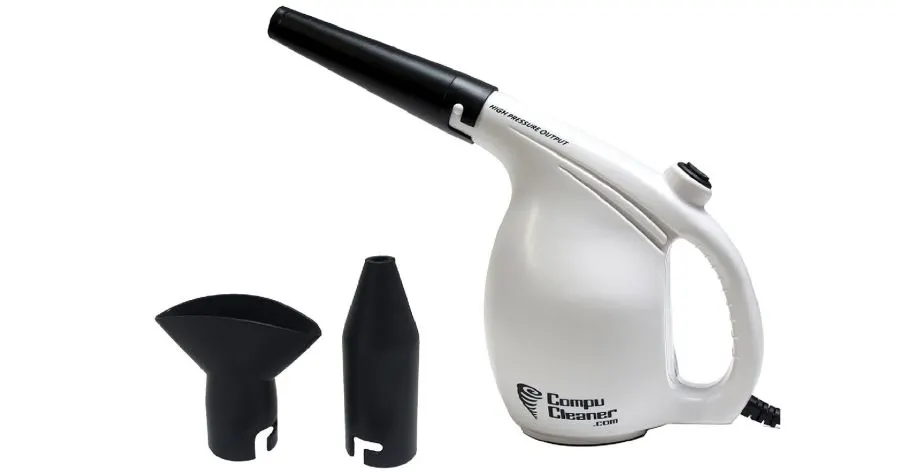 Pros:
Durable, lightweight design
The long length of the plug cord
Detachable nozzle
Cons:
Needs an electrical outlet to function
X3 Hurricane Variable
The X3 Hurricane variable speed compressor, like many recent gadgets, is a cordless device. It is an excellent choice because it allows you to clean even if you're far from a power outlet.
It's easily handheld, so it doesn't feel too bulky or heavy. The trigger comes with varying speed options suitable for different situations. And there are also different detachable nozzles that make it easy to clean different parts of your PC.
When you run out of power, you can recharge the cordless compressor fast enough, like your mobile devices. Once charged, you get about 15 minutes to clean your computer.
You can check the X3 Hurricane price here.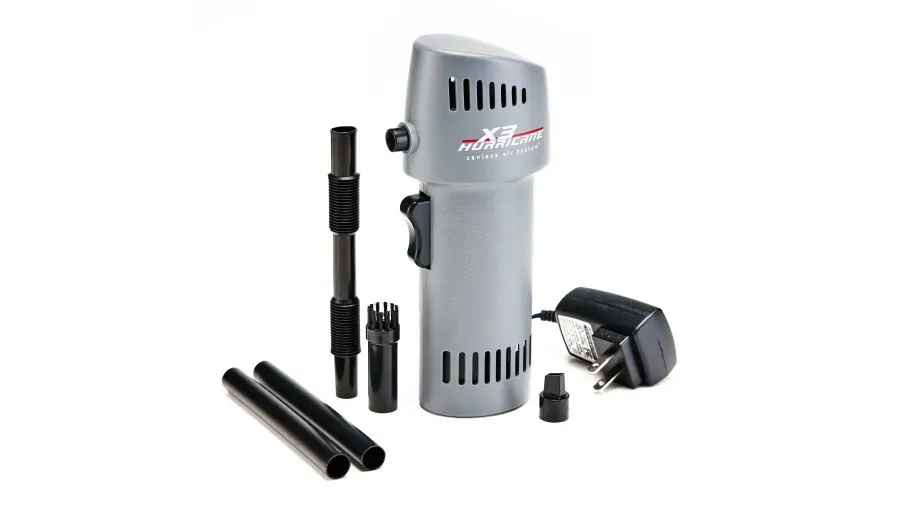 Pros:
You don't have to worry about wires getting tangled
Rechargeable battery and fast charging
Multiple nozzles
Variable blow speeds
Cons:
A full charge only lasts for 15 minutes.
● Gigi-Store Electric Duster
This is also a dual blower/vacuum system, but this option comes in a portable, simple design. It is powered by a 35W motor and has rechargeable batteries that could be charged via USB. It might not compare with other options on the market, but it makes up for all its missing with its very portable and lightweight design. Some might confuse it for other devices, but they would want one to see what it can do. The device comes with different nozzles and a washable vacuum bag. It is very convenient if you're usually on the move, and it can be easily charged with a USB.
You can check the price for the Gigi-Store Electric Duster here.
Pros:
Portable and durable
Useful accessories
Dual blow/suck functions
Cons:
Its small design doesn't pack much power
● XPOWER A-2 Airrow
Although it looks like a small black electric kettle, the A-2 Airrow is an affordable air compressor that packs 500w of power. Whether you have just one PC, or a room full of computers, you can use this air compressor effectively to keep them clean.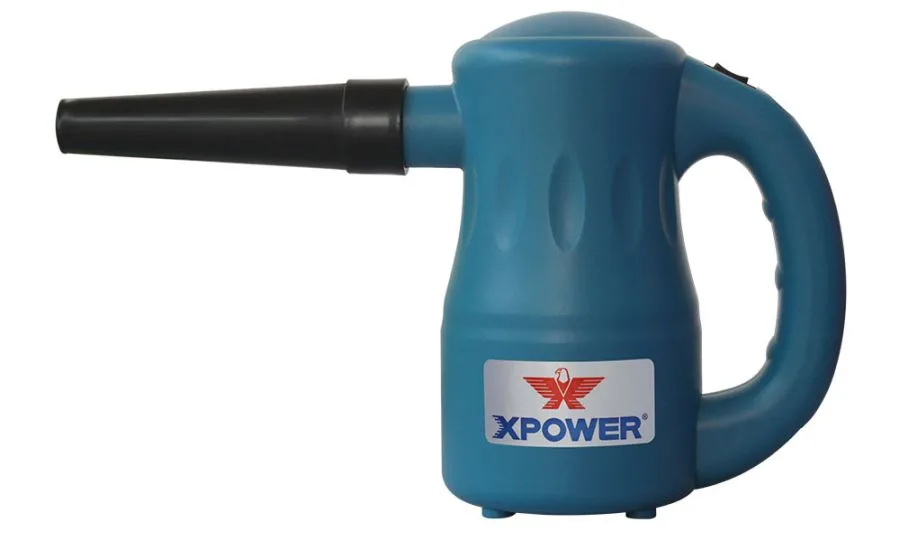 It comes with several features like a 90 CFM airflow, thermal protection, 2-speed settings, a handy washable filter, and nine different nozzles.
You can check the price for the Xpower A-2 Airrow here.
Pros:
Various useful accessories
Thermal protection
Two-speed options
Cons:
Blow only
Compatible with US standard power systems only
● Metro Vacuum ED500P Data Vac
The Metro Vacuum is affordable and very well suited for PC Cleaning. It only weighs 2.7 pounds, making it really portable. It packs a powerful 500 Watt motor and is designed so it does not have any condensation, something you see a lot with regular air compressors.
Pros:
Powerful motor
Useful accessories
Leight
No condensation
Cons:
Will Blow only
Compatible with US standard power systems only
Why You Should Clean Your PC
Regardless of how fierce or solid your PC may seem, they are quite fragile, and without proper care, you may find yourself trying to fix issues you could have prevented easily. A clean PC isn't just a clean one, but a reliable PC.
Computers of any kind typically require routine cleaning to prevent a pile-up of dust and other particles in tiny vents and gaps. When these particles pile up, the motherboard and all its vulnerable microelectronic components are in trouble.
Thorough and routine cleaning of your PC is essential for tons of reasons. We've highlighted some of these reasons for you.
● A Clean PC is a Healthy PC:
Dust, Bacteria, and whatever else could be floating around as tiny particles could trigger allergic reactions or even cause an asthma attack. When your PC is cleaned correctly and regularly, you create a healthier environment for yourself, and you face lower risks of potential sickness.
● Longer PC Lifespan:
The internal hardware parts of computers and dust are not good together. If dust fills your computer, the internal components could quickly damage, and you will find yourself shopping for replacement parts or even a new PC. Cleaning might seem tedious, but it would save you a lot of money in the long run because your computer would perform efficiently and last longer.
● Reduced Overheating:
There are cooling fans inside computers to reduce the heat your computer generates. A build-up of dust particles and other debris can cause the fan to malfunction. A malfunction will cause hot air to remain inside the computer, leading to overheating and damage to parts. Clearing out dust and other particles will help ensure that the fan keeps your computer cool without using up too much energy.
Final Thoughts
Like we've talked about before, it is a very great idea to clean your PCs regularly, and dedicated air compressors are the way to go in terms of cleaning.
However, before cleaning your PC, you should make sure that it is turned off, disconnected from a power outlet, and your hands shouldn't be wet. If you must open up your pc, be sure you know what you're doing, and don't handle the components with bare hands or clean with fluids.
When it comes to choosing what device to use, you should consider making a purchase that gives value for your money. If you have multiple computers, go for an option that can handle multiple devices. If you are more concerned about the tiny gaps and corners, you need devices with dedicated or multiple nozzles. Whatever your need, air compressors for PCs should be what you look for when you're thinking about keeping your computers clean and functioning correctly.
We hope this article has been able to assist you with whatever questions you had.