Everybody knows the feeling. You go to your car, bike, or another machine with a tire and see that there is not enough air in it. It means you have to use a pump or an air compressor. Using an air compressor is quick and most have a pressure gauge to see how much air has to be added. In recent years a lot of new models have been launched more targeting at inflating tires or other equipment that need to be filled with air like a small rubber boat or a bounce house. Those air compressors are much smaller and portable than regular air compressors.
The Best air compressor for Tires:
EPAuto 12V DC Portable Air Compressor
Oasser Portable Electric Inflator
DBPOWER Compact Air Compressor
Audew Auto Digital Tire Inflator
Helteko Portable Air Compressor
Tcisa Digital Tire Inflator
Kensun AC/DC Swift Compressor
Viair 00088 88P Portable
Fortem the extra mile Electric Auto Pump
Breezz Auto Tire Inflator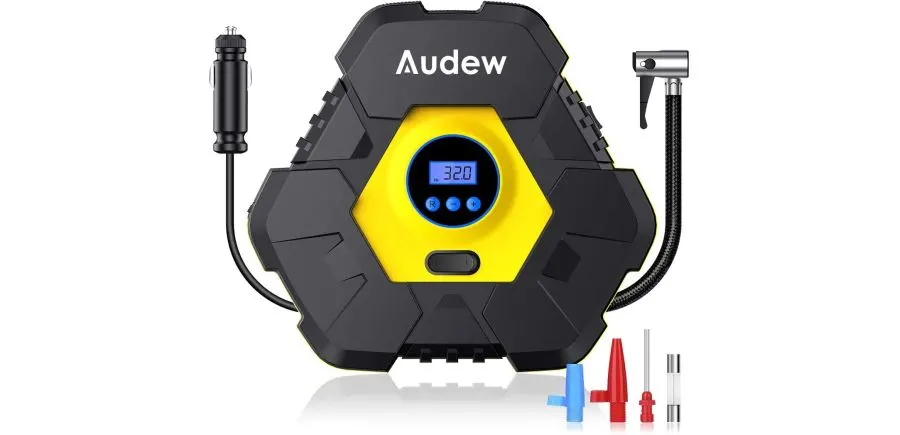 Tire Air Compressor buying guide
Before purchasing an air compressor for your tires, there are certain features to look for:
Pressure gauge: This helps you see how much air is already in the tire, and can notify when you have reached the correct pressure.
Flashlight: To help you see clearly if you have to use it at night.
Shutoff system: Some models have a shutoff feature, which allows it automatically to stop once the tire is inflated and has reached the designated pressure.
Portability: What is the weight of the size of the model, and do they have a battery? In general portable models are less powerful, and have a smaller tank than the bigger nonportable models. If this is ok for you will depend on your use case. If you want to use it to power air tools, a small portable machine will not be sufficient.
Batteries: Battery-powered air compressors can easily be moved and taken to any location. An important aspect is the running time of the air compressor. Most models will be ok for a tire, but inflating a boat or bouncing house can be a problem. In that case, you need to hook it up to the mains.
12 Volt or Mains: Can the air compressor be run from a 12 Vols supply? In that case, you can use it much easier outside your house, or on the move. Be careful not to use it too long as your car battery could drain quickly using it. In that case, you could run your engine and use it. If the model can only run from the mains it will be less flexible, but often has more power.
Accessories: Does the air compressor comes with accessories to inflate other products like a bicycle tire, or an air mattress, or a boat? Most inflatable products use a different plug than your car tire. If you do not have a matching plug is can be really difficult to use it in those situations.
Portable Air Compressors
Portable air compressors are popularly used to inflate tires and often come in handy, especially when it comes to avoiding a roadside emergency or being able to quickly pump up sports equipment, air mattresses, and inflatable toys directly from your car. With so many portable air compressors in the market, it can sometimes be a herculean task to know which is best. Below is a list of the 10 best portable air compressors and their unique features.
● EPAuto 12V DC Portable Air Compressor
This is a digital tire inflator that, for convenience, can be plugged directly into the cigarette lighter socket. It can be used for various tires of different vehicles like cars, bikes, and midsize SUVs. The EPAuto 12v, DC Portable air compressor features include a bright LED flashlight torch, an auto-shutoff to avoid over-inflation, and automatic overheating protection. It operates at 12VDC between 10-15 amps and is 120-180 Watts and comes with four units- PSI, KPA, BAR & KG/CM.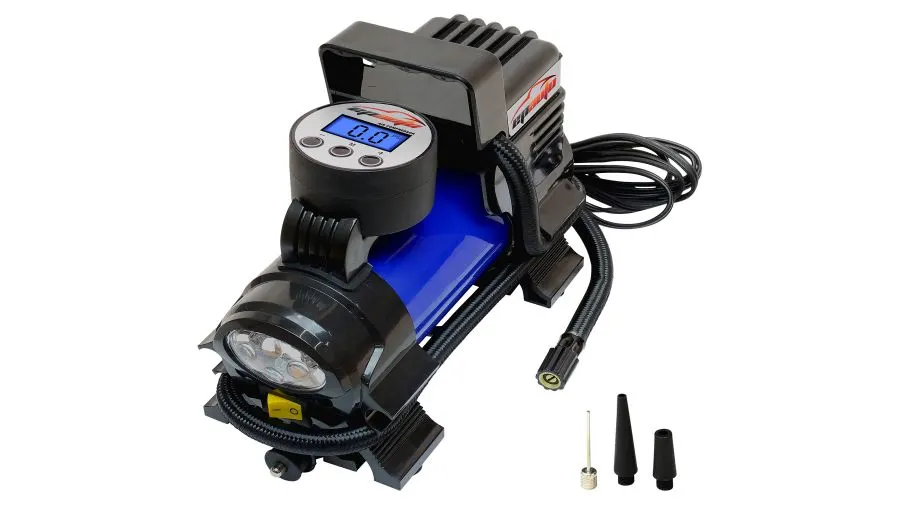 You can check the price for the EPAuto 12V Portable Air Compressor here.
● Oasser Portable Electric Inflator
The Oasser portable electric inflator can rapidly inflate tires of cars no bigger than bikes, motorbikes, balls, inflatable toys, and SUV size. Its features include a big 2200 mAh lithium battery, a 12V power base, a storage bag, two air hoses measuring at 13.78 inches and 4.7 inches. It also comes with tool gloves, LED light, power display, and three-unit values- PSI, BAR & KG/CM2. The power display allows you to preset the tire pressure the way you want it.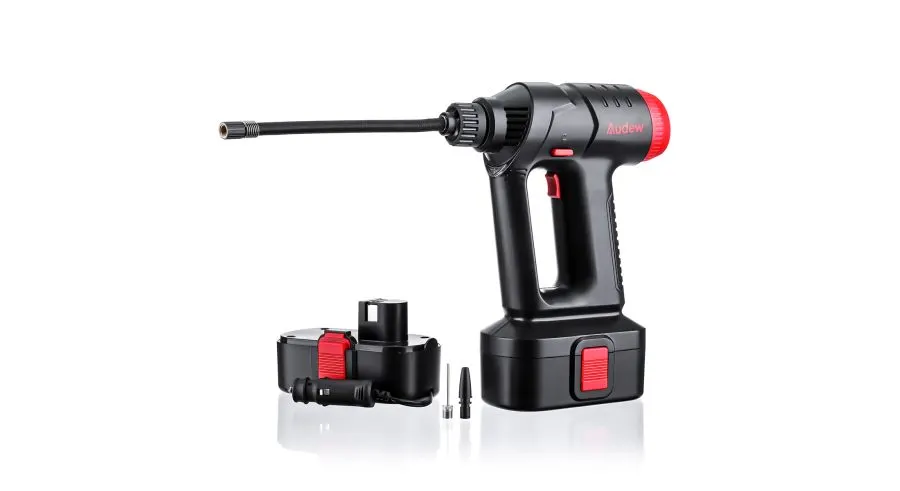 You can check the price for the Oasser Portable Electric Inflator here.
● DBPOWER Compact Air Compressor
The DBPOWER compact air compressor has a simple design, is very portable, and an easy-to-use & fast tool for any household. It can also be used for cars, bikes, and sports balls. It can inflate a medium-sized car tire from 0-35 PSI in 10 minutes. Its features include a 12v lighter plug to enable you to use it on the road without a wall plug, a PSI scale monitor to help keep track of the pressure, and a long power cord at 6 inches. Due to its small size, it can easily be stored without taking up so much space.
You can check the price for the DBPOWER Compact Air Compressor here.
● Audew Auto Digital Tire Inflator
This can be easily operated by plugging it into the cigarette socket of a vehicle. Its 3 meters cable helps to inflate all four tires easily. For convenience, the Audew Auto digital tire inflator has a one-touch switch for starting and stopping. When the correct tire pressure is reached, the Inflate Right Technology feature gives room for automatic shutoff. It is also good for inflating bikes, motorbikes, RVs, SUVs, ATVs, trucks, cars, and sports equipment. There are various adaptors included for inflatables.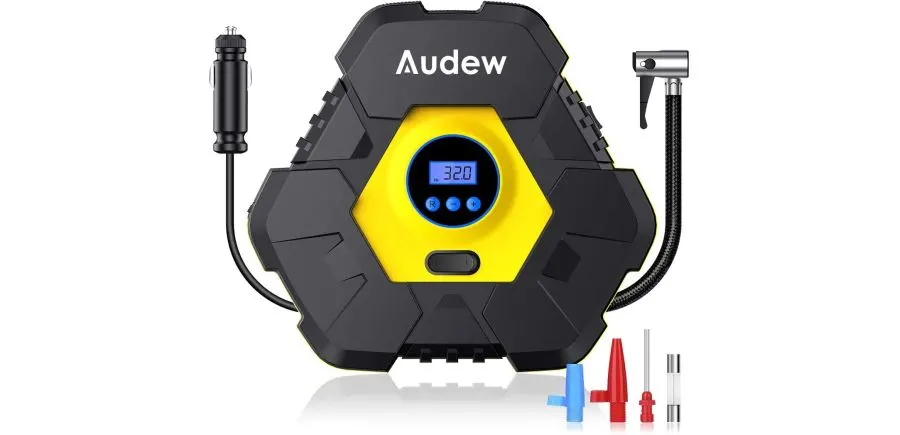 You can check the price for the Audew Auto Digital Tire Inflator here.
● Helteko Portable Air Compressor
The Helteko Portable Air Compressor is made from stainless steel and ABS plastic and extremely durable. Its auto-shutoff technology feature causes the inflator to stop by itself when the tire has reached the desired pressure. Its large LCD digital display gives room for precision, which will make it easy to use and calculate the desired values. These values include PSI, BAR, KPA, and KG/CM2. The cable of the Helteko Portable Air Compressor is long one of the longest with 11.5 feet, making it even easier to inflate all four tires of longer vehicles.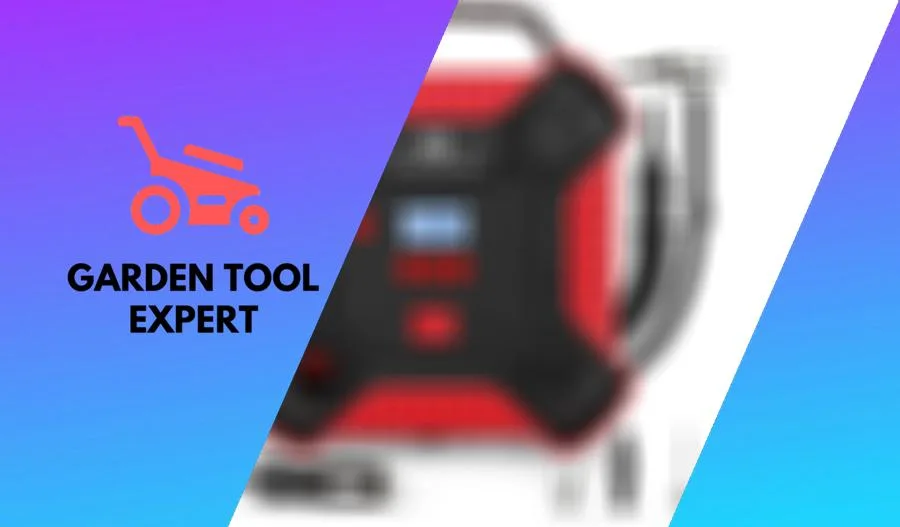 You can check the price for the Helteko Portable Air Compressor here.
● Tcisa Digital Tire Inflator
The Tcisa 12V DC Portable Air Compressor turns itself off when a preset pressure level is reached. This feature prevents over-inflation. It is easy to plug the Tcisa digital tire inflator into the cigarette lighter in any car and be used anywhere. It has a high resolution, and its large LCD display is easy to read. It has a bright LED flashlight, which helps you to operate in darkness when needed, especially in emergencies. Tires of vehicles such as cars, bikes, sedans, SUVs, and motorbikes can be inflated with this device. It comes in a convenient travel bag to make it easy to carry.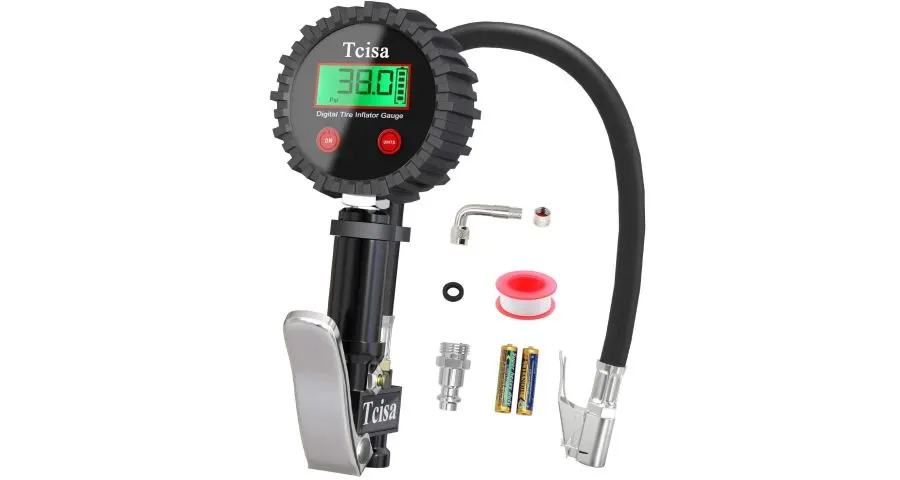 You can check the price for the Tcisa Digital Tire Inflator here.
● Kensun AC/DC Swift Compressor
The Kensun AC/DC swift Compressor can be used with wall sockets and cigarette sockets. It can continuously work for a long period and comes with useful attachments like an analog pressure gauge and a range of pressure selections. Its selection of nozzle attachments will fit almost every inflatable item such as heavy-duty tires, bikes, motorbikes, sports equipment, and inflatable toys, making it a perfect use indoors and outdoors.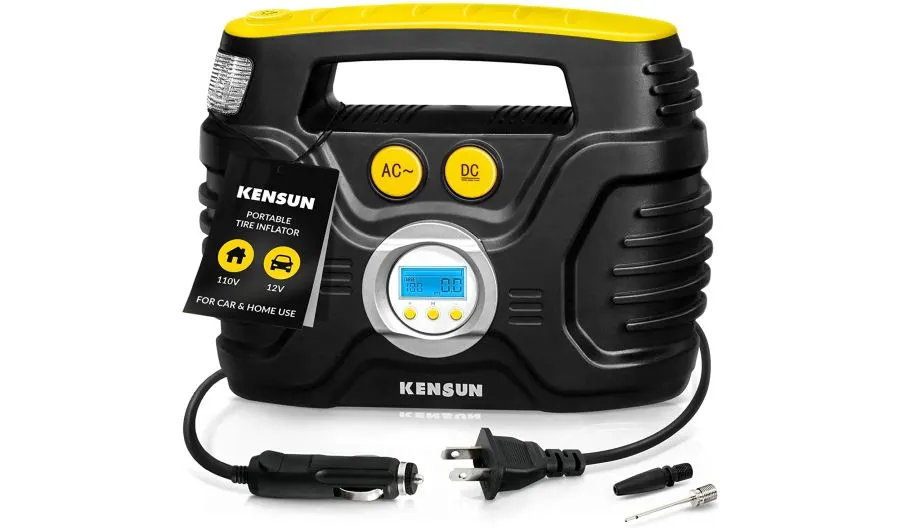 You can check the price for the Kensun AC/DC Swift Compressor here.
● Viair 00088 88P Portable
The Viair 00088 88P Portable is a powerful compressor that allows for easy check of pressure. It is capable of inflating tires of up to 33 inches. You can connect it to your car battery for inflating large tires.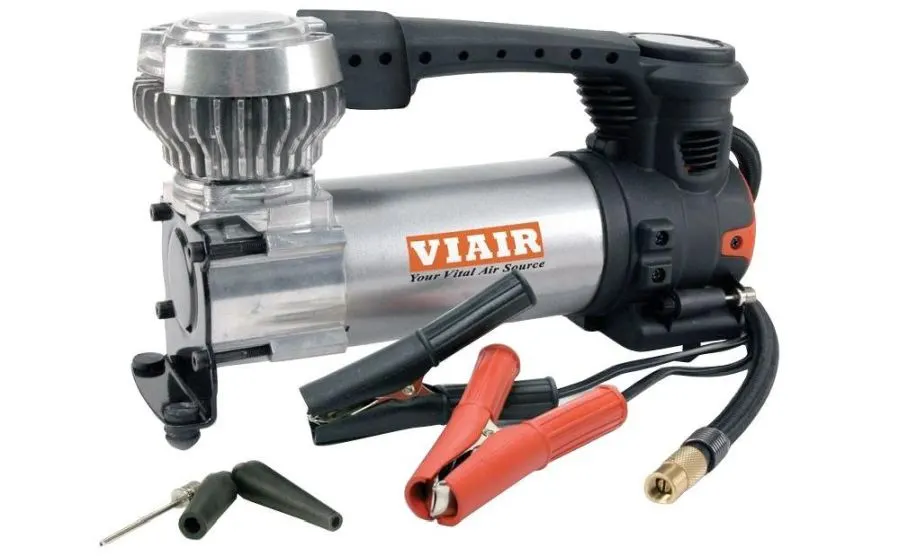 You can check the price for the Viair 00088 88P Portable here.
● Fortem the extra mile Electric Auto Pump
For on-the-go convenience, this electric auto pump by Fortem is perfect. You can plug it into a cigarette socket in any vehicle and operate by a switch. To avoid over-inflation, it will automatically stop once the PSI has reached the set pressure. It is a reliable digital tire inflator with different adaptor attachments to fit various vehicles such as cars, motorbikes, bicycles, ATVs, Jeeps, sports equipment, air mattresses, and inflatable toys.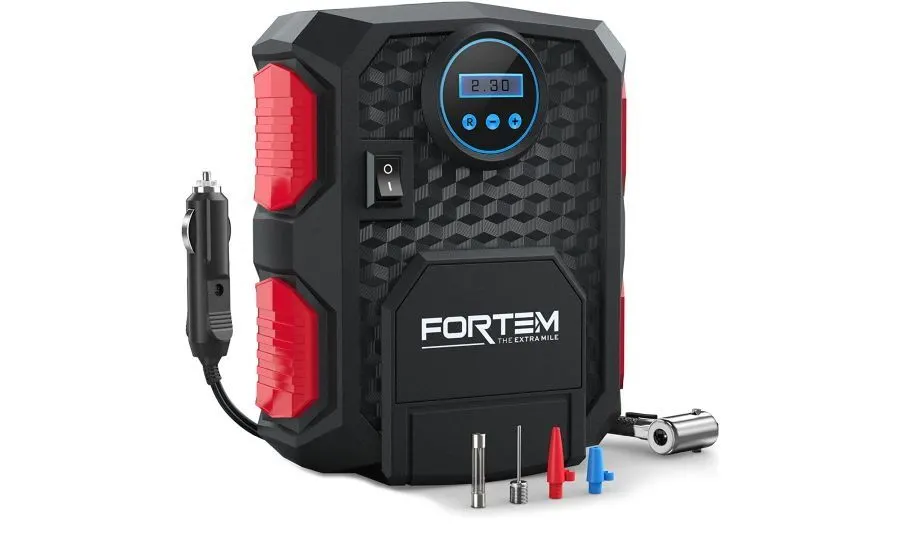 You can check the price for the Fortem the extra mile Electric Auto Pump here.
● Breezz Auto Tire Inflator
The Breezz Air Compressor is powerful and fast. It will inflate a car tire in 4 minutes up to 35PSI. Other features include Long cord reach, LED light, easy to read display, Auto-stop, and Durable ABS plastic and stainless steel body.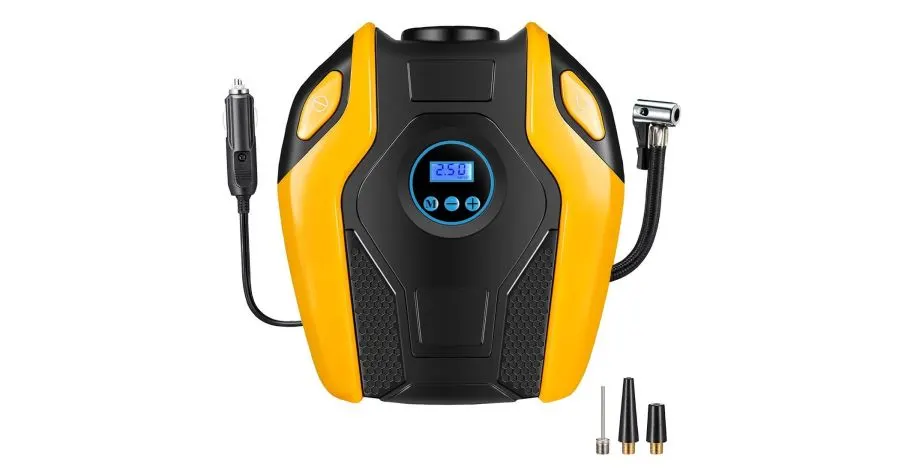 You can check the price for the Breezz Auto Tire Inflator here.
CFM Tire Pressure Measurement
CFM means Cubic Feet per Minute and has been termed as the most common way to measure airflow. The CFM is used to find out how much pressure a piece of equipment can provide and the rate and volume by which the equipment tightens the air. As a well-known rule, tire inflation should use an air compressor to produce at least 1-to-2 cubic feet per minute (CFM). Portable compressors powered by an electric cigarette lighter tend to produce far less than 1 CFM and are mostly only suitable for emergency inflation in the absence of other options. Car air compressors that work with a tank which stores the pressurized air is the most efficient. This will aid in the quick inflation of car tires, bicycle tires, and even truck tires.
Note: Most small air compressors targeting tire inflation will not mention the CFM.
Common Terminologies Relating to Air Compressors
Having an understanding of how the air compressor works is easier if the technical terms are known. A few of these standard terms have been defined below:
PSI: PSI stands for pounds per square inch and is used to measure pressure.
CFM: CFM means cubic feet per minute, and it measures the volume of air passing over an area per minute.
SCFM: Stands for Standard Cubic Feet per Minute. It measures the flow of gas under standard pressure and temperature conditions.
Horsepower: The horsepower is used to measure the performance of an engine as well as how powerful the engine is.
Maintaining an Air Compressor
Like any other mechanical device, it is essential to perform routine maintenance to increase lifetime. If you have a small portable battery-powered air compressor that you use for tire inflation there will not be a lot of maintenance required. Read the owner's manual what is required for your machine. If your air compressor is battery powered you can extend its lifetime by charging it correctly, and only when needed. Also, check and clean the part plug connects with the tire.
If you use a bigger air compressor that is powered by the mains or a gas engine there will be more maintenance required. Regular inspection will prolong its life pan:
Manual: Ensure the user manual is read
Leaks: If your model uses oil check for leaks. and air leaks check
Nuts: Tighten nuts and bolts
Hose: Check your hose and adapter. If it does not work ok clean it.
Shutoff system: Check the air compressor shutoff system
Pressure: Check the differential pressure in the compressed air filter
Oil: Determine if there's a need to change the oil in the compressor.
Gas Engine: If your air compressor uses a gas engine it needs regular maintence.
Temperature: Check and ensure the operating temperature is at a safe level
Condensation: Drain condensation from the air tank. It can contain a lot of water, depending on the humidity level and how often you use it.
Note: These tips do not apply for all small portable air compressors.
Frequently Asked Questions
● What Size of Air Compressor is needed for Airing up Tires?
You will only need around 4 CFM to reliably run a tire inflator and get it to work with a wide range of tires. The recommended PSI for passenger cars is 32 to 35 PSI, and so you can quickly fill up most vehicles with your typical 90 PSI compressor.
● What are the signs to show my tires need air?
Some red flags to look out for to help you know that it is time your tires need air is when the gas mileage becomes poor, and the steering is off.
● How do I repair a 12 Volt air compressor?
If you can repair your 12 Volt air compressors will depend greatly on the problem. It can be something simple as a fuse, but if your motor is damaged it probably will not make a lot of sense to try to find a replacement.
In most cases, it is not difficult to open the air compressor, and due to the 12 Volt power, there is no big danger. use Google to see if somebody had your problem before and has given a fix for it.
● Can I inflate my tires in cold weather?
Yes, you can inflate your tires in cold weather without any problem, but you have to use slightly higher pressure to compensate for the cold. When the tire is getting warmer, or the ambient temperature will rises the tire pressure will increase a little bit.
Final remarks
We hope that this article was helpful, and makes choosing a compressor for your tire more easily.