One of the most important parts of lawn mower maintenance and care is keeping the mower blades sharp at all times. There is yet another term that often goes hand in hand with blade sharpening, and that is balancing your blades. Generally speaking, the weight of lawn mower blades are made to be evenly distributed from one side to the other. However, during the sharpening process, a blade may sometimes become unbalanced, especially when you file more metal off one side than the other side. An unbalanced blade will not function properly and will ultimately affect the performance and life span of your lawn mower.
Lawn mower blade balancer, the easy way to balance a blade:
Step 1. Remove the Blade from the Mower
Step 2. Balance the Blade
Step 3. Center the Blade
Step 4. Sharpen the Heavy Side
Step 5. Assemble the Blade Back on the Mower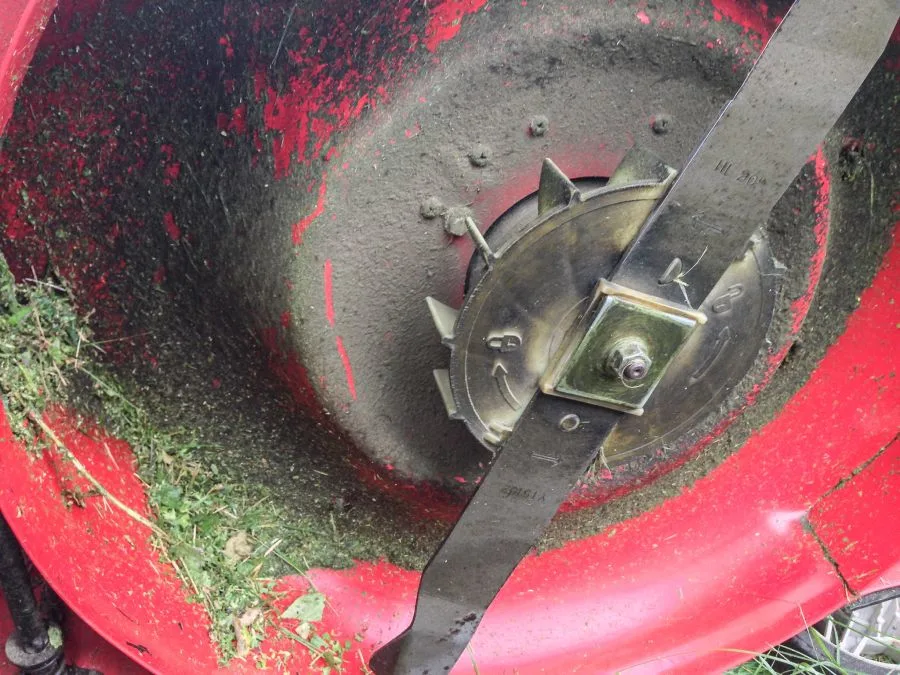 Correcting a blade balance problem is not difficult. All you simply need to do is, get a balancer (it can also be as simple as a nail in the wall) and use it to test the balance of your blade, then use your grinder or file to shave off the side with more metal until both sides are balanced. The main reason why lawn mower blades must be balanced does not have so much to do with the quality of your cut (although it can be in some cases), but is more concerned about the wear and tear it can cause on your mower. Lawnmower blades when running, spin at 4000 RPMs.
If you're using an unbalanced blade that is spinning that fast, it will definitely cause a significant amount of vibration in your tool and will also put stress on the blade shaft, the spindle, and even the engine. Do you want to know why balancing your lawnmower blade is important? Do you wish to know the easy ways to balance your lawnmower blade? Don't look too far. In this article, we will give a detailed discussion on the easy way to balance your lawnmower blade and get the best out of your lawnmower machine.
Why Does Balancing The Blade Matter?
It is safe to assume that not many people are aware of the damages that an unbalanced lawn mower blade can cause to their mowers, simply because they do not fully understand the importance of balancing their mower blade. The truth is, this issue is quite important and should be handled with utmost care. That being said, what does balancing lawn mower blades mean? This simply means ensuring that the weight of your blade is evenly distributed from one side to the other. Lawn mower blades become unbalanced during the process of sharpening, when you grind off more metal from one side of the blade than the other side. This causes the blade to go off balance making one side heavier than the other.
A typical lawn mower blade is usually inclined at the center, which means that the two sides are even in both weight and size. A typical lawn mower blade also spins between 3500 and 4000 rpm, which is about 60 revolutions per second. The moment you use a blade that is out of balance, it will cause a significant amount of stress on the lawn mower engine and blade shaft, causing the shaft to break, and this can be very dangerous to the user or anyone nearby. Even if the shaft doesn't end up breaking, the engine may sustain substantial damage which may mean that you'd need to purchase a new mower.
If you feel any awkward vibration when mowing, then your mower blade is most likely unbalanced. If you see that your lawn is not trimmed evenly, then the blade is most likely unbalanced. If you notice that mowing takes longer than usual, then the blade is most likely unbalanced. As you can see, an unbalanced lawnmower blade can cause a series of problems to your machine, to you, and even to your lawn, leaving you with additional work to do. So if you want to enjoy your mower for a long time or you want to get the best out of it, make sure the blades are balanced.
How to Balance Lawnmower Blades: The Easy Way
Using a dull lawn mower blade to mow rips and pulls your grass blades and also leaves ragged tears; this promotes the growth of fungi and other plant diseases and affects the overall health of your lawn. On the other hand, a sharp blade cuts the grass neatly and allows them to heal very quickly. This is why your blades must be sharpened from time to time. While sharpening your lawn mower blades is essential, balancing them is equally important.
Sharpening and balancing lawn mower blades is pretty easy, even for beginners. However, it is important to make sure that both ends of the blade are balanced after sharpening. An unbalanced mower blade can cause excessive wobbling, and this can cause damage to the motor. There's good news to this though; you can easily determine if your blade is well balanced or not. Simply slip the center hole of the blade over a nail attached to a wall. Then hold the blade in the horizontal position and let it go. If it is not well balanced, it will tilt to one side. Use a file to make a few passes over the tipping side and try to balance it again.
The nail-on-the-wall technique may not always provide precise results, so you can use a lawnmower balancer instead which is the most accurate method. The balancer should be placed on a level surface and the blade set on top. If your blade is well balanced, it will remain level. If not, it will tilt on one side, indicating the side that needs to be filed. Simply use a file to make a few light passes or better still, run it through your blade sharpener a few times before balancing it again. Here is a step by step procedure on how to balance your blade easily.
Step 1. Remove the Blade from the Mower
First, make sure your mower isn't plugged or running. If you are using a battery-powered lawn mower, make sure the battery has been removed. Then remove your lawn mower blade from the mowing unit. This step should be easy, but you can also check your user manual to see how to remove the blade.
Step 2. Balance the Blade
The main idea is to hang the blade so that you can balance it easily. Hence, a nail in the wall can work, or anything else that resembles a nail in the wall. As stated earlier, the best method is by using a blade balancer, preferably a magnetic one. Ensure that your blade is centered and both sides are free to droop down. Then place the center hole of the blade firmly against the tapered cone. The cone works in a way that allows the blade to go down a certain amount, then if one side is heavier than the other, the magnet allows it to spin freely. Hold the blade so that one end is flat. If one end swings down, then that is most likely the heavier side. Sharpen it a bit more to remove the extra weight and center it.
Step 3. Center the Blade
Once your blade is perfectly centered, hold it in place for a few seconds, then carefully let go of the blade. Make sure your hands don't interfere with the direction the blade is going to drop. The side with more weight is going to go down, and that is the unbalanced side that you'll be working on.
Step 4. Sharpen the Heavy Side
To balance your blade, sharpen or file the heavier side. Take the blade to your blade sharpener and run it through the grinder a few times, then return to the balancer. This will remove some bits of the blade, allowing it to become even. Similar to how you sharpen your blade, take a little bit metal off the heavy side. It is normal to not always get it right on the first try. Hence, hang up the blade again and carefully observe the balance. If it seems like you have removed too little or too much from that side, then keep working the blade until it becomes even when you hang it.
Step 5. Assemble the Blade Back on the Mower
When you've made sure your blade is balanced out, take it out on a test run. Carefully attach the blade back on and firmly tighten the bolt with a wrench. Make sure you're wearing protective gloves when doing this, to avoid any injury. Put the wires back in place and you're good to go!
Final remarks
It is very important to get into the habit of sharpening your blade regularly so as to ensure that your lawn remains in the perfect condition. However, when sharpening, you have to be careful so as not to remove more metal from one side of your blade than the other. Finally, if you think sharpening and balancing blades yourself is unsafe or difficult, then you can decide to employ the services of an expert.